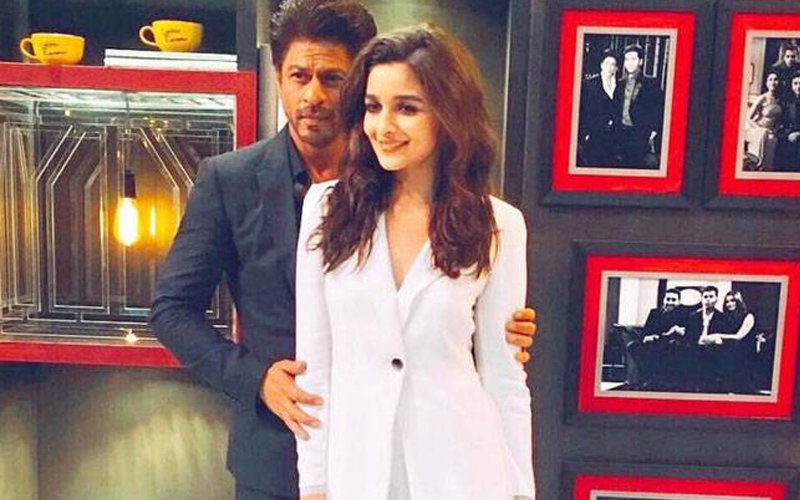 Karan Johar's most-talked about show Koffee With Karan Season 5's first episode saw the charismatic Shah Rukh Khan and the beautiful and bubbly Alia Bhatt grace the Koffee couch and raised the levels of wit, humour and crazy fun on the show.

Known for his witty comebacks, Shah Rukh oscillated between praising Alia for her acting prowess and ganging up with Karan to tease her about her last appearance on the show. Alia was her usual cheerful sporting self – rising up to all of Karan's challenges with panache and joining into the good-hearted ribbing. Not only that, she also proved her love and knowledge about fashion brands in a quick test by Karan!

If you have missed this episode, worry not – we have the top five memorable moments from the episode lined up for you so you can catch up on all the fun.

ALIA WOULD LIKE TO STALK KANGANA RANAUT


Image Source: twitter/starworldindia

The Rapid Fire Round was the highlight of the show as usual. And the answers by the stars did not fail to impress and make us crack a smile! When asked which one actress would she like to stalk if she were invisible, Alia surprised Karan with her answer. She calmly revealed it would be Kangana Ranaut and when pressed for the reason she stated "She has a lot of lovely airport looks but I really want to know where she is going. Where is the plane landing?" A totally honest if not a tad bit funny observation but we have to give Alia credits for this question – it is on point!

SRK IS BOLLYWOOD'S BIGGEST STAR FOR A REASON


Image Source: twitter/starworldindia

Karan has new tricks up his sleeve this season and one of them was throwing the stars an acting challenge with a twist. While Alia played the moody, I-don't-care-what-you-think, attitude filled teenager to a T, it was Shah Rukh who brought the house down with his incredible acting skills that ranged from the deep baritones that define Shakespearean acting to the seductive tones of a lover to the loud convictions of a famous journalist who would love to know everything! It was like a display of fireworks as Shah Rukh let his dialogs rip and can we just say that we are a bigger fan of his than ever!

DO THE BUNNY HOP


Image Source: biscoot

Bollywood's many liaisons are not unheard or unknown of. However, strong friendships between peers, especially actresses, are rare and it was heartening to see Alia being very vocal about her admiration and fondness for Katrina Kaif. What made their friendship a tad bit more interesting was when Alia revealed that Katrina is the one actress she would happily have a liaison with. After all – they have bunny hopped in the swimming pool together and they get along famously! We are sure it is not just Shah Rukh's and Karan's eyebrows she raised – her comment has set all our imaginations racing for sure! Who cares if Alia claims that bunny hopping is just their fun way of exercising and staying healthy!
YOU AIN'T COOL IF YOU AIN'T 'DEMOTIONAL' BRO!


Image Source: twitter/starworldindia

Oxford Dictionary – we have a new word on the radar! And it is coined by no other than the witty SRK! Reminiscing about his days back in the industry, Shah Rukh mentions what sets the new generation of actors apart is that the youth of today have the unique ability of being "Detached but emotional – DEMOTIONAL!" Get it? Perfect for us millennials and Gen-Z'ers, Demotional is most definitely going to become the IT word in our everyday lingo!
ALIA TRULY IS THE STUDENT OF THE YEAR


Image Source: twitter/starworldindia

Coco does not stand for Coco Cola as Shah Rukh wrongly guessed! It stands for the elegant Coco Chanel and Alia is no stranger to this brand and the multitude of others that Karan quizzed her on tonight, proving her love and knowledge for pop culture. Last season saw a couple of foot-in-the-mouth moments for Alia and this year she came all prepared to redeem herself. She had Shah Rukh beat in the last round as she belted out names of brands with ease and a speed that left even King Khan in a daze! Kudos Alia – you truly are one of the best students we have seen!

After a rib-tickling, crazy episode last night, we cannot wait to watch the hilarity real-life couple, Akshay Kumar and Twinkle Khanna, brew up on the show next Sunday.


Thumbnail Image Source: instagram/koffeewithkaran