Friendship Day Special: Hindi Films That Have, Over The Years, Celebrated Dosti In All Its Glory
Hindi films have, over the years, taught us more about friendship than life ever will. On the occasion of International Friendship Day, here's a list by Subhash K Jha - of the Hindi films that have celebrated dosti.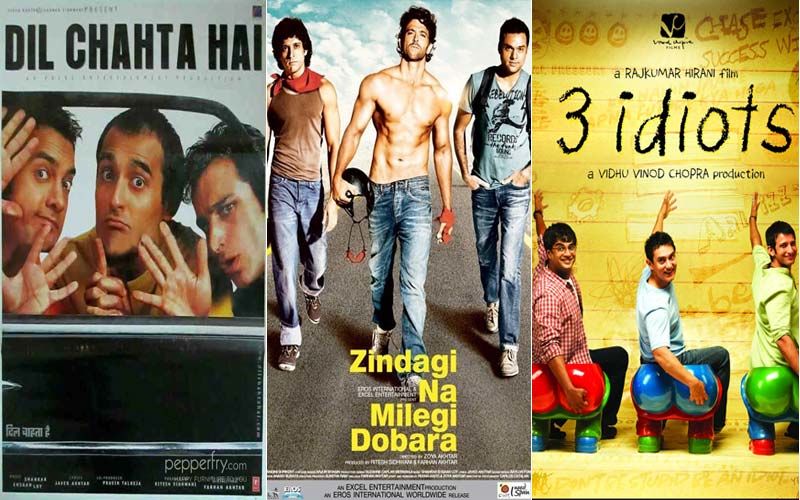 Friendship is celebrated almost in every Hindi film, and it plays a very important role in deciding the narrative of the movie. Be it Anand, Dil Chahta Hai or Sholay, friendship takes centre stage, and sometimes, takes over the romance and action. On the occasion of International Friendship Day, let's celebrate the dosti in Hindi films with this list of top ten Hindi films that have celebrated friendship on celluloid.
DOSTI (1964): Long before Friendship Day was invented and much before Bikram and Bala, that is Ranveer Singh and Arjun Kapoor and their over-the-top antics in Gunday, friendship acquired an edge of pulsating poignancy in this touching Rajshri film about the friendship between two physically disabled boys played by two unknown actors Sudhir Kumar and Sushil Kumar. With no stars to boost the Box Office prospects, Dosti became one of its biggest grosser of its time.
SHOLAY (1975): Jai and Veeru have over the years become a textbook of male bonding. Their behaviour has been studied for homo-erotic inferences. But those were the innocent 1970s when one friend could hop on to another's shoulder with boyish innocence. The Jai-Veeru anthem 'Yeh dosti hum nahin todenge' continues to reverberate across the generations.
BEMISAL (1982): One of the most underrated dosti films of Bollywood, this one has the Big B Amitabh Bachchan as the wayward parent-less delinquent taken in by Vinod Mehra's well-to-do family. The sacrifices that the Big B makes for the sake of the dosti and out of a sense of obligation are done so casually,as though it was all a part of a day's work. Poignant and pertinent.
DIL CHAHTA HAI (2001): Regarded by many movie buffs as the ultimate dosti film, Farhaan Akhtar's directorial debut depicted the dosti among Aamir Khan, Saif Ali Khan and Akshaye Khanna with a lived-in authenticity. The language was colloquial and conversational and the attitude oh-so-cool.
RANG DE BASANTI (2006): Aamir Khan, Madhavan, Sharman Joshi and Siddharth... What a dissimilar bunch of actors, yet they looked so comfortable as college students even though one of the 'students' was pushing 40. The trick of making a film on friendship look authentic is to have actors who are different from one another and yet skilled enough to make the characters come together in a cohesive unit of togetherness.
DOST (1974): Director Dulal Guha's saga of friendship between an idealist played by - who else? - Dharmendra and a reformed thief played by - who else? - Shatrughan Sinha was done in credible shades of candour and credibility. The fact that the two actors shared a great mutual warmth helped to make their on-screen bonding look genuine.
NAMAK HARAAM (1973): Hrishikesh Mukherjee's powerful take on on French play Becket by Jean Anouilh on friendship across the socio-economic divide had Rajesh Khanna playing a working-class hero planted by his industrialist friend Amitabh Bachchan among the workers of his factory. Hrishida who had earlier cast Rajesh Khanna and Amitabh Bachchan together in Anand wanted to build on their chemistry. But during Namak Haraam the Big B and the superstar Khanna were barely civil to one another. Both the actors wanted to die at the end! The friendship between the two protagonists worked in spite of the actors' mutual aloofness.
KHUDGARZ (1987): The unlikely friendship between a Punjabi urban businessman and a rural Bihari babu (Shatrughan Sinha) was actually Rakesh Roshan's take on a life-long friendship gone sour in Jeffrey Archer's novel Kane & Abel. Rakesh earlier wanted to cast Jeetendra and Rajnikanth in a Punjabi-Tamilian dosti. He changed the cultural backdrop of one of the friends' characters to cash on Shatrughan Sinha's real-life friendship with Jeetendra.
3 IDIOTS (2009): Aamir Khan, Madhavan,Sharman Joshi and Omi Vaidya as college chums travelling down the road of life... What made the journey look so appealing on screen was the mismatched aspirations of the four friends, as though they all aspired to achieve goals too far-flung to make the friends.... Well, friends. That's what made the chemistry so exciting.
ZINDAGI NA MILEGI DOBARA (2011): Three friends played by Hrithik Roshan, Farhan Akhtar and Abhay Deol take off on a road trip through Spain. Zoya Akhtar understood male bonding better than most of her male colleagues.
Image Source: youtube/rajshri/cinemasti/shemaroofilmigaane/romppictures/netflixindia/kuldeepsingh/ishtarmusic/moviemaniacshd/erosnowmoviepreview, imdb,wikipedia