Irrfan Khan-Nawazuddin Siddiqui Starrer The Lunchbox And Rajkummar Rao Starrer Shahid; 2 Lockdown Blues-Chasers That Are A Must-Watch- PART 32
Irrfan Khan and Nawazuddin Siddiqui's beautiful film The Lunchbox and Rajkummar Rao starrer Shahid are a great pick for you if you want wholesome entertainment during lockdown!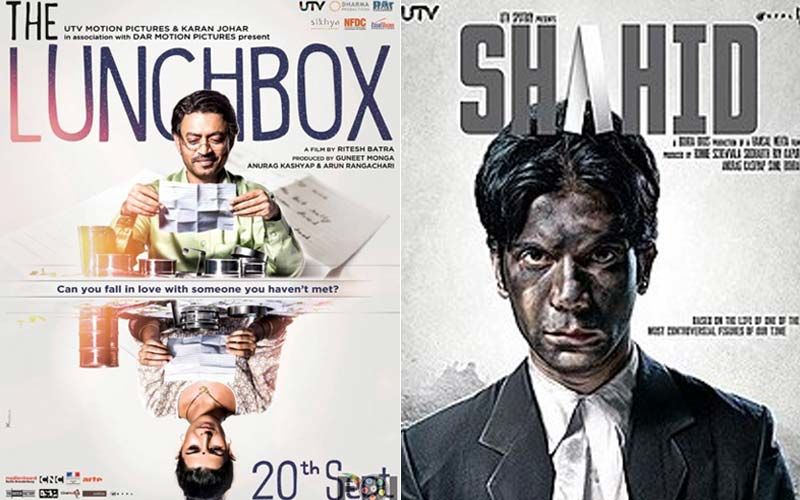 The Lunchbox (2013): In Mrinal Sen's Khandhar desolation was defined and epitomized as much by Shabana Azmi's face and physicality as it was by the architectural ruins where Sen shot his dirge-like tale. In The Lunchbox debutant director Ritesh Batra—is this really his first feature film?!—does not seek easy escape routes for his characters' destiny of drudgery. The film is set in the heart of Mumbai city where everyone is busy making a living...or just trying to live. Right away, this extraordinary film catches your attention with the way the sounds and the relentless rhythm of that City That Never Sleeps are captured and put on screen. While remaining purely cinematic there is something completely 'non-cinematic about The Lunchbox. It is stripped-down of all affectations. The secrets of lonely hearts are not laid bare through conventional cinematic devices—the use of background is so sparing that you often end up listening to the music inherent in everyday routine: the way the trains move in the sweltering afternoons, the sound of auto-rickshaws bustling through bylanes, the sizzle of onions frying in a suburban kitchen, the sound of the television playing as a nuclear family of three lonely people have dinner in deathly silence. Not just Ila, the cooking cleaning suffering housewife, even her preoccupied husband (Nakul Vaid) seems so lost in the act of existence. Even their little daughter looks so forlorn with her rag-doll, as though she needs a good cry but is not sure if Mama will be there to console her. And to scare you there are whispers of a woman jumping to her death with her daughter. Ila won't ....never! Right? Holding back the rituals of grief is a well-worn suburban ritual that Ritesh Batra's screenplay understands only too well. Every individual in Batra's universe is disconnected from an inner tranquillity and distanced from the people around him or her. It is no coincidence that Ila, our forlorn heroine who thinks of suicide but holds herself back, connects the best with an unseen Aunty living with her comatose husband on the floor above. Aunty (Bharati Achrekar giving a vigorously expressive performance through her voice alone), we learn, never turns off the ceiling fan that whirrs above her inert husband. She fears if the fan stops, so would her husband's breath.
These little life-asserting pretences we indulge ourselves in to believe that we lead meaningful lives is the crux of The Lunchbox. Hence Ila strikes up an illusory bond of empathy with the almost-retired office-goer Fernandes (Irrfan Khan). It starts off with a wrongly-delivered Dabba to a lonely widower in a typical non-government office. The initial delight of two strangers communicating facelessly soon turns into an intriguing relationship of empathy. The tragedy of two lonely people, one married in a loveless partnership and the other still wedded to his dead wife's memory, bonding over burp-inducing tiffins filmed with gourmet dishes, is punctuated by the omnipresence of an annoying intruder, played by the very wonderful Nawazuddin, who keeps barging into Fernandes' meditative melancholic interactions with his faceless culinary benefactor. Among the three protagonists, Nawazuddin as the deceptively shallow character Sheikh has the toughest role. He must seem frivolous jovial and insensitive to Fernandes' lonely existence, though he is anything but these things. Further, he has a happy life. And that should and does fill him with a guilt he cannot express. In many ways, the bond that grows between Fernandes and Sheikh is far more tenable and real than the one Fernandes discovers in the aroma of the freshly-packed tiffin that lands up every day on his tiffin.
Fernandes' loneliness is not of the same breed as Violent Stonheim in 36 Chowringhee Lane. He is alone, trapped in memories of happiness but also surrounded by noises and smells of a normal life. That little contact he makes with a family in the building opposite his own, through his window, is emblematic of his empathetic solitude. Yes, this man has hope. Food, which contours the tragic love story of Batra's film, is used almost as a reminder of life in the face of death. When Ila's mother (Lilette Dubey nailing her character's abject desolation in just two deftly written sequences) finally loses her husband she talks of hunger rather than loss. Bereavement and loss affect individuals in very strange ways. What The Lunchbox says in a language that exudes the scent and comfort of the familiar is that we can strive to fill the emptiness inside us by cooking feeding, remaining busy with motivating acts of daily gratification. But we are finally left with nothing to hold on to. This frightening thesis of existence is laid bare in The Lunchbox with compassion and warmth that embrace morality. This is a sad film. But it isn't depressing. As the two protagonists whose souls collide and then come apart, Irrfan Khan and Nimrat Kaur give exceptionally sorted-out performances even as their characters grapple with the chaos and complexities of feelings that alas, do not fit into compartments as comfortably as the food in a tiffin carrier. Irrfan's bearing suggests age that won't accept defeat. He is a portrait of stoicism in the face of solitude. Does this actor ever disappoint?
Michael Simmonds' camera doesn't miss a thing. It seems to capture every moment of the character's inner and outer lives merging the two levels of existence and yet keeping them apart. I came away from this profoundly moving tale with two of the most unforgettable lines of wisdom I've heard in a film. One of them comes from Nawazuddin who says, "Sometimes the wrong train can take you to the right destination." And then there is Nimrat Kaur, so noble and restrained in her suffering within a pitiable marriage, who opines, "Very often we forget our memories because we have no one to share them with." The memory of food, friendship and forlornness associated with The Lunchbox would stay with me for a very long time. Some films scream for attention. This one gets it without trying. What a gentle, tender, soft and sincere love story! Is this really Ritesh Batra's first film?! He demonstrates an astonishing mastery of the craft. And yet The Lunchbox is all heart. Nawazuddin, Irrfan and Nimrat are so much in character that you wonder if these people were born before the script. The film celebrates the extraordinary ordinariness of their lives with a stark sincerity that takes away every morsel of artifice inherent in the act of filming made-up lives.
Shahid (2013): Shahid is the sort of rare raw unnerving journey into a socio-political reality that our cinema needs to undertake regularly, but it seldom does. Our filmmakers largely veer away from doing films whose redolent realism could ruffle political feathers. First and foremost, Hansal Mehta's film on the real-life slain lawyer Shahid Azmi is a fearless work. Fearless and unfettered, Mehta wastes no time in establishing the monstrous marginalization of the Muslim community in a society where terrorism has blurred the majority community's sense of propriety to the extent of unmitigated bigotry. Shahid is an exposition on abject isolation. There is a harrowing sequence of police brutality in the film where the film's Muslim lawyer-hero sits on the hard floor of a police station stark naked shivering as the cop repeatedly accuses Shahid of terror activities. The protagonist's absolute humiliation at that point in the narration hits us where it hurts the most. Predominantly Shahid is about impatient society anxiety to find scapegoats for the growing violence all around us. In a language that embraces the complexities about the issue of Islamic isolation Hansal Mehta's film cracks open the code of that unexplored genre of cinema known as the drama of persecution. Shit happens. Life is not what we want it to be. It's the sum-total of various circumstances, many of them not in our own control. Mehta chronicles the life of suspected TADA offender turned defender of suspected TADA offenders, with the kind of deft clenched directness that one encounters in the docu-dramas of Costa-Gavras or nearer home, the searching searing cinema of the uprooted and isolated individual that Adoor Gopalkrishnan specializes in. The silence of the night is punctured by the shrill sound of the phone. Slurred threats are hurled. Taking the abuse on his chin the crusading lawyer, played with scintillating austerity by Rajkumar Yadav, sits stoically at the centre of the debris of destruction of distrust as he undertakes a jehad to prove the innocence of the arbitrarily accused.
There are some highly poignant electrifying courtroom sequences shot with the languorous devastating dinginess of courtrooms that have killed off all chances of justice for the damned. What would those wretched TADA undertrials, locked up and left to languish for life, have done without Shahid Azmi to fight for their lives? Now I ask you, what would Shahid Azmi's character have been like it was not portrayed by the very gifted Rajkumar Yadav? This brilliant actor whose forte is underplaying imbues Shahid's role with the kind of tightly-reined tumult and unspoken anguish that actors in our cinema seldom get a chance to put forward in the characters they play. Here is a performance that deserves a standing ovation, primarily because it doesn't scream for attention. In comparison, the other performances appear pale and distant, albeit authentic and thoughtful. Tigmanshu Dhulia is notably powerful in a brief cameo as an eminent lawyer. Shahid's relationship with the divorcee mother is never satisfactorily rounded up nor assimilated into this courageous man's fight for justice for those who are condemned not only by law but by social stigmatization. What comes across with forceful impact is the protagonist's yen for justice. This man who has suffered the worst humiliation and suffering in custody won't allow the same shame and pain for those who are wrongfully confined. This man means business. We must hear his story. Of course, he plays with his life. Whether it's Romeo or Shahid, all heroes must come to a suitably sticky end. That's what you get for trying to be a hero. Sometimes while you try to be larger than life, life creeps upon you to make its own outrageous claims. Shahid is a crucial document of our troubled times. It builds an incredibly gripping case study of persecution and vindication. The treatment of the topical subject is never ponderous or polemical. Hansal Mehta has set out to convert the slain lawyer's valorous tale into an authentic exposition on the residue of retribution. But what to do, if the result is so darned gripping? Shahid is a must-see film with an absolutely impeccable subtext that can be read as an urgent warning against the politics of isolation practised by many political parties. Be warned. You might be voting for violence.




Image source: Medium, Wikipedia
They say the best things in life are free! India's favourite music channels 9XM, 9X Jalwa, 9X Jhakaas & 9X Tashan are available Free-To-Air. Make a request for these channels from your Cable, DTH or HITS operator.