Ishaqzaade And Barfi; 2 Impactful Films To Watch During The Lockdown -PART 25
Continuing our series of lockdown blues chaser, we give you Arjun Kapoor-Parineeti Chopra starrer Ishaqzaade and Ranbir Kapoor-Priyanka Chopra starrer Barfi, which will turn out to be a great viewing experience.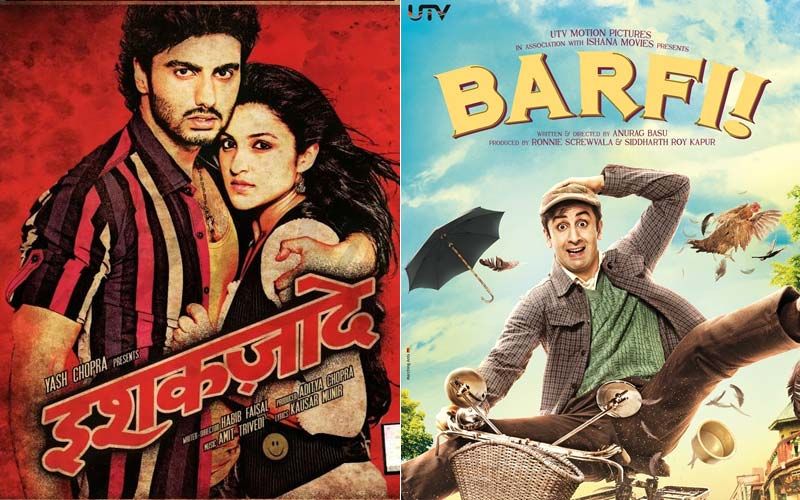 Ishaqzaade (2012): What does one do when love strikes during times of war? And make no mistake. Elections time in a small dusty town of Uttar Pradesh is akin to war. Guns are fired randomly at enemies, real or imagined. Enemies fall to the ground. Morals lie crushed under heels. And finer feelings are buried under a rubble of trouble. Into this town, here named Almora, enters love on silent feet. Well, maybe not so silent. Ishaqzaade is a very noisy film. The hero Parma (debutant Arjun Kapoor) is an uncouth animal whose disgusting habits include kidnapping the town's nautch girl from a rival's party to dance at his grandfather's wedding. Later his moral temperature dips to an all-time low when he takes loathsome revenge on the girl he loves to hate. As the Muslim girl Zoya, Parineeti Chopra fills the screen with a tempestuous charm. Natural spontaneous and vivacious she reminds you of the early Jaya Bhaduri. Her character is a sharp-shooter with a tongue to match. And when she gets brutally compromised by Parma she reacts like a wildcat raging against the promised full-cream milk that curdled when she was not looking. Habib Faizal who made the mellow mild-mannered middle-class comedy Do Dooni Chaar about a college professor's dream of buying a scooter here shows a completely unexpected side to his cinematic vision. The landscape Habib paints in Almora is so volatile and violent, you pray for atonement for these characters. The lovers don't exchange chaste glances and furtive kisses. They embrace passionately and smooch each other's lips off. And when they make love it seems they are waging war on the world. Full-blooded, voluptuous and eminently earthy, Ishaqzaade is a pickled aromatic rollercoaster ride through the badlands where blazing guns mean, families are at one another's throats.
The first half of the narration builds up to an engrossing case for Parma to inflict his uncouth and aggressive malevolence on Zoa. The confrontation scenes between the two, written with the right amount of zing and sting, are first-rate. Remarkably the adversaries-turned-lovers keep drawing attention to each other's religion without mincing words. The two religions are almost thrown at one another as taunts. Riot or wrong, who can tell? What Habib Faizal wants to say—and we would be better if we pay heed—is, it is imperative to address the Hindi-Muslim divide headlong, or else blood would continue to be spilt each time two people from different communities 'dare' to love each other. "Don't even think of it. An Indo-Pak war will break out," the Muslim girl warns the Hindu boy. And then proceeds to break the self-imposed rule with a rush of rebellion and passion that seem to replicate the flow of adrenaline in the virile script. Ishaqzaade is written in blood, dipped in passion, and shot in vivid colours of life, strife and other bitter embers of the communal fire. The director constantly attempts to bring alive the cluttered clamorous milieu of a lawless North Indian town. Faizal succeeds to a remarkable degree. His characters speak an easily recognizable language from Uttar Pradesh's heartland where even daughters are taught to fire a gun before they learn the alphabet. The supporting characters don't fake it even for a second.
Many scenes convey warmth and empathy without a jot of self-consciousness. The characters are all played by unknown local UP actors who are born into the milieu. The director builds a believable arc of love and revenge. His lovers are so well-conceived on paper it would have taken two truly idiotic actors to ruin their characters. Luckily Parineeti Chopra and Arjun Kapoor are anything but incapable actors. They imbue the violent ambience with their peculiar chemistry. The bloodshed never stops, and the action is relentless. Hemant Chaturvedi's cinematography creates a world that is real and at the same time highly cinematic. Life in Ishaqzaade is like that. It lets the central characters sort out the socio-political mess over which they have little control with the nozzle of guns. Habib Faizal enters the Muslim and Hindu protagonists' homes, discovers their affectionate core and then watches them,non-judgmentally, as they turn into blood-thirst revenge-seekers. There are many reasons why Ishaqzaade is a remarkable film. It enters the killings fields of Uttar Pradesh. It chases down our two protagonists and then watches them get into a crisis with no end. In the end, we are looking at two young vibrant people whom we love because they love one another irrespective of the differences. This is not a film that offers a pretty love story with gentle love songs. Even the music (Amit Trivedi) sounds like a war cry. Apne hoton ki banshee bana le mujhe! As for Parineeti Chopra and Arjun Kapoor, never mind the destiny that lies in store for their characters in this film. They are here to stay.
Barfi (2012): Silences seldom spoke so eloquently. It's been a while since we saw a film that set style at a subsidiary state to substance, put the characters' inner life ahead of the flamboyant manifestations of self-identity in a world governed by benevolence and charm. Barfi is a very charming film. It's remarkably devoid of vanity. The story of a deaf-and-mute man who could have grown up watching Chaplin and Raj Kapoor's cinema, and an autistic girl who has definitely NOT seen Shah Rukh Khan in My Name Is Khan, is told without the props of loud background music and other prompters to get audiences' involved in the proceedings. This is a picaresque world of artless charm that invites you in without band baaja or baaraati. Fanfare is for the circus. Barfi is pure cinema. Goodness! I am already gushing. It's the narcotic effect that Barfi has on you. Within no time at all you are swept into the protagonist's world, the two lovely women who breeze in and out of his existence and various other characters, all etched with compassion and vividness that one associate with the cinema of Frank Capra and Ritwick Ghatak. Barfi exudes the warm glow of a life well-lived. This dazzling glow originates from the protagonist Barfi who lives his life king-size with many Chapliesque comic antics creating a chain Of comic book adventures for our happy-go-looking hero, even though he can't speak or hear But then the speech was always supposed to be the least essential component of cinema. Ask Ingmar Bergman or Satyajit Ray. Their character spoke through lingering silences. It's been a while since any protagonist on the screen said so much to us without speaking. Can't Mukherjee in Sanjay Leela Bhansali's Black said it all through her muted mode of communication. But she had the formal sign language plus a voice-over for articulate support. Significantly Anurag Basu, a master storyteller (and never mind the tormenting tepidity of his last film Kites) does away with the crutches of sign language and a voiceover. Ranbir Kapoor as Barfi…Murphy…whatever!...is left to his own devices.
An incredibly enterprising actor he brings a Chaplinesque aura to Barfi's character. Blending a very physical pie-in-the-face style of comic acting with an intangible poignancy, Ranbir turns his character and the film into a muted celebration of life. The tears are hidden from view. But they are there. His grandfather Raj Kapoor has never been very far from Ranbir's acting skills. Raj Kapoor was highly influenced by Chaplin. Ranbir brings both the legends into the same line of vision, and yet creates a character that is unique in its buoyancy and optimism, never mind the sleeping dogs. Just let them bark in their sleep. Priyanka Chopra as the autistic Jhilmil steals the show from Ranbir if that's possible. Lately, she has been found to be guilty of over-acting in Agneepath and Anjaana Anjaani (with Ranbir again). In Barfi all her recent sins of excess are washed away. Priyanka's inherent glamorous personality simply disappears into her character. We don't see the actress on screen at all! We see only Jhilmil who reminds us in a very pleasant way of Sridevi in Sadma. This is one of the most flawless interpretations of a physical—psychological disability seen on celluloid. While Ranbir and Priyanka effortlessly prove themselves the best actors of their generation, Ileana D'Cruz makes a confident engaging debut in Hindi cinema. She's a prized find. Is she here to stay? Time will tell.
As for Anurag Basu, in his earlier films Gangster and Life In A Metro he proved himself a maestro of the inner life. Barfi too is shot on location within the hearts of the characters. Not just the memorable protagonists, even the smallest players specially Roopa Ganguly and Akaash Khurana and Haradhan Bandhopadhyay, leave a lingering impact. Barfi celebrates life without dismissing the dark passages and roadblocks that we often encounter as we travel through that craggy road to death. To be able to celebrate life so warmly and sensitively the filmmaker has to know death closely. Anurag Basu has been there. Barfi comes as close to being a modern masterpiece as cinematically possible. To miss, it would be a crime. To embrace it is to serenade the sublime.
Image Source: Imdb, youtube/immortallove/nirmitshahi/yrf
They say the best things in life are free! India's favourite music channels 9XM, 9X Jalwa, 9X Jhakaas & 9X Tashan are available Free-To-Air. Make a request for these channels from your Cable, DTH or HITS operator.