John Abraham's Force And Rocky Handsome: Twice When Late Nishikant Kamat Showed Us He Was The King Of Remakes-Lockdown Blues Chasers Part 76
Here's revisiting two movies in the 76th edition of Lockdown Blues Chasers - Force and Rocky Handsome, both starring John Abraham - and both directed by late Nishikant Kamat.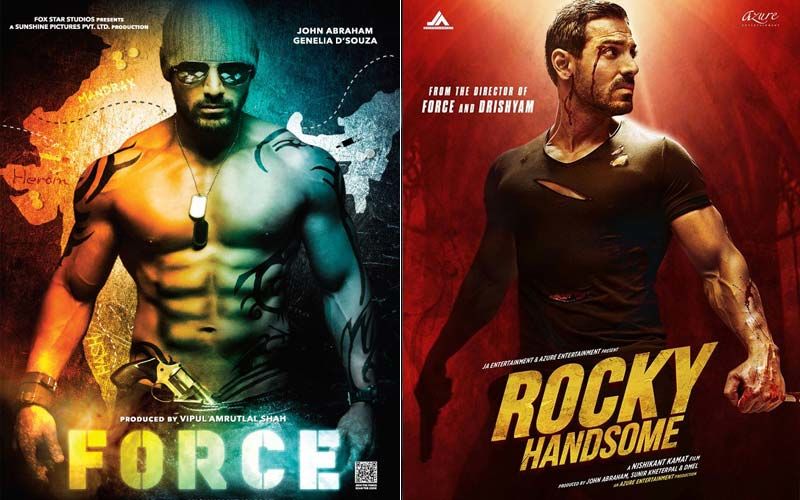 FORCE (2011): A raw rugged cop's tale of vicious vendetta fused into a tender romance seems like a hard act to live up to. But Nishikant Kamat seeking inspiration from a hit Tamil film (Kaakha Kaakha) manages just fine. He gets incredible support from the dialogue writer Ritesh Shah, who infuses every exchange on love (with the girl who won't take a no for an answer) and war (against drug peddlers) with a kind of lived-in warmth and familiarity. Kamat, who earlier made Mumbai Meri Jaan - that fine film on terrorism and the city of Mumbai - here has a blast bringing back the old-fashioned action hero.
John Abraham has worked hard on his physique and his expressions to look like a cop who thinks falling in love would take him away from his line of duty. Enter the vivacious effervescent girl next door. Genelia, with her multiplicity of expressions, aptly plays Bubbly to this duty-bound Bunty who would rather not get entangled in human foibles like love and family. But the inevitable happens.
Kamat lovingly weaves the love story between the impish girl next door and the gentle giant into the persistent call of duty, making sure the film's claims to be an action film doesn't get drowned in mush. While the first hour is a loose bag of striking shoot-outs staged in crowded localities of Mumbai and some highly dispensable romantic songs, it is the second-hour where the narration really gathers momentum pitching the relentless cop against his chief adversary a drug dealer named Vishnu, played with arresting elan by debutant Vidyut Jamwal.
The man-to-man confrontations between Abraham and Jamwal have a rousing rugged resonance to them. They may make you squirm with their brutality. But the two look like well-matched opponents. Action director Allan Amin devises combats that convey a bone-crunching realism.
The two adversaries take care of the rest. John gives a finely pitched performance looking every inch like the action hero who can deliver that punch. He handles both the brutal and tender moments, the violence and romance, with ease.
Newcomer Vidyut Jamwal makes a formidable adversary. The menace is not only in the physique but the tone. This man means business. Some of the supporting cast is interesting too.
Force is a full-on action film with balls, brawn and brains. It's the kind of virile cinema where action speaks louder than words. Blessedly the narrative secretes some fine dialogues and tender love story that goes with the turbulent territory. Nishikant Kamat balances out the colour khaki with sharp colours of humour and romance.
ROCKY HANDSOME (2016): Is John Abraham's Kabir Ahlawat, alias Rocky, alias Nowhere Man the finest performance of his career so far? Well, yes. It would have to be a toss-up between Shoojit Sircar's excellent political thriller Madras Café and now, Nishikant Kamat's Rocky Handsome. It is unequivocally evident from the start of this dark gripping thriller about damnation and tentative redemption that Kamat is a director who understands John's physicality as well as his emotional strengths. Kamat uses both the qualities to create a man doddering on the edge of self-destruction. At mid-point when John in shirtless splendour is required to display his heroic swagger by a camera that loves beauty as much as the ugliness of existence, we know what Rocky doesn't.
Heroes are born out of necessity. Kabir/Rocky has nothing to live for, no family to love and therefore nothing to fear. That changes. A little girl from the apartment next door plonks uninvited for fish curry and a lot more herself into Rocky's life, whether he likes it or not. With languorous lucidity the film captures Rocky's resistance to any kind of emotional surrender to Naomi's intrusion. The homes are darkly lit, with a brave beam of feeble light barely cutting through the frames, as though to remind us how close Rocky is to annihilation. John occupies the emptiness of Rocky's world with a coldness in his heart and chill in his soul. He is a man waiting to self-destruct.
Child actor Diya Chalwad's sunshine-girl act is overdone. She acts way too confidently (too much TV). What the narrative - and John's character - required was for Naomi to be vulnerable. The girl is way too precocious and all-knowing. Nevertheless, the bond between these two derelict souls shines through in scenes written (by Ritesh Shah) to underscore the pain that individuals suffer when abandoned to destiny. There is a sequence where Naomi tells Rocky how her junkie mother (Nathalia Kaur, poorly cast) refers to her daughter as 'Dustbin'.
While I confess I nearly wept for all the unwanted girl children of our country, Rocky just listens. Lonely people are good listeners. His suffering eyes give away nothing. They have nothing to give. All the bonding between the two misfits happens in the first 20 minutes of the narrative. Once Naomi is kidnapped by lethal drug dealers whom Naomi's sluttish mother double-crosses, Kamat, an expert at swinging moods in the narrative (refer back to his Dombivali Fast where scenes showing the protagonist's meltdown merged noiselessly into his acts of mayhem) switches gears to show us how Korean our cinema can get without forfeiting its indigenousness.
The drug ring is cogently configured in the plot. The kingpins emerge as wackos and psychos, one of them (played by Teddy Maurya) even sticking his tongue out obscenely at the hero to taunt him while driving away. Among these creatures of a criminal craving it is the director Nishikant Kamat who emerges as the strongest antagonist. Head shaven clean eyes gleaming with drugged fantasies, he is the epitome of sadistic evil.
In one sequence, where he is roughed up and humiliated by his boss (Uday Tikekar) Kamat spits out blood after his brutalisation ends. This marauder will create dignity in his life of violent strife even at the most trying of times. In some ways, this is the philosophy underlining the violence of the film. The characters talk about and confront brutality of the most unbearable kind with a kind of fortitude that makes the violence seem disturbingly unavoidable, almost a pre-condition of existence. Another impressive performance comes from Sharad Kelkar as the cop in charge of busting the drug ring. He sinks deep into a role that is sketchily written. The plot has a problem creating a space for all the subsidiary characters who serve to add up to the 'scum' total of the whole.
Nishikant Kamat maintains an almost-demented momentum till the end of the proceedings. The item songs inter-cutting into the drug dealings seem quaintly archaic in a film that captivates us with its Korean brand of stunts. John Abraham throws a mean fist at his opponents. He is equally adept at kicking ass and conveying pain. The eyes are a window to a soul that has seen better days.
The flashback with Shruti Haasan is predictably pretty and poignant but acquires an amplified strength from Rahet Fateh Ali Khan's song about God's seemingly unjust ways. This, you feel, is a theme that thunders across this implosive action drama. By the time John gets a parting hug from a loved one the narrative lies writhing in exhaustion on the ground waiting to be redeemed from the vortex of violence that governs Rocky's not-so-handsome world. Finally, all we need is love.



Image Source: youtube/t-series, imdb