Kangana Ranaut Starrer Queen And Filmmaker Nagesh Kukunoor's Lakshmi; Intriguing Stories To Help Beat Lockdown Boredom This Weekend-PART 35
Kangana Ranaut starring Queen, a light-hearted fun film and director Nagesh Kukunoor's 2013 flick Lakshmi; presenting Part 35 of our lockdown blues-chasers to watch over the weekend!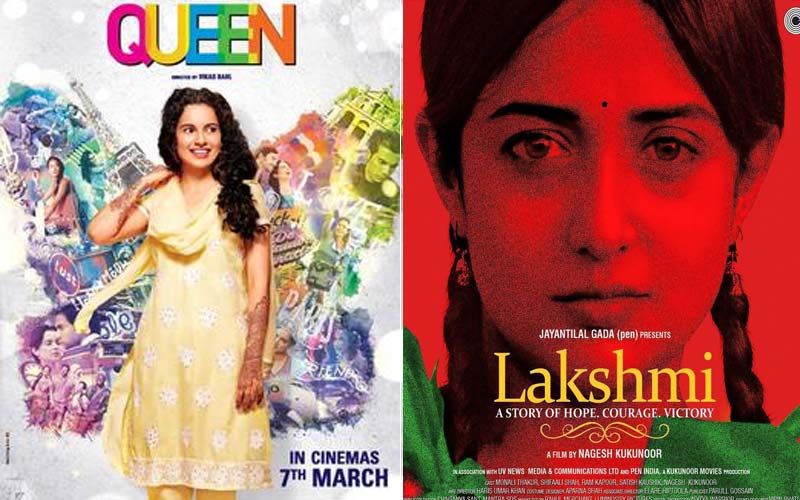 Queen (2013): Or 'How Rani Gets Her Groove Back'.... There are some films that you simply don't want to end. And when they do you want to spring out of your seat and give the darned thing a standing ovation. Queen, directed by that Chillar Party co-director Vikas Bahl is that rarity. Its thematic elegance and narrative wisdom surpass anything that you might have come to expect from the frothy ebullient trailers. Frothy and ebullient, Queen certainly is. But it's a lot more. In the end, you are left so close to the characters and their life-defining milieu that the late Bobby Singh's camera lenses dissolve and merge into the very fabric of the narrative. And to think that the film begins with another big fat Punjabi wedding! Before we know it the narrative takes wings, much like its protagonist Rani played by the born-again Kangana Ranaut. Seven years ago she had made her stunning debut in Anurag Basu's Gangster only to serve up a series of disappointing films and performances. In Queen Kangana gets her groove back, and how! Kangana is so in sync with her character that you wonder if the story was written according to the emotions that the actress had stored away in her heart. It all comes out now in a portrait that for years would be summoned up as an epitome of on-screen transparency.
There is stark honesty about Kangana's portrayal of the Delhi girl who is deserted by her husband-to-be days before the wedding. Familiar, no? Director Bahl turns the oft-repeated tale of betrayal and self-realization into a sn ode to womanhood. The naked yearning in Rani's eyes when she pleads with the selfish idiot not to destroy her life is so real it leaves you shaken. You know immediately that this girl means business. And so, let me tell you, does the director. Vikas Bahl possesses a keen eye for physical and emotional detail. When the feisty grandmother pleads with the jilted bride-to-be from outside the locked room to not be disheartened the bride's kid brother quietly brings a chair for the old lady..... Bahl makes astounding use of a wide spectrum of topography from Delhi to Paris to Amsterdam to give specificity to the protagonist's obvious weaknesses and inner strengths. By the time the journey ends you don't care where Rani is. She will be fine wherever life takes her.
Here is that rare director who knows how to articulate his characters' feelings through the spaces that they occupy. Kangana's face and body-language do the rest. She lives through every moment of Rani's journey from a Delhi middleclass' cocooned existence to a girl making her way through the dark sinister alleys of Paris and strippers' joints of Amsterdam in a voyage of self-realization that makes Sridevi's journey in English Vinglish look like a pre-paid vacation. There is something magical about the way Bahl uses Kangana's artless vulnerability to express the character's hurt and desire, sometimes both in the same breath. In the end, we're left with a female character who is naïve and yet worldly-wise, who thinks sex happens only after marriage and yet kisses an aggressive Italian stranger just because she finds him as hot as Salman Khan. Rani naively lectures a stripper in Amsterdam from ultra-conservative Pakistan(a curious anomaly, this) on how she must find a better job for herself, and yet thinks nothing of getting drunk in a Parisian bar with her bindaas half-French half-Indian girl pal(Lisa Hayden sexy and savvy) to the pounding sounds of Asha Bhosle's Hungama ho Gaya.
But then Bollywood music does that to anyone. It liberates the spirit. And Kangana's Rani is on the lookout for just that. The silken-smooth plot can be roughly divided into the 'Parisian' and the 'Amsterdam' half, though neither of two cities comes across as touristic spots. Even when Bahl takes his wide-eyed heroine and her sexy girl-pal to the Eiffel Tower it is to look at that monumental edifice in a gaze that cinema has never dared before. But then Queen is that kind of a film. I came away so much richer, spirit awash with thoughts of hope life and brightness. Every character from Rani's parents, to her Parisian friend Vijay-Laxmi (who ironically has the same first name as her cad of a fiancé) to her three male roommates in Amsterdam makes a space in your heart forever. The brilliantly transitional screenplay has no jagged edges. Every component somehow slips into place. As Bahl tells his story we become one with Rani's journey. The desperate optimism of her marriage-less honeymoon directs her to inner reserves of strength and willpower that she didn't know existed. By the time Rani's journey end, you are supremely attached to her soul.
Ranaut's performance holds the film together even as Rajkummar Rao as the selfish fiancé and Lisa Haydon as Rani's bohemian Parisian pal lend added colour to the bewitching canvas. The smallest of the roles are performed with unconditional conviction. Once in a while in the movies, we get to meet a girl as free-spirited as Rani. Infectious in their joie de vivre the film and its protagonist's zest for life are endearing and contagious. Queen is the quintessential inspirational tale with a central performance that makes most of what we see in Hindi cinema look like put-on slide shows. If you miss Queen, you may never get a chance to know how Rani journeyed into self-actualization. And that would be your loss entirely.
Lakshmi (2013): Brothels are NOT pleasure dens. As we watch in horrified disbelief, Nagesh Kukunoor's 14-year old protagonist being bruised, bartered, violated and battered by men of all shapes and sizes, what emerges is a deep-rooted societal bias where the girl child is often treated as a liability. The picture that emerges in this deeply disturbing film is that of absolutely insensitive brutality towards the weak and the poor. This ain't no sanitized brothel seen in our beautifully laid-our courtesan's courtyard in highly romanticized portrayals of the Fallen Woman in films like Pakeezah Amar Prem. Even Sudhir Mishra's Chameli seems like a visit to the beauty parlour as compared with the bestial brutality of Kukunoor's brothel. You can almost smell the stench of stale sweat and semen in this stifling world of sexual deprivation. Standing ovation to the film's cinematographer Chirantan Das and editor Sanjib Dutta for making Kukunoor's murky world look so real. This is no place for an innocent 14-year old girl. But then have we as the collective conscience keepers of the nation been able to foster a society where children, girls and women can feel safe? Lakshmi's exploitation begins early....too early. Sold off by her own father to a female corporator Lakshmi soon finds herself in the clutches of a vicious sleazy pimp, played with stupefying gusto by the director Nagesh Kukunoor.
The tightly-wound narrative's ingrained energy level owes a lot of its momentum to the dynamics of the exploiter and the exploited as a shared bond between Monali Thakur's Lakshmi and Kukunoor's Chinna propels the plot to a point of no return. The archetypal victim and the exploiter, Monali and Nagesh bring to the story a kind of compelling doom that dares you to flinch away in disgust and disbelief. Lakshmi affords us no relief of escape or escapism. The brutality in the brothel is relentless. As the 14-year heroine ( a true hero in every sense) is ravaged repeatedly, sometimes by 6-7 men within hours, the female sexual organ becomes just a hole.
"Mujhe toh bas ek chhed chahiye," a blasé customer at the brothel tells the Madame Jyoti(Shefali Shah, brilliantly ambivalent in her thankless role). Don't wince. This is not the occasion to get squeamish. Kukunoor takes us through the badnaam gallis of Hyderabad in search of reasons why we treat the economically weaker section of the female sex as playthings. Till mid-point, there is no respite from the relentless assault on the protagonist's body and soul....Suddenly the narrative does a volte-face and we are face-to-face with an unexpected saga of vindication. Suddenly it's payback time for Lakshmi's tormentors as a kindly social worker and an out-of-work lawyer (Ram Kapoor, playing what we've seen Sunny Deol play in Damini) come together to get justice for the ravaged girl. And you wonder if such good samaritans really exist anywhere outside the movies. If they did, would the horrific saga of Lakshmi's brutal exploitation ever happen? Still, the passage into compassion is excusable, even welcome. You want the better side of life to show up in Lakshmi's life. When it does, the girl embraces the spot of sunshine with heartbreaking gratitude.
There is this shared moment at the end between Lakshmi and her lawyer where she struggles to hide her tears with makeup as the media waits outside for her triumph over her tormentors. It's a moment in the narrative that confronts the complexities of exploited gender with unexpected tenderness. Yes, there is hope for the wretched and the exploited. Lakshmi is a powerfully told inspirational tale that doesn't brush the brutal reality of sexual exploitation under the rug. It pulls out uncomfortable home truths. There are portions of the narrative in the brothel involving Kukunoor and Shefali Shah as the pimp and the Madame that get unbearably violent and gruesome. Both come up with superlative fearless performances. Satish Kaushik as a nauseating paedophile makes your skin crawl. He is THAT convincing. But the film belongs to singer-turned-actress Monali Thakur. As the child forced into premature womanhood Monali's portrait of ravaged innocence will haunt you forever. The folk songs in the background about treating the girl child with tender care mock Monali's numbing pain and grief as she repeatedly tried to wash off the sticky blood of lust from her wounded private parts. It's the most soul-baring performance I've seen since Seema Biswas in Shekhar Kapoor's Bandit Queen.
Lakshmi is not a film for the weak-hearted and the squeamish. Isn't the same true of life too?
Image source: IMDb
They say the best things in life are free! India's favourite music channels 9XM, 9X Jalwa, 9X Jhakaas & 9X Tashan are available Free-To-Air. Make a request for these channels from your Cable, DTH or HITS operator.