Manoj Bajpayee's Gangs Of Wasseypur 1 And Nawazuddin Siddiqui's GOW 2; 5 Hour Movie Marathon To Chase Away Lockdown Blues- PART 26
Moviegoers in 2012 witnessed a path-breaking cinematic experience when Anurag Kashyap offered his 2 back to back films Gangs of Wasseypur 1 and 2 in the span of 1 month. This 5+ hours movie marathon can be watched at home and is a perfect way to forget about the lockdown.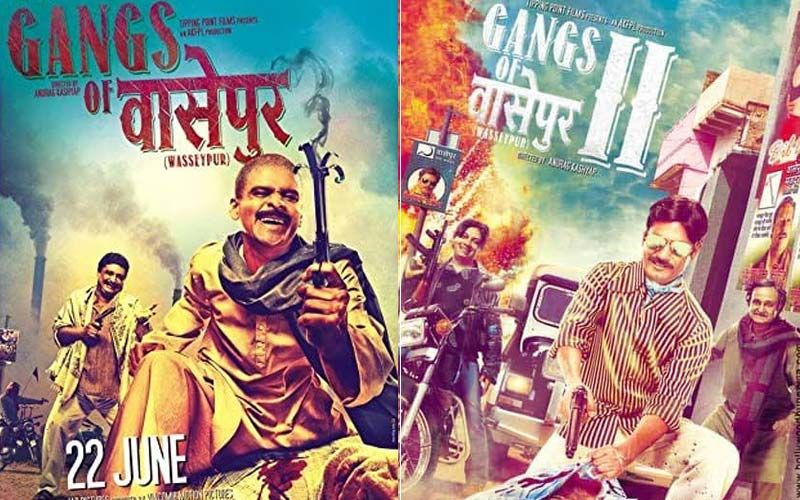 Gangs Of Wasseypur, Part 1 (2012): Bleeding brilliance in almost every frame, breathing fire through every available orifice that the characters possess, and whipping up a kind of frenzied flamboyant bloodshed that was once associated with the Spaghetti Westerns of Sergio Leone and Sam Peckinpah, Gangs Of Wasseypur is, briefly, one huge gang-bang.No protection provided. From its bludgeoning opening when merciless marauders ambush a powerful enemy's fortress-like home with army-like meticulousness Gangs Of Wasseypur takes us into a world where compassion is a dinosaur, forgiveness a faux pas, and kindness an unforgivable sin. Welcome to Kashyap's Wasseypur.This is no country for the weak-hearted. Country-made guns go off without warning, bombs are hurled from two-wheelers that have seen better days, and abuses fly out even faster than the bullets. If you are the kind of moviegoer who doesn't enjoy hearing and seeing the unimaginable things that can be done to various parts of the human anatomy, then I suggest you try something more sugary and safe. The world of Wasseypur is soaked in blood and revenge. The mafia in one form or another rules the little town. To mainstream Hindi moviegoers, this is not an unknown territory. At least 4 other recent films, all remarkable in their own right—Paan Singh Tomar, Ishaqzaade, Rowdy Rathore and Shanghai have hurled audiences right into the notorious anarchy of the North Indian small-town (Bihar mainly) where the barrel of the gun speaks an irresistible language of mayhem. Nozzle lagi raja torey bangle par…could well be the signature of the Kashyap's Wasseypur-wallahs.
It's a strangely dichotomous world where music and songs (Sneha Khanwalk) mock the characters' subverted hero-giri. While the characters indulge in their unmanned violence we the audience become numbed participants in the rites of the wrong-doing. Unlike the other Bihar-UP-mein-bawandar films the almost-ritualistic slaughter of all rules of civil conduct in Gangs Of Wasseypur is not redeemed by the presence of any hero. Even the main protagonist in Kashyap's bloodthirsty saga is a certifiable rogue named Sardar Khan. As played by Manoj Bajpayee in what is arguably his most feisty and filled-out performance to date, Sardar Khan is a second-generation criminal and social outcast. In the film's unforgettable prologue Sardar's father (Jaideep Ahlawat, incredibly in-character) serves as a henchman to the powerful local politician (Tigmanshu Dhulia). The politician has Daddy killed by a hired assassin who could be teaching social science in a village school, and Sonny-boy grows up swearing revenge. This, in a nutshell, could be the plot for a cheesy 1980s' potboiler. In taking the grammar and language of the formulalistic vendetta drama from the 1970s and 80s (there's even a broad and prominent homage to the Big B in Yash Chopra's Trishul) and converting it into a crackling saga of compelling contemporary currency, Anurag Kashyap turns all the rules of mainstream Hindi cinema on its head. He uses the language of Manmohan Desai and Narinder Bedi's cinema. But he applies these to characters who are as far removed from the world of escapism as Sicily is from Wasseypur. Oh, did we really say Gangs Of Wasseypur was derived from The Godfather? Nah. A silly shallow reading of the clannish gang-war theme. The two worlds are interconnected only by their legacy of lineage and violence. Beyond that Kashyap's mode of storytelling, and the way his characters loom over the proceedings without becoming caricatural, are frighteningly original and as liberated of reference points as any of the path-breaking films on gang wars that have emerged out of Hollywood in the last 25 years.
Kashyap celebrates the drama of the grotesque with the relish of a 7-'coarse' meal.No details in the non-stop brutality are kept off-camera. We can count the number of thuds and stabbing sounds every time a victim is cornered and done to death. Violence on this level has never really been a part of mainstream Hindi cinema before. The end of cinematic niceties is here. Take it or leave it. Kashyap in Wasseypur legitimizes gore with glorious gusto. In the gang-war that he portrays with such feral immediacy, victims are chopped up piece by piece, their body parts sent to the butcher's to eliminate legal evidence. A finger floating in a cesspool of stale blood is a commonplace sight in the world of unchecked mayhem that Kashyap has constructed with such casual resplendence. His team of technicians are unconditionally mired in the mood of violence. Rajeev Ravi's camera mows through the imaginary world of Wasseypur with devilish dispassion. The film looks layered and even luminous in texture. But the tone of the narration is detached. The dereliction of the damned and doomed characters is neither romanticized nor demonized Indeed Gangs Of Wasseypur invents a new language of cinematic expression. It creates a world where the characters inhabit a universe of vapid stagnant violence. And yet the narration, never short of breath even in the most breathless state of violence, exudes a kind of vibrancy that comes from neither rejection nor acceptance of an undesirable situation. It comes from within the characters. As they battle each other in bitter futile feuds they also seem to be battling the demons within themselves. The synthesis of what lies within and without is devastating.
And yet for all its outward show of ruthless machismo Gangs Of Wasseypur is a film with a heart. There is a rather enticing love story featuring Bajpayee, his screen wife (debutante Richa Chadha)and the other woman (Reema Sen) tucked away in the folds of the ferocious tale. That Bajpayee's wife is played by firebrand Richa Chadha is a very happy happening in this sad but savagely funny tale. She is quite the discovery of the year, and that too in a film mottled with exceptional performances by Bajapyee, Nawazuddin Siddiqui as his son (more of him in Wasseypur 2), Tigmanshu Dhulia (clenched controlled and combative as the villain in chief), Pankaj Tripathi (riveting as Bajpayee's belligerent enemy), Piyush Mishra (remarkably restrained and wise as Bajpayee's mentor and guide) and Huma Qureshi (another whammy performer whom we will see more of in the sequel) In fact every character, big or small, is cast with what looks like first-and-last options. You can't imagine any other actor playing any of the myriad parts. Brutal, brilliant, dark, sinister, terrifying in its violence and yet savagely funny in the way human life is disregarded Gangs Of Wasseypur is one helluva romp into the raw and rugged heartland. Not to be missed. I can't wait to see the sequel. But be warned. Avoid meals half an hour before and after viewing.
Gangs Of Wasseypur, Part 2 (2012): Released two weeks after Part 1, Part 2 was even more violent. If you try to count the numbers of bullets that are fired at unsuspecting victims in the ferociously violent world inhabited by Anurag Kashyap's trigger-happy goons, you might end up cross-eyed. Caught in the crossfire of vendetta and redemption the characters of Gangs Wasseypur 2 are so on-the-edge they don't fear the abyss that awaits them at the end of their vengeful voyage. In any case, no one in Kashyap's God-forsaken kingdom takes cops seriously, not even the cops themselves. There's a typically wry Kashyap joke just before the interval when the raging protagonist Faizal (or 'Faijal', as everyone including his sexy wife calls him) carries his kid brother's corpse home. Cops stop Faizal and politely ask him to accompany them to the police station. "Don't you see I'm taking my brother home?' Faizal bellows. "We understand," squeaks a khaki-clad gentleman. "Why don't you hand over the body to us and come with us?" This, if you are familiar with the language of commercial Hindi cinema, is in character with the image of the filmy police force. It always arrives late. Or untimely. Akshaya crams in-house jokes into every nook and cranny of this diligently constructed breathtaking ode to the culture of street violence. The gang wars are so so real that they are unreal. Does that make sense? It had better! That so-real-that-it's-unreal tempestuous twilight zone is where Kashyap's film belongs. The violence of the politically corroded North Indian town (Wasseypur, or what you will)is exaggerated to a point of utter outrageousness. In Kashyap's version of the Wild West, you could get killed on the spot for anything, for asking the time or raping your neighbour's sister. The price for any crime, petty or grave, is the same. The ceaseless shower of bullets gets a hand-up on the visceral soundtrack from Sneha Khanwalka's excruciatingly evocative folk songs of Bihar (some of which are used in two versions, ironical or poignant, but always intensely definitive) and with excellent use of the puerile film songs of the 1980s which used to be out on the T Series label back then when music piracy was as rampant as political hooliganism.
Even when the epic narration moves into the 2000 millennium the characters are stuck in the 1980s. A whole thesis can be written on the interesting caller tunes from the 80s and 90s used by the characters in their mobile phone. And yes, there is Yashpal Sharma, the resident stage singer of Wasseypur crooning a 1980s song for every occasion. While the funeral of two of the key characters is on Yashpal's earnest attempt at musical expression soars into Yaad teri aayegi mujhko bada sataayegi and teri meherbaniyan…tracks the seem to unintentionally mock the solemnity of the occasion. The latter was actually sung in the film at the death of a canine. The ceaseless violence is quite often savagely funny. The series of miscommunication and misinformation among the assassins when Sultan Qureshi (Pankaj Tripathi) is to be gunned down in a crowded market, is straight out of comic-action films from the 1980s. When Kashyap is not paying tongue-in-cheek tributes to an era from Hindi cinema that seems to repeatedly define the lives of the film's characters, the director is busy taking digs at his own brilliantly crafted homage to gangsterism. In one sequence an assassin asks his intended victim the address on a visiting card. "No, this is Dhanbad. The address you want is in Varanasi," says the helpful man before he's gunned down in the crowded bazaar. For the record, the Gangs Of Wasseypur marathon is located in the Dhanbad belt but had to be shot in Varanasi. There are funny scenes of violence, tragic scenes of violence and tragic-comic scenes of violence. But violence, let us reiterate, is a constant in the lives of the characters as they stumble, fall, attack, kill or get killed in this blood-soaked bullet-ridden saga of gangsterism which makes Coppola's Sicily look like a holiday resort.
More fast-paced, furious, frenzied and frenetic than the first part Gangs Of Wasseypur 2 confidently occupies that semi-feverish space where dream, nightmare and reality play a savage hide 'n' seek with your sensibilities. The performances are tactile and dramatic. Nawazuddin Siddiqui as the ganja-zonked protagonist delivers the deadliest performance in Kashyap's gang as the most swaggering mercurial gangster on this side of James Caan in The Godfather. Richa Chadda as his mother portrays the simmering intensity of a passion whose flames won't die down with old age. During a family wedding when Chadda while singing a wedding song breaks down and then regains her composure she proves she's no ordinary actress. Yup, we are in the midst of some extraordinary talent here. Let's not undermine Huma Quereshi's saucy turn as the love of Nawazuddin's constantly endangered life, just because she's hot and glamorous. Huma scorches up the screen with her casual vibrancy. There are as many remarkable actors in this film as there are corpses scattered with scary casualness all across the lengthy saga. Mention must be made of young Aditya Kumar as Faizal's kid-brother Perpendicular who uses razor blades for everything except shaving, and Zeishan Quadri (the absolutely amazing co-writer of this saga) as Definite, Faizal's half-brother. He looks ordinary. He is dangerous. Interesting parallels are drawn in the relationship between the half-brothers Faizal and Definite in this film and Amitabh Bachchan and Shashi Kapoor playing half-brothers in Yash Chopra's Trishul. These are filmy people who choose to replace the ketchup in the action films of the 1980s with real blood. But their emotional ties seem to hinge precariously on the logistics of commercial mainstream cinema. At the end of the first Wasseypur whammer Manoj Bajpayee's character was showered with bullets. At the end of the second and concluding part of the blood-fest Nawazuddin Siddiqui is gunned down mercilessly by the people whom he depends on. When you live by the gun you die by the gun. Unless Anurag Kashyap decides to bring you back to life. Then you are in serious trouble.
Image source: youtube/TSeries/Amazon.in,HindustanTimes
They say the best things in life are free! India's favourite music channels 9XM, 9X Jalwa, 9X Jhakaas & 9X Tashan are available Free-To-Air. Make a request for these channels from your Cable, DTH or HITS operator.