Neena Gupta-Ayushmann Khurrana Starrer Badhaai Ho And Pihu: Two Content-Driven Films To Watch During The Week-PART 71
In our 71st edition of Lockdown blues chasers, check out two content-driven films to watch during the week! Neena Gupta, Gajraj Rao and Ayushmann Khurrana starrer Badhaai Ho and film Pihu; films to keep you entertained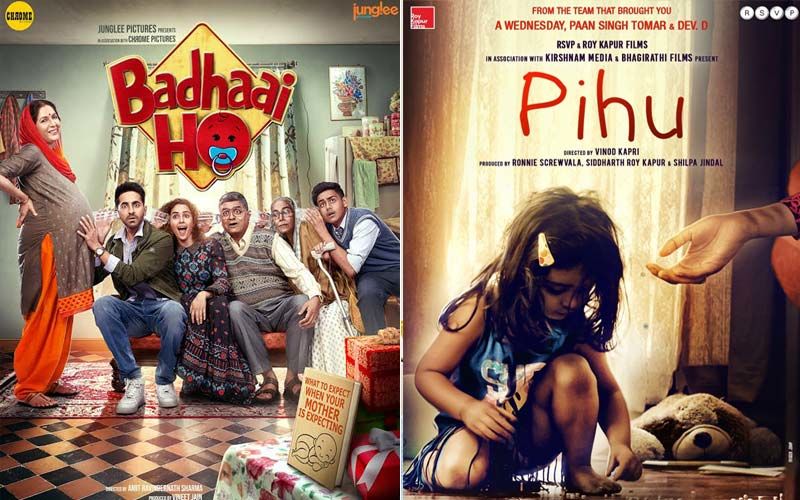 Badhaai Ho (2018): You will be smiling but also deeply moved by the artless charm of that great big universe known as the Indian Muddle Class, and I do mean 'muddle' where so many contradictory cultural, religious and political forces co-exist uneasily and yet without friction. Some such controlled chaos defines the world that the Kaushik family inhabits with such fluent ownership. We've seen an abundance of commendable comedies on the Delhi's confounded middleclass such as Dibakar Bannerjee's Khosla Ka Ghosla and Habib Faisal's Do Dooni Chaar. But none so delectably oblivious of its responsibilities of pinning down the characters to their cultural canvas. We meet the family….rather we run into them as though their existence does not depend on our attention. This is the hallmark of above-ordinary cinema. The characters must seem to exist from long before the camera was switched on. I don't think the Kaushik family knows or cares about Sanu Vargghese's ruminative camera work.
Gajraj Rao, an actor of enormous skills I never had the chance to take so seriously until now, plays the patriarch with a problem. He has just impregnated his wife (Neena Gupta, restrained and effective) at an age when parents are supposed to be celibates. Elder son Nakul (Ayushmann Khurrana ,owning the sexually challenged middleclass space) can't take the jibes and snide remarks from friends and has a massive showdown with his girlfriend's elitist mother(Sheeba Chadha, so in-control that I forgot she was acting). Then there is the family's grandmother played by the firebrand Surekha Sikri who lights up every moment of her screen-time like a 4-year old who has just discovered the joys of playing with fire. This is exactly what director Amit Sharma and his writers Shantanu Shrivastava, Akshay Gildial and Jyoti Kapoor seem to be doing in this film. The risk of turning a story on belated pregnancy into a farce or peachy (like B R Ishara Kaagaz Ki Nao) looms large over this exceptionally unconventional comedy. The director swerves the plot neatly away from all innuendo to capture with sullen satire a family coping with an unexpectedly outrageous crisis.
Badhaai Ho is a work of wondrous writing and incredible acting. Both aspects of the film are so unassuming in their impact that the untrained eye may miss the skills that go into scripting and performing a film that questions our collective hypocrisy when we are scandalized by the thought of our parents having sex. In this film the narrative is supremely self-satisfied though never smug. The characters do not mouth lines that they ought to. Rather they say what they have to say when and if they want to. In a sequence after sex, Ayushmann asks his girilfriend (Sanya Malhotra), "Is this something parents should be doing. He gets his answer sooner rather than later. By the time Ayushmann's Nakul gets the answer , we are completely and unconditionally immersed in the goings-on , our heart reaching out to the family as it comes to terms with the fact that the parents are not morally wrong in producing a child at an age when they should be grandparents. Badhaai Ho is treasure-house of commendable performances. When Gajraj Rao bursts into 'Babu' English with his son's girlfriend I chuckled at the linguistic pretension of all the patriarchs of the word who equate the English language with upward mobility. Early on I decided this film qualified as a masterpiece for its solid robust grip over the workingclass' anxieties. Towards the end when Neena Gupta's character skips the baby shower and goes straight to labour , I felt I was a part of the Kaushik family. When the family younger son Gullar (Shardul Rana) bursts into tears on seeing his newly-born baby sister I wanted to comfort him. To tell him it's okay. I understand.
Pihu (2018): If Macaulay Culkin was a little girl who was a far better actor than he, and if Home Alone was a tragic terrifying nerve wracking exposition on a 2-year child left all alone in a house filled with electric gadgets and dangerous inclines and a dead parent , this is the film you would get. Let's be thankful for the new wave in Hindi cinema that has gripped the Bollywood script in 2018 like an obstinate fever. Pihu pushes the envelope so far you can't see the stamp of any other film on it. On seeing the trailer I had compared Pihu to Chetan Anand's Aakhri Khat. And to a large extent that parallel remains pertinent. To simply watch a child fending for herself is the most heartbreaking ode to vulnerability on this side of Sadma. As Pihu prances, giggles, groans and finally weeps her way through the nightmarish emptiness of her well-appointed home, I kept wondering how the director would hold our attention for a full-length feature film with just a 2-year protagonist on screen…Or for that matter, how will he get the 2-year child to go through the motions of an imminent catastrophic crisis?
On both counts, I am happy to say Pihu scores high points. Not only are we unconditionally riveted to little Pihu's instinctive survival methods (don't think Culkin, think Tom Hanks in Castaway) the little wonder-actress is astonishingly clued in to the way the camera works. In no time, we surrender to Pihu's distressful circumstance while she remains oblivious to it. At times her expressions of exasperation at the mess that karma has suddenly dealt her, are so profound I felt I was watching a seasoned actress rather than a child who doesn't even know what the camera(or karma) is. And yet Pihu , for all its disposition to overpower us with a one-character survival saga, is never short of breath. Director Vinod Kapri never runs out of ways to engage our senses in the most heightened state of emotional vulnerability. I can't begin to imagine how Kapri directed the child. I suspect the child directed herself most of the time, mumbling cajoling coaxing and pleading baby-talk as her mother refuses to answer, breaking into a lisping song (Nani teri morni ko more le gayi will never be the same again), tiptoeing on her little feet to reach for her mother's cellphone to tell her absentee Papa that Mama is sleeping.
Oh, this is the most heartbreaking horror tale of domestic desolation you will ever see. That's for sure. The jarring notes are provided by extraneous voice. Pihu's father on the phone sounds like he is participating in a Vividh Bharti play. Noises of a maidservant, watchman and others incidental voices outside the apartment where Pihu is trapped(think Rajkummar Rao with a feeding-bottle in Trapped) sound like they've been hired to create sound effects. These apart, Pihu hits all the right notes scaring the hell out of us as the little girl gets into one potentially life-threatening situation after another, all in the ironical 'safety' of her own home. Yogesh Jaini's camera lets little Pihu do as she likes. The camera is a stoic bystander in this tale of a domestic idyll gone horribly wrong. The background score(Abhishek Rey) remains remarkably liberated from over-punctuation, coming on with a frugality that spotlights the vulnerability of the protagonist.
If you've ever worried about your child's wellbeing then Pihu will remind you of just how much at risk a child can be put into by selfish parents who forget that once you give birth to a new life your life no longer belongs to you.
Image Source: youtube/jungleepictures/rsvpmovies