Peepli Live, Guzaarish And Do Dooni Chaar; Three Mood-Changers To Drive Away Your Lockdown Blues- PART 20
Aamir Khan produced Peepli Live, Hrithik-Aishwarya starrer Guzaarish or the endearing Rishi Kapoor-Neetu Kapoor's family drama Do Dooni Chaar. Which one will be your pick this time?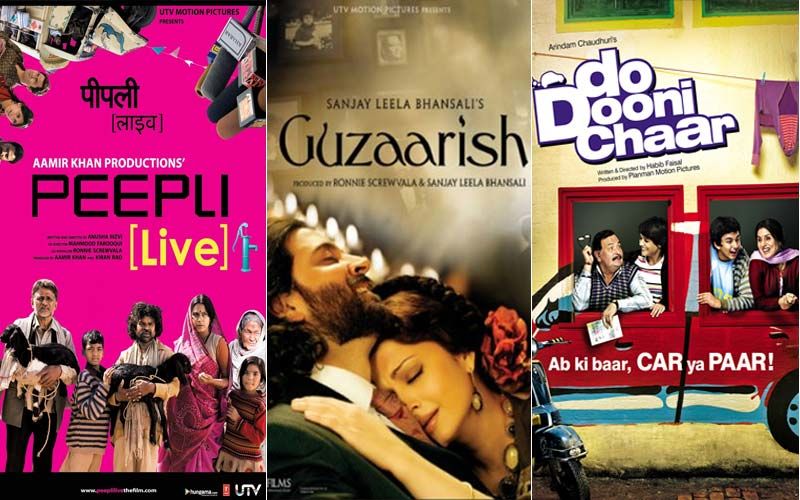 Peepli Live (2010): This is a work of damning ramifications. Debutante director Anusha Rizvi's writing skills are never made evident in the vast canvas of rural characters who cling to the poverty line hoping that some government-sponsored miracle would rescue them from the dread and drudgery of daily extinction. Though there are echoes of films as far-ranging as Mehboob Khan's Mother India (remember Nargis's husband Raj Kumar vanishing after a farming accident?) to Mazhar Kamran's Mohandas Anusha Rizvi's treatise on the common man is one helluva original take on the sins of squalor. The characters are all played by brilliantly self-effacing "actors" (are they really actors?), so much so that you wish the known faces, seasoned and brilliant as they are, like Naseeruddin Shah and Raghuvir Yadav would not come into the docu-drama content of this ode to the wretched and the damned. To most of s, farmers' suicide is just a headline. Read, regretted and then put to bed. Peepli (Live) is that savagely raw and hurtful wake-up call for the conscience that does not mince words. Yes, it has very funny moments when death becomes a laughing raw-stock for the television camera. But Peepli (Live) is not a funny film. Not really. The dialogues are not what you will hear in the inner chambers of a fashion show. The words don't seem written. They just seem to come to the two brothers Budhia (Raghuvir Yadav) and Natha (Omkar Das Manikpuri) as they walk the slushy muddy paths of a village that seems to exist outside camera range. To Rahuvir Yadav's credit, he blends into the symphony of anonymity as well as the screen Natha, though Yadav is of course a well-known actor.
In a sequence written with the taang firmly away from the shriek, between them the two brothers choose Natha for the suicide that would bring some financial succour to the impoverished family. There begins the circus of the self-serving. Politicians are of course brutally satirized by the script. And you wonder, is it the politicians to blame for the condition of the Nathas in our part of the world? It's the electronic media that comes for the most ruthless reprimand from the script. The journalists played by actors who seem to be wedded to the tyranny of the TRPs are all so splendid in their news-hound roles you wonder which came first the news-bytes or this film about biting into the byte! Peepli (Live) is shot by cinematographer Shanker Raman in stern solid colours connected to Mother Earth. We can't say the camera is unobtrusive. But this film is about the infinitely intrusive nature of the camera…right? Should one comment on the quality of the performances in a film where "acting" is not an assumed conceit? The "actors" all uniformly blend into the fertile earthy fabric of this homage to the grassroots. But a special word for that extra-special actor Nawazuddin Siddiqui. He is the only character with a conscience in this film populated with merciless opportunists. The means to survival is to be among the fittest. Anusha Rizvi is an astonishing addition to the repertoire of directorial forces that matter. By making her first film on those who don't matter beyond a random survey during the electoral consensus she has proved that the conscience as a cinematic commodity still survives.
Guzaarish (2010): Breathe a sigh of relief. During a year when cacophonic crassness masquerading as comic entertainment has been sanctioned by critics and the masses, Guzaarish comes along to remind us that excellence of the highest order is alive and throbbing in our cinema. Ironically this wonderful work of art, nuanced and magical in its portrayal of an unstoppable spirit's quest to juice life to its fullest, is about dying. If the journey towards death in art can be so mystically explored then let's embrace mortality as a stepping stone to immortality and a film about dying as a sign of cinema not dying on us. Not yet. Only those who suffer the numbing pain of isolation would know what it feels like. Dilip Kumar in Devdas, Guru Dutt in Pyasa, Meena Kumari in Sahib Bibi Aur Ghulam and Nutan in Bandini communicated to the audience the indescribable pain of solitude. Ethan, as played by Hrithik Roshan in Guzaarish, is so bemused by adversity he can look at his own suffering with dispassionate humour. Guzaarish is a joyous rapturous ecstatic celebration of life. Those familiar with the art of Sanjay Leela Bhansali know how ably and ecstatically he transports his characters into a universe of seamless drama played at an octave where most cinematic symphonies crack up and topple over into high-pitched extravagance. Not Bhansali. Not his cinema. Played at the highest possible scale his drama unfolds in wave after wave of rapturous splendour. His characters occupy a space that defies definition and seduces audiences into celebrating a state of sublimity and splendour. Ethan's inert physicality is alchemized into an ambience of animated joy. His spirit dances and sings at the sheer pleasure of every moment that is given to him to live. He radiates joy. We feel his profound happiness at the gift of life.
No film in living memory has brought out the sheer blessing of being alive with such spirit and glory. While Shah Rukh Khan's Devdas in Bhansali's opulent opera was a character broken in spirit Hrithik Roshan's Ethan in Guzaarish is irreparably damaged in body. But his spirit soars, his eyes light up like thousands of stars every time Sophie walks in. That Sophie is played by Aishwarya Rai Bachchan is a stroke of genius that goes a long way in giving Guzaarish its flavour of exceptional elegance. No other director brings out the quiet grace and the understated beauty of this screen diva's personality with as much intelligence and spontaneity as Bhansali. In Guzaarish Aishwarya is far more delicate and nuanced in conveying the unspoken pain of a love that has no tomorrow than she was in Devdas. Aishwarya imbues her role with a resplendent grace. Love in Guzaarish is expressed with subtle smirks, gentle smiles and hints of a smothered passion that could erupt any time if only destiny didn't choose to be so mean to the spirited. The scenes between Ethan and Sophie, the backbone of Ethan's spine-challenged life, radiate inner beauty and wisdom and underline the director's enormous understanding of the self-negation that a love relationship requires.
Guzaarish is Bhansali's most tender and evocative film to date. It layers the pain of a dying body with the passion of an unstoppable spirit as manifested in Hrithik Roshan's skilled and effortless performance as a quadriplegic who pledges to make every moment of his limited sau gram Zindagi pleasurable for himself and those around him. And if we're talking chemistry between Hrithik and Aishwarya then let's get one thing clear. This ain't Dhoom. It's something far deeper and satisfying. The other performance that catches your attention is Aditya Roy Kapoor's. He is natural vivacious and in sync with the film's spirit of celebrating life. Monikangna Dutt is a looker. In her limited space, she lends some appeal to the proceedings. Suhel Seth, Shernaaz Patel and Rajit Kapur also make a lingering impact in a film that you carry home with you in an inviolable place in your heart. A word about Bhansali's music score. The songs communicate the rich tapestried emotions of lives that are determined to smile through an extraordinary tragedy. Every piece of music and song in Guzaarish echoes the film's incandescent soul. The film's technical excellence particularly Sudeep Chatterjee's cinematography is not dazzling and flamboyant in the way it was in Bhansali's Devdas. In Guzaarish the appeal is far more delicate and subtle. The deep but sober colours on screen reach out to you to enrich your life in ways that cinema was always meant to until it was waylaid by the hooligans and imposters posing as filmmakers. Guzaarish is the real thing. A big beautiful dazzling emotional movie experience. You won't see a better film this year.
Do Dooni Chaar(2010): The journey from the two-wheeler to the four is what Do Dooni Chaar is about. It's a simple premise peppered and punctuated by scenes and dialogues straight out of a Punjabi middle-class household in Delhi where the two grown-up kids dream of BMWs and IPL shares while the father tries to put together money for an Alto and chicken meals for his family. The film directed by debutant Habib Faizal has a heartwarming slice-of-life feel to it. Rishi Kapoor, playing a working-class loser for the first time in his career (Shah Rukh in Rab Ne Bana Di Jodi 20 years later) pitches in a near-flawless performance as a maths teacher whose students have gone on to own the best cars in the world while he, the Gyan guru, remains frozen in his middle-class karma. Mercifully the neatly scripted (but at times a little under-done) film opts not to focus on the irony of knowledge givers financial burdens. Instead, the plot cleverly digs out situations where the Duggal family is shown getting into comic crises, such as the wedding at Rishi's sister's in-laws' place where the Duggal Parivar has to show up in a borrowed car. These situations are written sensibly and enacted convincingly to echo the savagery of life for the working class without wasting time feeling sorry for the characters. Not just Rishi's Kapoor's character…Even his wife played by the lovely Neetu Singh comes across as an unfussy practical clever and sensible householder who makes ends meet not by the size of her husband's income but by a miraculous mix of common sense and uncommon guts.
It's a pleasure beyond measure to watch Rishi and Neetu play their real-life roles on screen. For those of us who watched the pair do Khullam khulla pyar in their heydays watching them slip effortlessly into the roles of harried parents seems like a journey well taken. Add the two teenage actors playing Rishi-Neetu's son (Archit Krishna) and daughter (Aruna Vasudev) into the plot. And we are face-to-face with as real a family as it can get in a quirky whimsical earthy and heartwarming saga of a working-class family's promotion in life from the scooter to the automobile. The script sometimes careens towards a scathing comment on the road taken by the underpaid teaching fraternity country. Blessedly Rishi Kapoor, one of the finest and most underrated actors of our country, plays Santosh Duggal as a bit of a rogue, not averse to shortcuts when the going gets really tough. The humanization and under-idealization of the knowledge-giver is a clever touch in the script. The debutant director demonstrates substantial scripting skills in the way he leads his protagonist up the road of corruption and then pulls him back from temptation just in time. On a level that goes beyond entertainment Do Dooni Chaar is a timely warning to the architects of the country's education system. The film says…don't let the guru become a shishya of compromised idealism. Pay the teacher well. On the other hand, if such a reform in the educationalist's lives happened we wouldn't have the pleasure of seeing Rishi Kapoor deliver such a lived-in bravura performance. Go for Do Dooni Chaar. Its title says it all, suggesting not only that the protagonist is a mathematician but also that he is constantly trying to count the ways to make his family's life comfortable.
Here, it all adds up.
Image Source: IMDb, amazon, behance, youtube/xxbestafghanxx/acetv/pvrcinema