Raksha Bandhan Special: Shah Rukh Khan-Mamata Banerjee's Adorable Rakhi Bond; Ekta Kapoor, Parineeti Chopra Post Wishes On Twitter
Bollywood celebs can't be far away when there is any festivities involved. Raksha Bandhan is being celebrated with great fervour among the B-Town janta today. Here's what they're upto...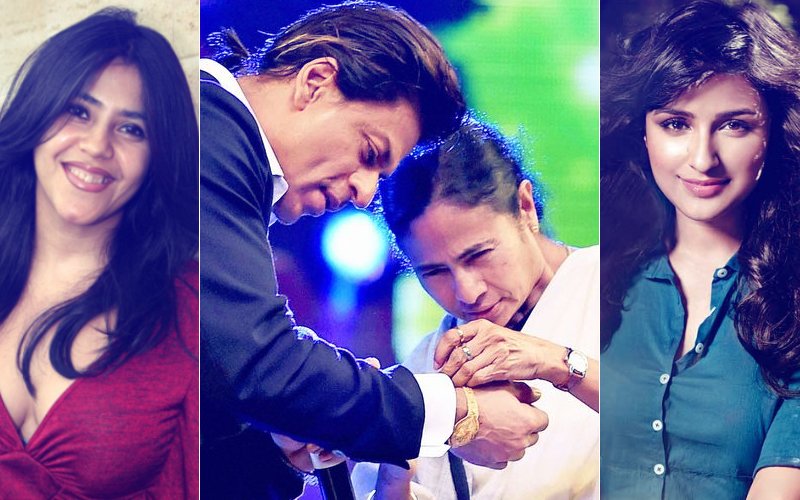 Shah Rukh Khan has been close to West Bengal Chief Minister Mamata Banerjee for quite a long time now. Just like the rest of India, he too fondly calls her didi. However, unlike everyone else, he gets a call from did herself on every Raksha Bandhan. Its become such a tradition over the years that SRK awaits eagerly nowadays for the same. "Every year I wait for an important wish. Didi's Rakhi wish on Raksha Bandhan day. I am looking forward to that call this year too," SRK said while promoting his latest release Jab Harry Met Sejal in Kolkata.

Apart from Shah Rukh Khan and Mamata Banerjee's adorable bond, there are other B-Townies as well, who have been taking to social media to share pictures and are talking about their bonds of love with their siblings, like Ekta Kapoor, Abhishek Bachchan, Bipasha Basu and more.

Check out their sweet messages on social media:

Abhishek Bachchan

He posted, "I'm pretty sure she still thinks I'm that same size and age.... But am also sure that she will always be there for me, as I will for her. #happyrakhi Shwetdi. Love you. P.S. I have 3 other sisters who do the same, but they will kill me if I post childhood photos of them. Actually, now that I think of it my sister is going to have the same reaction!! Remember girls it's RAKSHAbandhan (sic)."


Bipasha Basu

She posted, "Lucky are the girls who are blessed with amazing brothers. I am too. @rockystarofficial you are my friend , my true brother, my rock - forever. Thank you for loving me and protecting me from everything always. I would not be this strong girl I am today...without you. I love you lots.️ Happy Rakhi to All (sic).

Parineeti Chopra

She posted, "Dear Sahaj and Shivang, I don't know when the both of you grew up. Weren't you tiny babies in my arms just yesterday? I don't know when it changed from me taking care of you to you taking care of me. I don't know when you became my friends. I will never know, and I don't need to. I just know one thing - that my life is nothing without both of you. I thank god everyday that he gave me 2 perfect, kind gentlemen as brothers, who will never break my heart. I am amazed at how you live your lives and you inspire me to better mine. There will come a day when I get married and have kids of my own with another man, but you will always be my first loves Happy Rakhi Harami's !! Now send me gifts
Genelia D'Souza

She posted, "Sometimes we need people to just be there.. Not to fix anything or do anything in particular but just to let u know your being cared for and supported.. That is You , My lil Baby Brother-My Life Support #happyrakshabandhan (sic)."


Urvashi Rautela

She posted, "Meet @yashrajrautela , my baby bro who would make his classmates cry. Oh no, he wouldn't do that by bullying or throwing spells, but with his supercool way to score full marks 100/100. #SuperPilot #babybro . I miss you here in India 🇮🇳. Come back soon from Portugal 🇵🇹 #hyperintelligent #superintelligent . I love youuuuu#HappyRakshabandhan #bhulli meri yashiiii (sic)."


Kunal Khemmu

He posted, "Love you little one ."


Here's wishing all the lovely B-Town brother-sister duo, a very Happy Raksha Bandhan.
Image Source: Instagram/khemster2