Ranveer Singh-Sara Ali Khan Starrer Simmba And Ayogya: Two Films With The Same Plot But Different Languages To Keep You Entertained-PART 74
In our 74th edition of Lockdown blues chasers, we have two films with the same plot but different languages. Ranveer Singh-Sara Ali Khan starrer Simmba and Tamil film Ayogya, films to keep you entertained. Check it out!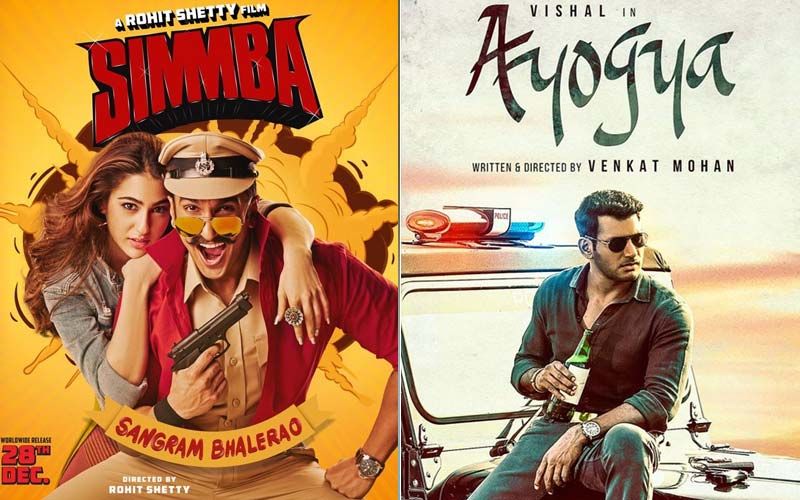 Simmba (2018): As far as getting a kick out of the movie-viewing experience is concerned, there is nothing like a larger-than-life over-the-top drama on social awakening. Simmba is a kick in the groin for all rapists, and potential rapists. I doubt rape will decline after this film. But at least those who think of violating women would blush a bit. The second-to-last sequence of this loud but effective anti-rape/anti-corruption film shows 'Simmba' Ranveer Singh sitting in the courtroom with his mentor 'Singham' Ajay Devgn. The two khaki-clad praise-vardi vigilantes come to the one decisive conclusion: cops need to put the fear of God and Law into rapists before this heinous crime winds its way out of the male libido. Until then, there are the encounters of the cops kind. This film makes a disturbing case for bumping off legally-absolved rapists, and at one point Sara Ali Khan who plays the daughter of a 'shaheed' encounter cop tells her beloved Simmba, 'If you need tips on encounter killing you can come to me." As though giving her boyfriend tips on dating decorum.
Sara Ali Khan, by the way, has nothing much to do in this tale with a bleeding heart about crimes against women. A bit ironical, no? Simmba would laugh uproariously first and then ask what irony means. As played by the adrenaline-thumping ball of energy Ranveer Singh, Simmba is initially a bit of a clown cloaked in khaki. Well, actually he doesn't put on the cop's uniform until midpoint when his corrupt nature undergoes a dramatic volte-face. That the reformation of Simmba is so convincing and absorbing is entirely due to Ranveer Singh's arresting take on a cop who conforms to corruption until the push becomes a shove. And the jokey mood of decadent grafting converts into a fight to the finish to eradicate evil. It is an over-familiar cinematic terrain and therefore a sticky wicket for the Ranveer- Rohit Shetty duo to traverse. That they succeed in putting a renewed vigour to the old rape-and-revenge formula is more attributable to the combined conviction of the director and the actor than the writing which clearly relies on formulaic signposts and of course, witty one-liners and comebacks, to the redemptive climax. Strangely for a Rohit Shetty film, the fights seem tackily staged. The most vital action sequence where Singham meets Simmba is one painful stretched-out fistfight with the two heroes looking a little lost in the goons world. Still, and I say this with much relief, Simmba is Rohit Shetty's most relevant film to date. And when Ranveer evoked the 'Nirbhaya' case in a dramtic courtroom scene I was on the verge of getting goosebumps. Ranveer's Simmba is a crazily amoral character with a core of goodness waiting to surface. He finds his moral bearings on a compass that is all his own. He moves to his own rhythm and fights personal political and social battles on his own terms.

Not surprisingly Simmba's relationship with a veteran cop (played with brilliant implosiveness by Ashutosh Rana) who remains stubbornly idealistic in a world gone to the dogs, is far more fluently fleshed-out than his relationship with his girl. The awkwardness in courtship, I suspect, is not just in the hero's character but an ingrained part of director Rohit Shetty's creative DNA. Shetty is far more comfortable in the world of boys cars and guns than in the delicate realm of girls romance and roses (roses reminds me, when Simmba presents his girl with a bouquet he quips he picked it up fresh from a grave). The romantic song shot to the sound of a remixed version of a Nusrat Fateh Ali Khan number is the only awkward digression in a film that knows its beat and follows it without apology or the fear of defeat. In one elaborate song and dance traditional Maharashtrian women are seen riding into the over-saturated frame on mobikes wearing sunglasses. This is the crazy world of Gol Maal which has suddenly woken up to the newspaper headlines. It wants to show a deep respect for women but can't help chuckling at its own stab at topicality.
Ayogya (2019, Tamil): For those who were wondering why a third version of the same rape-and-retribution story that was filmed earlier in Telugu as "Temper" and in Hindi as "Simmba", here's the answer. "Ayogya" betters both by leaps and bounds. It is what remakes are meant to be. Strong, adventurous, assertive and muscular. As directed by first-timer Venkat Mohan (with, I suspect, major help from the film's leading man), the story of a seedy cop who turns a new leaf after a rape incident, is turned into a triumph of transformative cinema. "Ayogya" is powerful in its persuasive tempo and almost a frantic attempt to keep our attention from straying. What Vishal, in superb athletic form, does is to change the punctuation marks from the earlier films, play around with the dramatic episodes so that the film's take on the theme of finding one's conscience acquires an all-new life and vigour.

As played by Vishal, the cop Karnan is a spoilt brat who cannot help demand attention all the time. He falls in love with an animal-loving Raashi Khanna (nice touch that, because when we see her surrounded by innocent canines her own guilelessness shines through). Scenes of courtship have been curtailed prudently and strangely the song breaks are not unwelcome. The item song with Sana Khan (mischievously referred to as 'Sunny Leone' by our hero), has Vishal moving in with his dance steps that will bring the house down. Rightly, Vishal focuses on his character's leap from corruption to redemption, with the redemptive elements in the plot rightly dominating the proceedings. Even more wisely, the rape crime that is a turning point in the story has been given much more space here in the Tamil version than the Hindi or Telugu versions. While calling attention to the heinousness of the crime, "Ayogya" never seems exploitative. It is exaggerated in its zeal to communicate its righteous indignation (and one pre-climactic "Drunken Monk" fight would make even Vishal's staunchest fans dizzy). But the film never loses its zing and sting.
Most significant of all is the change in the climax that pitches the story of the cop-hero's conversion into the sphere of instant iconisation. I'd rate the film's unexpected ending as one of the most fabulous final hurrahs in living memory. The larger-than-life tale is told with a sufficient amount of self-assurance. The cocky cop's initial self-seeking strategies are put forward by Vishal rigorously. He is a scene stealer all the way to the end and far better at creating a graph from grin to grim for the cop's character than in his earlier films. Vishal literally slays it in this arresting adaptation of a story where the cop's childlike attention-seeking gimmicks make way for a yearning to be saluted by the one most honest and incorruptible character in the film. Vishal gets that salute from the righteous veteran cop (K.S. Ravikumar). And we second that.
Image source: youtube/Relianceentertainment/LahriMusic/IMDb