Rishi Kapoor-Taapsee Pannu Starrer Mulk And Akshay Kumar's Gold: Two Interesting 2018 Films To Keep You Entertained During The Week-PART 68
Our 68th edition of Lockdown blues chasers is out! Late Rishi Kapoor-Taapsee Pannu starrer Mulk and Akshay Kumar's Gold; check out two interesting 2018 films to keep you entertained at home, during the week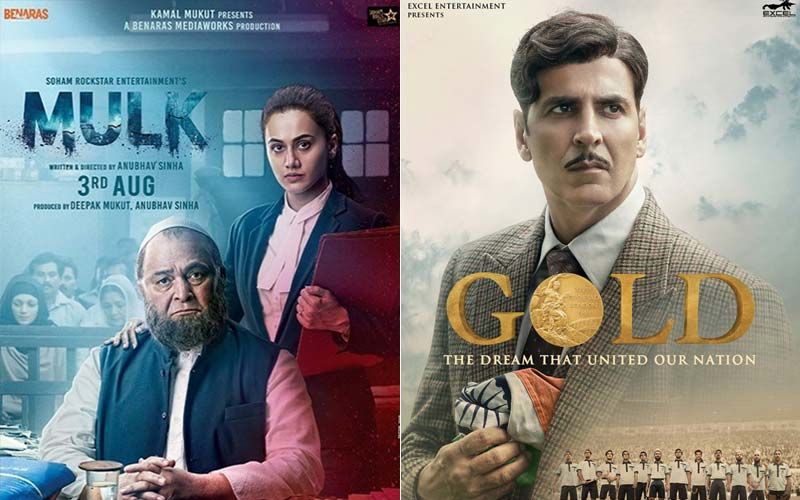 Mulk (2018): It is very hard to believe that filmmaker Anubhav Sinha whose earlier credits include fluff stuff like Tum Bin and Ra.One, has actually created this modern political masterpiece which attempts very successfully to humanize a community that has been demonized by some negative elements. And yet Mulk doesn't take sides, doesn't make the Indian Muslim community a portrait of injured innocence. What it does do—and full-marks to Anubhav Sinha for writing a script that doesn't bend backwards to humanize the community under siege—is to lay bare the layers of deception that mars a truly fruitful dialogue between sane rational elements in both the Hindu and Muslim community.
When the son(Prateik Babbar) from a Muslim family in the dense bylanes of Varanasi decides to became a so-called jihadi, the ramifications on his family are deep and wounding. It is in portraying the family's anguish that Anubhav emerges with cinema that's masterly and timely. There comes a time in the taut narrative when the patriarch of the family is asked to choose between home and safety. Rishi Kapoor making that resolute choice reminded me of Balraj Sahni in Garam Hawa. Kapoor has shaped up into that rare actor who can do anything effortlessly. His portrayal of Murad Ali Mohammad is clenched and compelling. He brings to the character an empathy that never serenades self pity. But my favourite performances in the film are by Manoj Pahwa as Rishi Kapoor's hounded brother and Rajat Kapoor as a Muslim anti-terror police officer who has turned against his own community to cleanse its reputation. Pahwa as the terror-accused father of a jihadi, makes your heart melt with compassion. In the best-written sequence of the film he tells his brother why he always tried to be a good sibling, and never failed to fall short. Also brilliant is the ever-capable Kumud Mishra as the judge presiding over a case that in many ways, changes the way we look at terror-accused families, not to mention court proceedings in our films. Ashutosh Rana and Tapsee Pannu are absolutely brilliant as the prosecutor and defence lawyer. And when Tapase takes over the climactic courtroom finale questioning why our society has polarized into "them" and "us" , she proves herself one of the strongest contemporary female actors today.
Some moments in this thought-process reforming drama made me break into goosebumps. When the terrorist-son(Prateik Babbar)'s body is brought home , we hear sounds of mothered anguish and panic,as the camera moves through the family home prowling in pursuit of answers to questions that lie too deep for tears. I am not surprised that Evan Mulligan's camera has captured the splintered cultural conundrum of Varanasi like never before. Mulk is a work that won't settle for the status quo. It forces us to think and reconsider our value system at a time when cows are valued more than human lives. Anubhav Sinha prefers to say "boo" instead of "moo".
Gold (2018): There is something to be said about motivational sports films. They make you stand and cheer even when you know the predictable path invariably taken by the genre. Gold starts off rather roughly, unsure of who the hero of this game-plan is. It is certainly not the boozing Bengali Tapan Das, played in broad strokes bordering on Bong caricature, by Akshay Kumar. So is it Imitiaz Shah, chosen as the first captain of the Indian cricket team? Imtiaz, played with a very peculiar accent by Vineet Kumar Singh, soon crosses the border to Pakistan but is there to cheer for the Indian hockey team in the grand finale in England. No, Imtiaz isn't the hero. So it is the royal arrogant hockey champ Raghubir Pratap Singh, a man of strange aristocratic contradictions who donates all his clothes to a streetside pauper but is excruciatingly self-absorbed on the hockey field. Then there is the hot-headed Punjabi player Himmat Singh, played with choleric credibility by Sunny Kaushal. Himmat's temper issue keeps him off the game until the climax when he bursts on the field like a smothered meteor taking India to its predictable yet exhilarating victory.
Is Himmat the hero then? As I searched for a formal hero to this sprawling uneven yet fascinating and eventually gripping saga of India's first gold medal at the Olympics after independence, I realized that the beauty of this sports drama is that it wisely allows every character space to grow . This is indeed a rare occurrence in a film helmed by an A-list star. Even the villain, Mehta in the sports committee, played brilliantly by Atul Kale, grows oh-so-slightly as the narrative develops. In the end we see Mehta umbrella over Tapan Das's head as the skies open up in England to bless the Indian team. Akshay gamely allows the plot to acquire a pulsating preponderance. This is in keeping with the film's theme: country before self or state. Writer Rajesh Devraj and director Reema Kagti begin on a shaky ground. The opening match in pre-Independence India in Berlin presided by a Hitler lookalike who looks like a very poor country-cousin of the original, is a near-disaster…for the hockey players and for us.
But hang on. Don't be in a hurry to write off the losing team. Gold shows us the glimmer that underscores every defeat. Much of the plot is predictable. But the fault therein lies with history. The film could also be faulted for its uneven pace. At least two song breaks with Akshay Kumar doing a tipsy trapeze at social gatherings are more embarrassing for us than for his on-screen wife, played as a squeaky Bengali by Mouni Roy. Mouni is only watching her husband Tapan Das make a fool of himself in public. We are witness to a much greater calamity as Akshay Kumar slips into the slush of the slosh and gives his weakest performance in recent years. The endearing goofy mannerisms are now becoming annoying. Or as Tapan Das would say, "Okshoi Babu kooch godbod chol roha hoi." But here is the heartening news. Gold succeeds in turning its weaknesses into its strengths. The flaws in the actors' performances frequently contribute to the film's theme of triumph-against-all-odds. We just can't help cheering for the underdogs, can we? Especially, when they are out there to bring glory to the country. By the time the final match in London(shot with brilliant lucidity at a hurried yet even rhythm by cinematographer Álvaro Gutiérrez) happens, we are reflexively up on our collective feet singing the national anthem along with our hockey heroes. Damn, did we just get emotionally manipulated? Bring it on.


Image source: IMDb, Youtube/ExcelMovies/ZeeMusicCompany