Saathiya, Munnabhai MBBS And Yuva: 3 Feel-Good Films To Watch While You Are Under Lockdown Due To COVID-19- PART 3
Part 3 of our feelgood films series is here! With the lockdown in process and a lot of restrictions imposed in the country, TV and OTT platforms are one of the many ways to de-stress yourself. We tell you why you should watch Saathiya, Munnabhai MBBS, or Yuva while at home.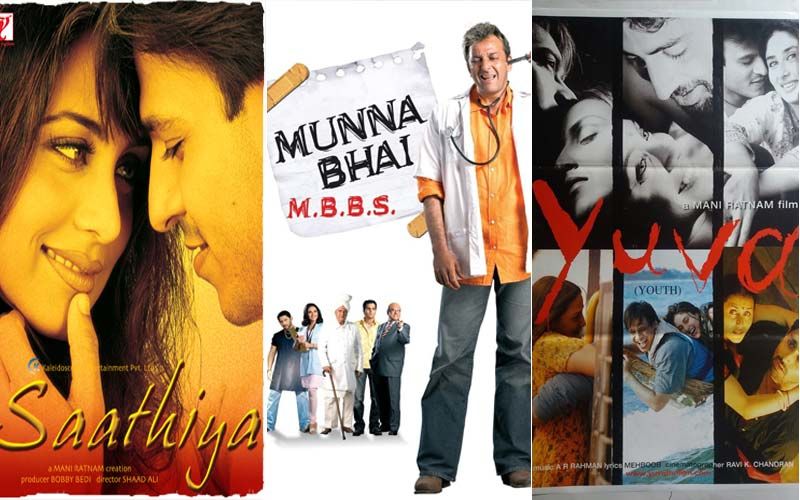 Saathiya (2002): The greatest disservice that a viewer can do to Shaad Ali's debut film is to approach it after seeing the original Tamil film Alai Payuthe. Saathiya adapts the source material wholesale. There's no attempt to take the original screenplay any further in Hindi. Perhaps the crisp-and-wispy storyline couldn't be taken any further without ruining the delicate equipoise of Alai Payuthe. That tender touch is tirelessly tangible in Saathiya. We can touch the subtly shaded emotions of a working-class romance painted with the pastel colours of poetry and life. Shaad showers a blizzard of talent into his film. The awesome Gulzar who has been apportioned the task of writing the dialogues and lyrics goes with his habitual fluency from the middle-class-ness of the spoken words to the undulating poetry of Mani Rathnam's songs. The romantic relationship between the adamant Aditya(Vivek Oberoi) and the equally obstinate Suhana (Rani Mukherjee) is shot by cinematographic wizard Anil Mehta(who earlier did Hum Dil De Chuke Sanam and Devdas) on Mumbai's local trains. Gulzar gives the lovers lines that are furiously funny and timelessly tender.
The music by A. R Rahman is a special cementing force in this forceful and foamy adaptation. Though again derived almost wholesale from the original, the songs and music are extremely in sync with the film's mood. Seen independent of the original, which is impossible to do if you've seen Alai Payuthe, Saathiya is certainly a class act, replete with some of the most cherishable technical and creative virtuosity seen in 2002. The live sound helps to make the poetic frames brim over with believability. Interestingly three of the actresses Tanuja, Rani and Sandhya Mridul have rasping husky nicotine voices that go against the mood of poised fragility that the film otherwise exudes. But then, life isn't just about poetic images painted with the brush strokes of Gulzar's poetry, Rahman's music and Anil Mehta's cinematography.
ALSO READ: Dil Chahta Hai, Rehna Hai Terre Dil Mein, Na Tum Jaano Na Hum; 3 Feel-Good Films To Watch During Lockdown - PART 2
Munna Bhai MBBS (2003): You want to give every person involved with this endearing endeavour a jadoo ki jhappi….that's the name the hero Munna gives to the life-giving hug in this idealized and thoroughly enchanting treatise on the healing touch.Munna Bhai MBBS beings us a director and a work that do what cinema was always supposed to, but seldom does: it makes us think, smile weep and finally carry some golden moments back with us secreted in an infallible place. How do you begin to describe the virtues of a film so roguishly virtuous, you want to chuckle and weep at the same time? In Munna Bhai, Sanjay Dutt has probably the wackiest most wonderful and amiable heroic character to play since Rajesh Khanna in Hrishikesh Mukherjee's Anand. Like Khanna, Dutt simply overpowers cynicism with his warmth. Like Mukherjee, Hirani's cinema is about the therapeutic powers of love and brotherhood. In one of the golden moments in Munna Bhai, we see a cantankerous old sweeper in the hospital (where most of the narrative is set) suddenly getting a jadoo ki jhappi from our hero. The cynical sweeper's broken heart is mended as the long pent-up tears wash away his pain. Simplistic and over-sentimental? Perhaps Munna Bhai is guilty of both the 'sins'. And yet in this salvational sin lies writers Vinod Chopra and Raj Kumar Hirani's triumph. They transport us back to the lost elemental pleasures of cinema where the aesthetic palate is stirred with the ladle of humanism.
Like Munna who generously gives out jadoo ki jhappi to everyone from a terminally ill patient (Jimmy Shergil) to his sardonic father-in-law-to-be (Boman Irani), the director and the audiences becomes bonded in an intangible life-giving hug. Medicine may mock. But cliched as it may sound faith can move mountains. So like Robert de Niro in Awakenings, comatose Anand (Yatin Karyekar) wakes up after 12 years, thanks to Munna's magical ministrations. We're touched by the magic and healed by the hilarity that the film exudes. Munna Bhai is a rare example of a film that has the power to heal hearts and mend souls. Its grave impact lies in the director's insouciant perceptions of life. The narrative says volumes on the quality of contemporary existence without stretching itself into long-winded sermons or pointing accusing fingers at the audience.
ALSO READ: Hrishikesh Mukherjee Directed Gol Maal, 1995 Film Rangeela And Pyaar Ka Punchnama 2; 3 Feelgood Films To Watch During Lockdown - PART 1
Yuva (2004): The easiest thing in the world is to sneer at someone who attempts to be unconventional through conventional routes. In that sense master-creator Mani Rathnam and Michael Mukherjee, his protagonist in Yuva, share the same predicament. Like Ajay Devgan's fascinating character who wants to bring about a change in the social order Mani Rathnam's cinema signifies tremendous leaps in the way we perceive popular entertainment in this country. A riveting blend of social message and entertainment is what sets Yuva apart. Like Rathnam's first Hindi film Dil Se, Yuva is an extremely restless film about young characters who are on the lookout for relevance to their existence. While Michael wants to use student power to change the festering fortunes of Indian politics, the loutish Lallan(Abhishek Bachchan) just wants a decent life for his wife(Rani Mukherjee) and himself, and never mind if it's through indecent means. The third and most blithe-spirited protagonist Arjun(Vivek Oberoi) is a commitment-phobic self-seeking wannabe whose plans of making millions in the US go phut when he meets the mesmerizing girl next door Meera(Kareena Kapoor) Each protagonist extends a fidgety power into the narrative.
Among the many absorbing facets of Mani Rathnam's storytelling, the one that stands out is the way he uses time passages in the lives of the various characters and the delightfully inventive modes of plotting, whereby different perceptions are projected simultaneously into the various characters' line of vision. These are proof of a mind that creates cinema through literary devices. You can almost read between the lines that Mani Ratnam crosses from one protagonist's life into another. The effect is of sea waves lapping against the shore and receding to leave behind tempting tides of significances. The 3-tiered plot creates a sense of louring lyricism in the plot. Every character fits in the Kollkatan milieu without stretching to cohere in the larger picture. Yet, the existence of the binding cosmic force that keeps Mani's world and the world beyond his creation, looms large over the narrative.


Image source: IMDb, Youtube/YRF/Vidhuvinodchoprafilms/apal
They say the best things in life are free! India's favourite music channels 9XM, 9X Jalwa, 9X Jhakaas & 9X Tashan are available Free-To-Air. Make a request for these channels from your Cable, DTH or HITS operator.