Sushant Singh Rajput-Sara Ali Khan Starrer Kedarnath And Mohalla Assi: Two Films To Keep You Entertained During The Weekend-PART 72
In our 72nd edition of Lockdown blues chasers, we have two interesting films. Sushant Singh Rajput-Sara Ali Khan starrer Kedarnath and Mohalla Assi; films to keep you entertained during the weekend. Read on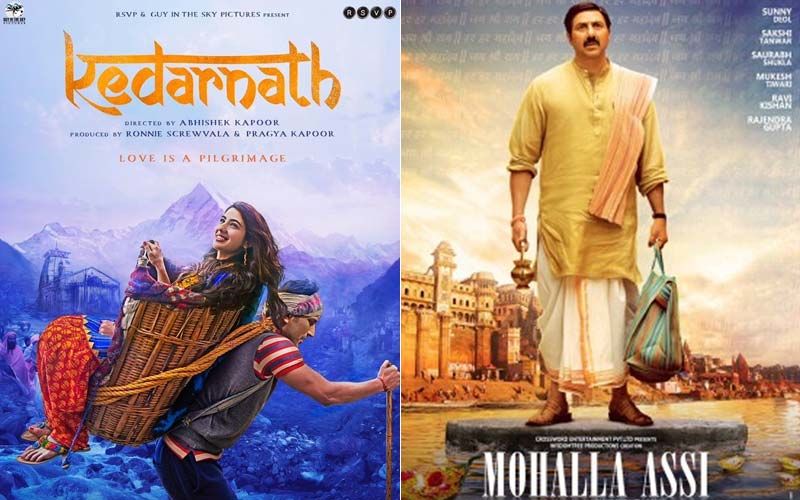 Mohalla Assi (2018): There is a lot to be said about Varanasi, the holy city at the riverbank of the Ganga where culture and religion are the twin life-savers. Everything including gangajal is for sale in Varanasi. Based on Hindi litterateur Kashi Nath Singh's Kashi Ka Assi, a scathing indictment of merchandised religiosity in Varanasi, Dwivedi's freewheeling adaptation doesn't shy away from letting the narrative hang loose to accommodate characters from different strata and owing allegiance to polarized political interests which seem to have a meeting point in the dhaba an adda of ideas where political opinions are fired fearlessly. Some of the thoughts expressed on the communal conundrum of this great nation of ours, are so steeped in relevance and immediacy that we have to remind ourselves that the film is set during the years just before the demolition of the Babri Masjid. So it isn't surprising really, that one elderly wise man asks, "How can the Ram temple in Ayodhya be built brick by brick? Have you ever heard of a temple built of bricks?"
This atmosphere of free speak allows renowned actors to come together for a pow-wow that is layered in sarcasm. At one point, Sunny Deol playing an impoverished semi-redundant Brahmin priest tells his screen wife Sakshi Tanwar that he must leave for Ayodha to support the construction of the Ram temple. "Why do you need to go to Ayodhya to encounter Ram? Just stay here and chant His name," the wife snorts from her meal-time thali. While the first-half of the film picks out characters with all their quirks of radicalism and scatters them everywhere, it is the second-half that comes to grips with the crux of the theme. When all is said and done, Mohalla Assi is not a film about the politic of rhetorics. It is an intimate portrait of a social fabric falling into a cultural abyss. It is the story of a Hindu priest Pandey (Deol) perched on the precipice of penury. As Pandey and his wife stare at a life of hopelessness for their children (they have to go to a neighbour's home to watch television) all around them their neighbours bloom and blossom by selling their souls and renting their rooms to tourists.
Dwivedi's narration steers us into Pandey's fear of losing his relevance to a society that's left Sanskrit far behind and is now chasing the English language. Deol and Tanwar are in fine form as the priest and his supportive yet discontented wife. Their scenes together are brimming with unstated emotions. Tanwar seems more comfortable as Deol'd better-half than she did as Aamir Khan's wife in Dangal. In the way, Deol is coerced into compromising his cultural and religious purity I was reminded of his father Dharmendra in Hrishikesh Mukherjee's Satyakam. This is easily Deol's most emotionally unalloyed performance. There are other actors contributing pitch-perfect performances that give a swivelling spin to this saga of a downward spiralling social structure. Ravi Kisan is fabulous as a slimy tourist guide who knows which buttons to press to get the right currency out of the dharmic vending machine. And Faisal Rashid as a bar at turned baba is a telling comment on the cancerous spread of consumerism. But my favourite sequences are between Sakshi Tanwar and Seema Azmi, the latter playing a socially inferior neighbour who comes into affluence after her husband brings home a firangi tourist. The two ladies nudge the wackiness of Varanasi's cultural schizophrenia and the rampancy of adulterous sex in the joly city, into a state of awakened bitchiness. They could be allies in a beauty parlour if they were parlour-worthy. Mohalla Assi may seem a bit scattered in its characterization. But eventually it proves as portentous and pungent as the city that its brilliant cameraman (Vijay Arora) captures in rolling waves of gossiping monocracy.
Kedarnath (2018): It's a pity that revealing the end of a film in a review is considered a spoiler. To me, a spoiler is that film which builds expectations and then dashes them to the ground. That sinking feeling I got while watching Thugs Of Hindostan and 2:0 is more than atoned for by Kedarnath, a film shot in the heartland of pilgrims where a cataclysmic flood devoured the entire topography, leaving in its wake a sense of irredeemable devastation. What if Nature's fury were to be unleashed when a a pair of lovers are denied their right to be together? In Raj Kapoor's Satyam Shivam Sunderam, when a heart is broken Nature weeps howls wails in protest. I felt the same force of Nature here when the priest's daughter Mukku is dragged out of her lovelorn state. As the girl hypnotized by love, Sara Ali Khan transports her character into a state of blissful hypnosis. She mumbles her beloved's name (it's, ahem, Mansoor) while her mother(Sonali Sachdev) tries to shake her out of her stupor. But Mukku would rather take a rain check...and I do mean rain, since it is the rains tha announce the full ferocity of Nature when Man crosses limits.
It is clear to all that the screenplay (Abhishek Kapoor, Kannika Dhillon) doesn't intend to exploit the 2013 floods in Uttarakhand. Rather the catastrophe is woven organically into the plot. The narrative gifts its characters a space where matters of the heart coalesce with the politics of religion. This is not an easy mix to plough out of the heart-land. The director is in no hurry. Until the mid-point we see only a passion erupt between Mukku and Mansoor as they are thrown together in strange circumstances. Mukku's single minded course of pursuing Mansoor would be called stalking in the 'MeToo' context. But this film exudes such a scent of nostalgia it makes Mukku's overtures look cute rather than criminal. By the time the town goes into a mass protest mode at the inter-religious love -match it is time for Nature to settle the score. Abhishek Kapoor films the water-inundated climax with a stunning disposition. As the rainwater swells soars and destroys property and man we are made witness to an inexplicable catastrophe.
There is a curious subplot about this wheeler-dealer (played effectively by Nishant Dahiya) who infiltrates a pundit Nitish Bhardwaj's home, promises to marry the elder daughter (Pooja Gor, effectively spiteful in her sisterly rage ) changes his mind and wants to marry the younger daughter instead. What a scamster this character is. The narrative scarcely allows us to be judgemental. It has much on its mind. Not all of it is realized. The flood scenes are not shot with the same finesse that we see in the rest of the film. If the CGs do not match the authenticity of a Marvel movie it is okay by us. Kedarnath doesn't try to impress us with technique. It is all heart. The lead players are not abashed about wearing their hearts on their sleeve. Sara Ali Khan embraces the camera with the familiarity that her mother actress Amrita Singh flaunted in her heydays. Saira's character is as un-coy (to coin a word) about exhibiting her heart's content as Amrita Singh in Mard or Chameli Ki Shaadi. Sara is a natural, while Sushant Singh Rajput's character is so naturally noble it's tough not to like him. The actor gives his all to his role, and then some more, leaving no room for his Mansoor to be judged for his religious beliefs. Thankfully, Mansoor is never shown doing Namaaz . He behaves "normally" while the city's Hindu radicals get all worked up into a state of whiplashing lividity, much in the same way that they did in the director's Kai Po Che.
There are some moments of greatness peeking out of the storytelling , like the sequence where Mansoor tells Mukku how his father once wrote a fan letter to the goddesss Lata Mangeshkar telling her how the Valley resonated to her voice when she sang. Mansoor then sings Lag Ja Gale Se for Mukku. Time stands still. Sushant brings a certain magic to this moment. At the end when Mukku sits to hear the radio, the same song is announced. But the song never plays. That unfinished moment of parting best defines the film's theme of unfinished love. Have you ever seen a great love story that doesn't end in tragedy? This one does too.


Image source: IMDb, Youtube/RSPV Movie/Deewanasaika