The Loins Of Punjab Presents, Johnny Gaddar And Laga Chunri Mein Daag; 3 Intriguing Films To Watch During Lockdown- PART 12
Not every film is a slice of life film and not every film caters to every mood. But if you are in for some intriguing films then do read our part 11 from the lockdown blues chasers series.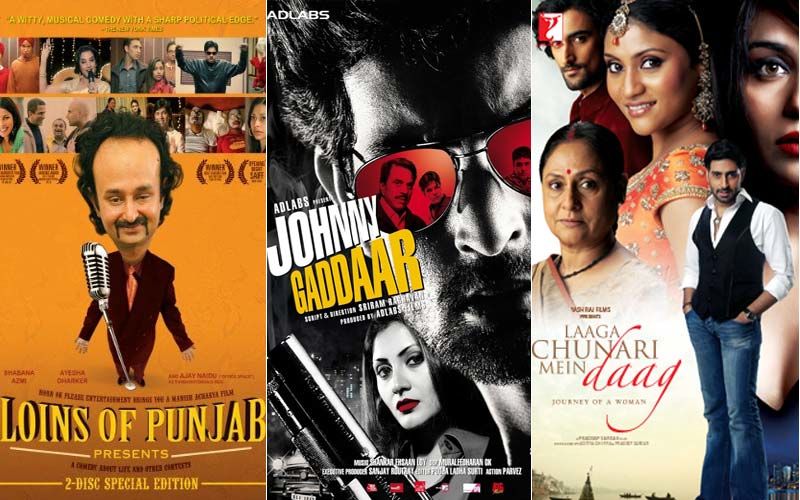 The Loins Of Punjab Presents (2007): Oh, you went too soon! The fistful of feisty farce that first-time filmmaker Manish Acharya facilitated into this funny-on-the-top-tragic-at-the-bottom look-see at the quirks quibbles eccentricities oddities and other cultural excesses of a bunch of Indians in the US trying hard to keep the Bollywood spirit alive in the land of opportunities, made us sit up and wait for more from Manish. But God had other plans. Manish suddenly left us. His 90-minute film leaves you with enough characters to populate two big-budget Karan Johar spectacles. Broadly assertive Indians swarm the posh hotel that populates the music contestants on the stage of every age…and rage. Yes, there's plenty of anger underlining the film's utterly blithe and deliciously amusing subtext. On the surface, the eccentric and isolated NRI community caught between the dance of the diaspora and the deep-blue 'see' of Hindi-cinema kitsch, seem to represent the most apparent fall-out of cultural displacement. Within half an hour you warm up to these naively ambitious characters as people whom you've probably bumped into during your last visit to the US of A at the neighbourhood curry canteen….the chic socialite (Shabana Azmi with a dazzling smile and a new haircut) whose raga-rich guru teaches her to sing Chura Liya hai tumne sexily, the 17-year old singing prodigy (Ishitta Sharrma) of a stifling Gujarati family (a chaotic cosmos of dhoklas and pornography), the earnest but talent-less Bollywood-fixated bimbo (Seema Rahmani, perfectly cast), the Bollywood-Bachchan fanatic (played with don't-take-me-seriously gusto by the director Acharya), the belligerent gay Bhangra-rap duo walking hand-in-hand with aggressive amorousness across the hotel lobby staring down all the disapproving stares …They all gather together in a hilarious huddle of NRI eccentricities, Bollywood norms and Hindi songs, belted out in voices that often belong to the bathroom, never the 'bored' room.
Given the severest of playing-time limitations, every character still brings to his or her role a delectable participative spirit. I don't think Loins… could work without the same cast. Tough to single out any one performance. But Jameel Khan's evil-eyed, boorish and vulgar performance as the show's organizer stands out….As for Shabana, in her ten-minute appearance, she brings fire, ice and a bit of wicked sunshine to the table. Watch him in the sequence while addressing a press conference in the hotel lobby where she's interrupted by the only non-brown contestant Josh for a wrong reference to a Bachchan flick. To play people who are parodic and silly in their self-importance with such warmth and understanding isn't easy. On the surface the actors and the wonderfully gifted director make it look easy. Loins Of Punjab Presents is all about scratching the surface to discover the painfully embarrassing dreams and ambitions of a generation that has moved as far away from 'home' as India has moved in the world of globalization. See the film for the layers of sadness it secretes while telling a tale of preposterous self-promotion by people who can't look beyond their voices. Or watch the film for its unstoppable flow of brilliantly witty one-liners and for bringing into play Bollywood's film-song culture without being a musical. Curry flavouring never seemed more ironic.
Johnny Gaddar (2007): Some films exude a cultivated cool. Others are born with it. Sriram Raghvan's film belongs to the category of naturally cool. Simmering with an urbane discontent and exerting an anxious but never deliberate debate on the power of money to dominate morality, Johnny Gaddaar is a homage to many things…It's a tribute to R. K. Narayan (in her opening sequence Rimi Sen is caught reading Narayan's Guide), James Hadley Chase, Jyoti Swaroop's Parwana, Vijay Anand's Johnny Mera Naam, Sooraj Barjatya, Ram Gopal Varma …You name hit! And by the way, Johnny Gaddaar is also a homage to Bimal Roy, Gulzar and Lata Mangeshkar…Dharmendra's dead wife sings Mora Gora and from Roy's Bandini on the tape even as the life oozes out of his kind soul. Blood finds its level in an austere pool of tears in this relentlessly rigorous take on the wages of crime and the evil men do to their conscience for the sake of money. Hamletian in tone and utterly liberated from the artifice that often underlines noire films from Bollywood, Johnny Gaddar is a feast of febrile fury harnessed to cleverly admit a kind of harsh light that falls on the soul under acquisitive pressure. It's also a cunningly Noire-ish homage to some of the most sizzling film songs of the 1970s including Rama Rama ghazab hui gawa re (Jugnu) and Bachke Kahan jaoge (Yakeen) Sometimes a film goes way beyond its prescribed genre in search of a kind of cinematic nirvana that is as tough to achieve as it is for the audience to accept. Sriram Raghavan's tutorship in the Ram Gopal Varma school of filmmaking has served him well. He does away with all the surface humbug of the noir genre, and comes up with a work that's original in thought, super-original in execution and always a step ahead of the audiences' expectations. As the masters of the noir-gangster genre like Quentin Tarantino and Coen Brothers have shown, visual appeal is as vital to the life and breadth of such films as the intricate plot manoeuvrings that create the perfect synthesis of suspense and nemesis. Sriram makes surprisingly sparse use of technical panache. Less is always more for this gloriously articulate filmmaker whose appetite for detailing is immense. Watch the sequence in the train just before Daya Shetty is murdered. The old lady sharing the compartment with the man who's about to die lends a crucial character-credence to the plot. Yup, Hitchcock would approve.
Though I'm not too sure of Ram Gopal Varma. The contours of the narration are flexible yet firm, as a young gangster Vikram (debutant Neil Mukesh Mathur) tries to break from a life of crime …but only one after one hectic hurrah of carefully-planned betrayal that leaves Vikram's guru (Dharmendra, sincere but getting the timing wrong) dead on the floor and his conscience writhing uneasily on the dance floor. Neil Mukesh plays the amoral Romeo with icy steadfastness, going from betrayal to betrayal, his eyes not giving away anything. It's a brave and thoroughly unconventional debut for this engaging actor. Young Mukesh sinks his teeth into the complex character with the focused intensity of a spiritually secure carnivore. The rest of the performances range from the extraordinary to the exceptional. Vinay Pathak's dexterity with the cards in the gambling scenes are matched by Zakir Hausian's power to create a dilemma out of treachery. And falling quite comfortably in the extraordinary category is Ashwini Kalsekar as Vinay Pathak's wife. Though the character derives inspiration from Shefali Shah in Ram Gopal Varma's Satya, Kaswekar gives it her own interpretation. Watch her closely when she tells her husband's murderer (not knowing it's he whodunit), "What will I tell Chikoo (their daughter) when I go home?" The emotions are kept at a low premium. But when they occur they remind us of how far materialism has taken humanism in the race to mortality. Johnny Gaddar isn't outstanding in the context of how far it takes the gangster-noir genre. But in narrating the underbelly of betrayal in a language that's calm controlled and constantly compelling, Sriram Raghavan's work is next to none. Quite simply –or not so simply-- one of the most gripping tales of crime and retribution, Johnny Gaddaar calls the bluff of Bluff Master and all the other recent 'cool' hip-hop crime-time capers that have hit Bollywood.
Laga Chunri Mein Daag (2007): This is a very stylishly told opulently- mounted tale of a fallen women's rise from matters of the flesh to the spirit. Whether it's Varanasi's hectic daytime flamboyance or Mumbai's steamy though not entirely callous night-life (though a time-worn tale Laaga…avoids clichés and unnecessary sentimentality) cinematographer Sushir Rajpal lays out a sumptuous though never over-the-top feast for the eye of the spirit. A couple of minutes into the narrative, and you're hooked to the sunshine inherent in the film's soul. Make no mistake about this wonderful work's intrinsic intentions. Though it tells the tale of a terrible moral downfall the mood is kept vibrant and real to the end. As we watch the two sisters Badki (Rani Mukherjee) and Chukti (Konkona Sen-Sharma) dancing on the ghats of the Ganga in Varanasi strange alchemy occurs between the audience and the film. We get immediately drawn into the world of Pradeep Sarkar's decadent crumbling but dignified characters as they go from abject bankruptcy to unscheduled redemption. The scenes are written (by Rekha Nigam) with an eye for inner detail that proudly matches the extraneous accuracy of the Varanasi haveli where our family struggles to hold its head above the rising waters. You'll love the initial scenes where a film crew from Mumbai descends on the family from Varanasi with much- needed financial respite. You'll love the kitchen cackle among the matriarch Jaya Bachchan and her two chulbuli daughters. And you'll watch the stunning tragedy of Badki's transformation from an innocent small-town girl to a high-class call-girl (all right, an escort by any other name…..) with a mixture of dismay and admiration.
There're some interesting and believable male characters, like the cheesy but suave executive (Harsh Chaya) who first suggests to the small-town girl that there's an easy way for pretty Class-10 drop-outs to make money, or the ad agency owner (Kunal Kapoor) who drops his burger all over his beard and put his feet up on the table in front of the horrified savvy small-towner (Konkona). Or Anupam Kher (subdued and embittered) as the family head who has given up his responsibilities. Watch him in that infuriating but comic scene where he proudly compares his elder daughter to his father for possessing the same volatile nature. Or for that matter, Rani's city benefactor (Ninad Kamath) gives her a place to stay and confidence to survive in the concrete jungle. Kamath is a fine actor. Why don't we see more of him? Director Sarkar has cast every character with actors who look and feel right for the part. If Rani and Konkona seem to be real-life sisters and if Jaya Bachchan does look like their mother then Abhishek Bachchan and Kunal Kapoor look just like the progressive contemporary guys who would rescue the two sisters from a lifetime of non-washable daag on their chunri.Laga Chunri has pace and grace. And it has Rani Mukherjee who has evolved into one of the most substantial actresses of the post-Shabana/Smita generation. Her interpretation of the character's heartbreaking change from innocence to reluctant compromise is fleshed out in glorious colours.




Image source: IMDb