Tu Hi Mera Sunday And Lucknow Central: An Interesting Combo Of Films To Keep You Entertained At Home During The Lockdown-PART 60
In the 60th edition of Lockdown blues chasers, we have one slice of life film and an intense prison drama starring Farhan Akhtar to keep you entertained, while at home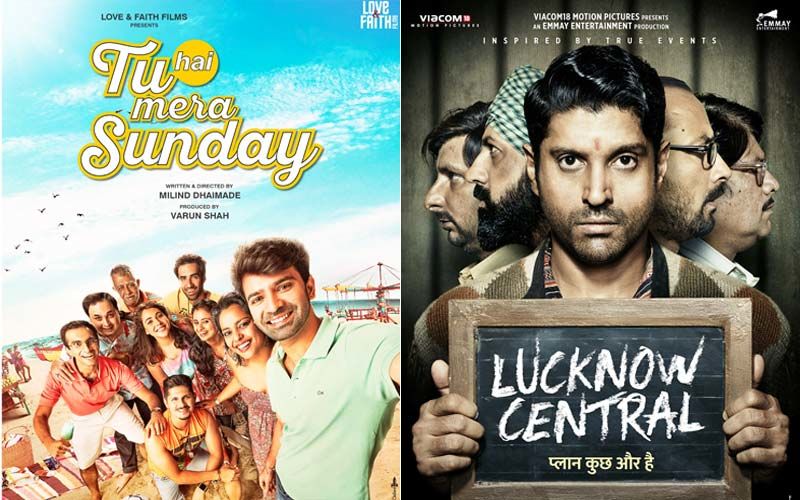 Tu Hi Mera Sunday (2016): Once in a while in my long career as a movie fanatic, I come across a sparkling gem that reminds me there's still so much to see, so many places to go, for Indian cinema. First-time feature filmmaker Milind Dhaimade takes us into places where we all have visited at one time or another. And I don't mean only Mumbai which like many memorable films stands as a silent hero in this film about unsung heroism. Dhaimade—God bless his creative juices that flow in the narrative like a stream gurgling through a craggy mountain—takes us to places in the heart where we go quite often in seclusion but don't really wish anyone else to know. The oddly entitled 'Tu Hai Mera Sunday' is about working-class yearnings, crushed dreams and smothered aspirations floating to the surface to confront the characters even as they conform to the stagnating status quo, loath to swim against the tides. Some of the major characters and there are so many of them all so vivid and relatable even in the briefest of roles, have serious meltdowns in unexpected moments. And if the others don't break down we know they are holding it all in . The cloudburst can happen at any time.
It's the sunshine that director Dhaimade and his astounding cinematographer Harendra Singh focus on , but never at the cost of the darkness that lies beneath. The over bridge on which we first meet the five protagonists could be the ill-fated venue of tragedy that happened on Elphinstone Road in Mumbai recently. There are no traces of crisis where our heroes first appear. But then this is Mumbai. Everything changes in a jiffy. It is this mix of mirth and melancholy that makes 'Tu Hai Mera Sunday' one of the most precious slice-of-life films in recent times. The narrative shifts moods and tempo without disturbing the characters' journey and thought processes as they go from smothered anguish and despair to a celebration of life and related joys.
The core theme is the five protagonists' search for space to play their Sunday football game, an event that centralizes their scattered lives. Even as they grapple with personal issues, all delineated with remarkable fluidity and grace, the sportive spirit binds the five friends through personal pain and shared anguish . Among this gem's many virtues the one quality that gives it an absolute stand-out stamp are the performances. I don't think I've seen a more accomplished complete and engaging ensemble cast in any film. Taken from theatre and television these are actors who haven't acquired the cocky arrogance of stardom . They breathe life into their characters even as the characters suffocate in the cramped polluted environment of Mumbai. Each of the five protagonists is played memorably. It would be unfair to single any one performance, they are all so vividly in-character it doesn't feel like a camera construction at all. Shyam Salgaonkar edits the multitudinous characters and their rapidly mutating lives with a reined-in vigour.
We realize these are people on the move. But the narrative won't humour or heckle there with hecticity. Adding substance to the performances is the care taken to write the characters into situations that contours their eccentricity in a city that disregards individuality and celebrates anonymity. We feel their unbearable darkness of being with a clarity that can only be defined by the darkness that surrounds these lives. There is Arjun Anand whose relationship with Kavya grows when he starts babysitting her dementia-ridden father (Shiv Subramaniam). Barun Sobti and Shahana Goswami (who often reminds me of Kajol) play Arjun and Kavya with such warmth and candour it feels like they are a couple I know first-hand. Sure, their shared affinity is memorable. But the footloose womanizing Rashid (the very convincing Avinash Tiwary)'s growing closeness to the abandoned wife (Rasika Duggal, whose smile lights up every frame) and mother is equally compelling. Both the romances plough persuasively into our hearts. As does the sulky musician Dominic (Vishal Malhotra)'s troubled relationship with his brother until his sunshiny sister-in-law-to-be (Manvi Gagroo) intervenes. And how can I forget the decent Parsi whitecollar boy Mehernosh (Nakula Bhalla) who can't bear to watch his office colleague Peppy (Pallavi Batra) being abused by their boss. Finally, there is Jayesh (Jay Upadhyay) the Gujarati businessman stifled by his commodious family's noisy religiosity. When Jayesh has a sudden meltdown we are unprepared for it. It's like that mouse in the randy Rashid's room which shows up to remind him of the disturbances that lie underneath the hard-earned calm and routine tenor of Mumbai. You can ignore the rats only as long as they don't eat into your urbane composure. This is a film whose characters I carried with me long after the film was over. Every actor, including the unknown Rama Joshi who plays Vishal Malhotra's harried mother, and Meher Acharia-Dar who plays Arjun's sprightly temperamental sister ,is an unsung hero in this gem of a film that must be seen.
But if you ask me the one real hero that stands tallest in this film of looming achievements is the writing. The sharply but unobtrusively-drawn characters and the intriguingly spot-on situations and words that they exchange will have you wondering where you've met all these people before and eavesdropped on conversations that happened while you were travelling. While you figure that out, please excuse me . I must see the film again.
Lucknow Central (2017): "You don't get justice in the world, you only get good luck or bad luck," a wise old librarian(pronounced 'lee-bray-nian' by his Lucknowi singer-son) quotes Orson Welles. Our good luck, then, that we get a prison drama as taut and thrilling, relevant and resonant as Lucknow Central right in the middle of the year when things are looking bloody bleak in Bollywood. Yes, there is hope. Lucknow Central is an engaging thinking-man's thriller. Ballsy and brave, it penetrates the politics of prison life without relinquishing the right to engage us in a solid storytelling spree where a clever cat-and-mouse game is played out between a sadistic jailor (Ronit Roy, in top form) and a non-guilty prisoner (Farhan Akhtar) who is hell-bent on getting his liberty at any cost. The smartly thoughtfully written script (by Ranjit Tiwari, Aseem Arora) delves into the dynamics of freedom and comes up with a super-chic musical with wings that often allow vivid characters to fly higher than prison dramas generally do in India. Undoubtedly, Lucknow Central is a prison-break drama on a par with Franklin Schaffener's 1973 classic Papillon and certainly superior in its intellectual political and spiritual ramifications to the overrated Shawshank Redemption. Redemption in Lucknow Central is a scarce commodity. This, its protagonist Kishen discovers as he journeys from a dreamer in the streets of a small town in UP, to a convict within 20 minutes of this gripping film's playing-time.
Debutant director Ranjit Tiwari is an astoundingly self-assured storyteller. For a debutant he shows scant regard for commercial trappings. When was the last time we saw a prison drama without an item song? Or a film about injustice where the hero doesn't get to raise his voice or lower his fists on corrupt jaws? Farhan Akhar's Kishen is so soft-hearted and kind, we wonder how he will survive in prison for a crime he never committed. Early on there is heart-stopping sequence of prison violence where Kishen is offered 'protection' by an imposing goon (Manav Vij, wordlessly sinister). "I already have protection," Kishen says pointing to his packet of Nirodh(on screen advertisement? There is more of that later for an online shopping brand). Farhan plays Kishen as a dreamer-musician coping with a crisis beyond his comprehension or endurance but determined to slum it out even if it means breaking some laws. This is his bravest most soul-baring performance to date. Scenes of his breakdown in solitary confinement will remain with us long after the last episode of Prison Break is over. The steel-willed screenplay provides Farhan with solid support, flinging forth one deftly written scene after another. Early on in one of the most authentic courtroom scenes I've seen in an Indian film since Chaitanya Tamhane's Court and Vetrimaran's Visaaranai the smirking Judge's verdict on Kishen's faith will shock you by its sheer casualness. Let's not beat around the bush, an indulgence that this film is assuredly not guilty of thanks to Charushree Roy's editing which weaves in and out of the inmates' lives with the expertise of a trapeze artiste. What starts off as Farhan's story soon becomes the story of four other prison inmates each played by an actor who has rare insight into human nature and the conditions that impose themselves on a man's free will rendering his actions unacceptable to society. Talent like Rajesh Sharma, Imaanulhaq and Deepak Dobriyal never lets a film down. Here they have so much meat to chew on , it is feast of fury for them. As Farhan's band-baja party they are seasoned troupers in a particularly inspired environment. And when Gippy Garewal joins them as a Sardarji pining for his sweetheart singing soul-penetrating songs of separation, we know we are in this for keeps. Then there Ravi Kissen a hoot as UP's calm, cynical Chief Minister with a sense of humour who keeps reminding khaki-clad bureaucrats that the journey from officer to traffic police is just a signature way. God knows we need jokey politicians to get through present day politics.
'Lucknow Central' sucks is into its human drama. It gives a flying hoot about commercial trappings, keeps the frames stark, bare and daunting. No concession is made to glamorous props. And if Diana Penty playing a kind of self-important activist prison-reformist that would otherwise seem satirical, happens to be naturally glamorous, it's just too bad. Cinematographer Tushar Kanti Ray looks for corners and crevices in the human heart to shoot feelings behind prison walls. When in the second half the flexible narrative moves effortlessly into a philosophical mode we are prepared for the transition much in the same way that Kishen prepares himself for prison life. An ongoing sense of inclusiveness runs through the film. We feel so much part of the goings-on that we cry, laugh, sing and dance with Kishen and his four band members. Their Kabootar song in the prison compound is arguably the best-choreographed dance number seen in a Hindi film in recent times.
It looks so unrehearsed so spontaneous ….just like the film where the characters probably existed long before the writer and director thought about them. We just didn't know. Or care.


Image Source: Imdb, youtube/tuhaimerasunday/movietrailers