Varun Dhawan's Badlapur And Ayushmann Khurrana-Bhumi Pednekar's Dum Laga Ke Haisha; 2 Content Driven Films To Chase Your Lockdown Blues-PART 39
Varun Dhawan's Badlapur And Ayushmann Khurrana-Bhumi Pednekar's Dum Laga Ke Haisha, these two films will tell you why content is the king!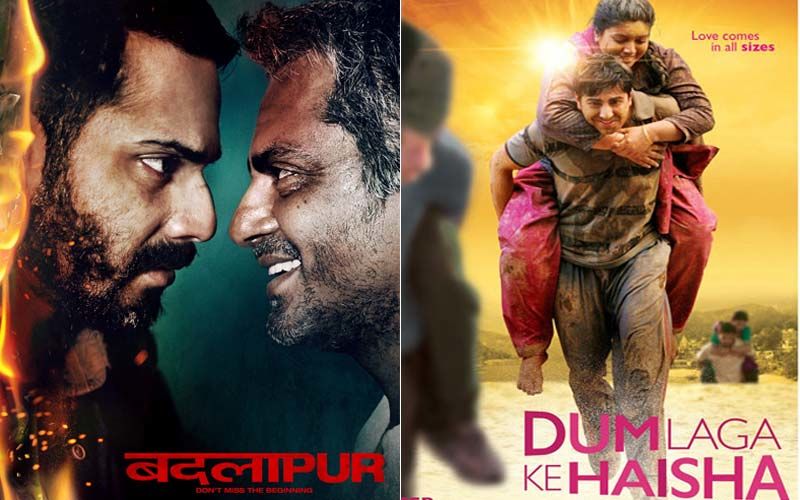 Badlapur (2015): "The tree remembers, the axe forgets," reads a proverb in the opening credits of a film that left me feeling like both the tree and the axe. While the film's pain-lashed topography in the first overture is exceptional—with every vein on Varun Dhawan's temples ringing a bell—the second overture gets audacious tongue-in-cheek subversive and sometimes downright silly. As if the tree decided to get even with the axe by cutting off its branches. Cast in the mould of the greatest redemptive dramas Badlapur has an ambitious ambience of unmitigated doom irrigating almost every frame. It's as if director Sriram Raghavan and his co-writer Arijit Biswas wants to shut out all light from his protagonist Raghavan's life. Insulated from the outside world Raghav's festering pain spreads itself out in the narrative spanning a seductive facsimile of reality that jumps off the screen to claim our attention. For a large part, Badlapur is an exceptionally engaging drama. The film opens on a busy road in Pune with traffic, passersby, hawkers and bystanders loitering in camera range. In a corner, we catch a mother and child heading into their family car. We don't know yet that they are our hero Raghavan's universe. We also don't know that they will be dead in the next ten minutes, and our hero would shed his heroic skin as the plot progresses from being a human drama to a heist caper with loot that is quite a hoot.
The confrontational drama between the hero Raghavan and the villain Laik gets a massive, near-monumental fillip from the main actors.
Varun Dhawan, a bit raw around the edges but nonetheless acutely effective as the grieving family-man, and Nawazuddin, flawlessly flamboyant as the sly villain who has willy-nilly destroyed the hero's life, together confer an overpowering immediacy to the proceedings. But then, their collaborative might as the sinned and the sinner begins to be dimmed by a digressional drama that impinges itself from the sidelines. The virus of over-ambition strikes the narrative much in the same way that tragedy strikes Raghavan's life.
The problem is with the structure. Raghavan cannot make a film without incorporating the heist element. A bag filled with crores of money shows up in the second half to claim primacy as the protagonist in the plot. So do two new characters played with panache by Vinay Pathak and Radhika Apte. Both are very effective in their parts. But they make no real sense out of the material that the script throws into their orbit. There is a sequence where our hero, rapidly degenerating into a vengeful sociopath tells his wrong-doer that he will forgive him if Raghavan is allowed to sleep with his wrongdoer's wife. Raghavan and the wrongdoer's wife proceed to the bedroom. What follows is unintentionally hilarious. There is a woman in a bra and lots of moaning sounds. But no sex. Wait. There is sex elsewhere. The love-making sequence with Huma Qureshi who plays a prostitute and Laik's girl is meant to be brutal but ends up being a burlesque of the real thing. The sequences showing the hero using sex as a weapon of revenge don't work not for the lack of intelligent writing. But because Varun's inexperience shows up in sequences that expose his youth. No such problems arise in Nawaz's performance. Flawlessly cunning and diabolic he goes from bank robbery to jail term to chronic escapee with a deep understanding of the humour that underlines all anti-social humour. Rebellious minds can't see how self-centred their aspirations are. Nawazuddin can. He can peer into Laik's murky soul and find redeemable humour. It's a remarkable achievement, sadly not matched by all of the screenwriting in this engaging authentic but flawed drama of crime and retribution. What director Sriram Raghavan avoids at any cost is shallowness in the dynamics of vendetta. The tussle of one-upmanship between Raghavan and Laik never lapses into an incoherent and angry jumble of rhetorics and recrimination. There is always room for the drama to slide open slippery doors that lead into unexpected truths about the quality of life lived on the edge of destruction. It takes a social worker, played with empathetic energy by Divya Dutta. to point out the sheer nullity of Raghavan's life after the revenge would be complete. The same is true of the screenplay. It seeks its strength in the vendetta drama and then loses steam when the hero begins to lose his way in the maze of retribution. Finally, Badlapur leaves a lot to be desired. Desire is one of the predominant themes in the revenge tale. A routine Hero Versus Villain premise is uplifted by the stark and stripped-down central performances. Nawaz and to an extend, Varun bare the souls of their character. Varun falters due to inexperience but more than redeems himself in a sequence such as the one where he confesses to Nawazuddin about cold-bloodedly killing a couple. It is that ruthlessness of the rootless, a man who has lost everything that Varun portrays with compassion. The support is consistently brilliant. But then, that's the least one expects from Raghavan's film. Badlapur takes the cinema of eye for an eye to a new high. The feral face-offs between Varun and Nawazuddin captured in the colour of wrath and doom by cinematographer Anil Mehta, confer a vital visceral velocity to the virile vendetta saga. In the end, the darkness of despair gets to you. I am not sure why I felt cheated and betrayed. Was it because the protagonist didn't get the revenge he expected? Or was it something else?
Dum Lagake Haisha (2015) It's very interesting to see how comfortably the very talented Sanjay Mishra and Seema Pahwa who played the lead in Rajat Kapoor's highly-lauded Ankhon Dekhi last year, fit into the peripheral parts of the hero's father and heroine's mother in Dum Laga Ke Haisha(DLKH). Come to think of it, 20 years ago Mishra and Pahwa could have comfortably played the lead of an uncomfortably married couple here. Ayushmann Khurrana is the under-educated Kumar Sanu fan from Haridwar who doesn't seem to have much ambition in life except to marry a pretty girl. Newcomer—with a commodious qammar—Bhumi Pedneker is the educated aggressive girl who doesn't believe in taking it lying down from her newly married husband. Uncannily, Khurrana with his slouched obduracy reminded me of Rakesh Pandey in Basu Bhatterjee's Sara Akaash, the newly-married chap who won't talk to his wife because ….well, she doesn't quite fit. And we don't mean into the narrow doors and gallis of Haridwar where Ms Pedneker moves with the counter-clumsy certainty and dignity of a woman who knows her weight is not going to let her become anyone's dream woman, not even her dear beloved husband who after a drink or two describes as a "moti bhains" in front of his friends. "I am the bride. But it's he who blushes like one," Sandhya(Pedneker) tells her curious friend who calls on the (this is 1995) to know what happened on the suhaag Raat. Well, nothing did. If you must know. A majority of the first half is taken up in showing how Sandhya builds a bridge of confidence with her reluctant bridegroom, only to discover he is not worth it. Fiery and obstinate Sandhya leaves her Sasural and returns home. One of the film's many warmly meditative moments occurs when Sandhya's mother tries to hurriedly lecture her about how much a woman must endure keeping a marriage together. That moment is treated like a dismissive joke. So is the activist-lawyer who seems to enjoy separating Sandhya from her husband. The film mocks feminist ideology without resorting to crass strokes of aggression. Later there's a smartly humorously written courtroom sequence where during a divorce proceeding, Prem's (Alka Amin) brings up the issue of a woman's compromises to keep domesticity intact. "Why don't you two also go in for a divorce right now?" Prem suggests with saddening sarcasm.
The writing is so fluent robust and rooted in the milieu that we never feel the weight of nostalgia in the words. Though set in the pre-cellphone, VHS, audio cassette era DLKH carries the weight of its periodicity very lightly, almost jauntily. In that sense, this film differs widely from Ayushmann Khurrana's previous release Hawaizaada where the period flavour was pronounced and pungent. Here the aroma of the 1990s pervades the screen in intangible wafts. We feel the atmosphere in every character's existence. These are people who don't really care about how much they weigh as long as they can forge some meaning out of their meagre existence. Brilliantly shot in musty rusted shades of renewable decadence DLKH brings back the quaint endearing romance of Basu Chatterjee's cinema. The slender story of a newly married couple struggling to find a common ground in a crowded stifling low middle-class family is reminiscent of Basuda's Piya Ka Ghar and of course Sara Akaash. The rather self-conscious finale is sadly a cinematic necessity that happily, doesn't take away from the film's utterly unselfconscious weightless debate on marriages being made in heaven or hell. What works forcefully in the film's favour is its disarming simplicity. Debutant director Sharat Katariya is a diligent steadfast storyteller. His eye for visual detail(inherited from his guru Rajat Kapoor) goes a long way in making the characters appear larger than their strife. Khurrana totally transforms into Haridwar's Sanu fame thumb-controlled by a father who slips condoms into Sunny-Boy's hands on his suhaag raat reminding him that they can't afford to expand their family at the moment. Debutant Bhumi Pedneker plays the overweight bride with a breezy confidence that gives a wazan to her performance. She is a prized find.
There are many heroes in this economically told unfaltering tale of a marriage of incompatibles: the debutant director, so unerring in his detailing of the drama, the serene city of Haridwar caught in a bright but believable light by Manu Anand's camera, Ayushmann Khurrana bringing back fond memories of Raj Kapoor and Amol Palekar's working-class anxieties. Every character, from the heroine's bratty kid-brother to the hero's Muslim friend, is so sharply sketched they only needed to be fleshed out by able actors, like Sanjay Mishra and Sheeba Chadha, the latter playing the former's sharp-tongued spouse-deserted sister seeking entertainment in domestic strife. Sounds familiar, right? A word about Yash Raj Films, the banner that seemed to be floundering lately gathers together its wits with this homage to the North Indian middle-class marriage which the late and much-missed Yash Chopra would have liked.
From DDLJ to DLKH, way to go, Yash Raj. DLKH is a heartwarming charmer suffused with that lived-in feeling which seemed to have vanished in the run to that glitzy shallowness where a dhoom or a bang-bang were seen as viewer-friendly explosions. Here is a big-hearted shout for a bygone era and arranged marriage where love happens later crammed with episodes and moments that add up to an invaluable and cherishable experience. By the time Khurrana's Prem makes that run with Sandhya on his back you are already rooting for the underdog and his under-affluent world of little pleasures. Come, share the experience.
Image Source: Imdb,amazon, youtube/yrf/erosnowmusic