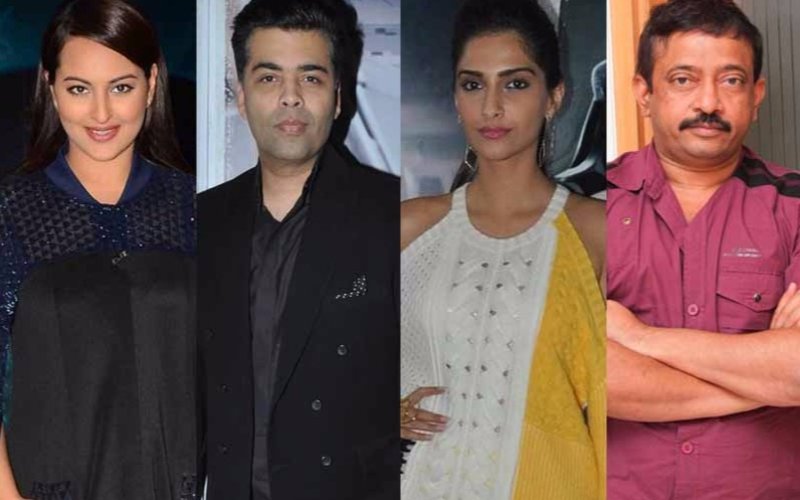 Social media went berserk a few days ago, when Twinkle Khanna lashed out against Naseeruddin Shah for his comments against her late father, Rajesh Khanna. In an interview to a leading daily, Naseer had called Senior Khanna a "poor actor".
Twinkle immediately retaliated with a series of tweets:
The actress-turned-interior designer got support from many B-Towners, including Karan Johar.
But this isn't the first time Bollywood celebrities have clashed on Twitter. We digged deep to find some ugly spats which began on social media.
ANURAG KASHYAP - RAM GOPAL VARMA

Image Source: Manav Manglani / lovetamil
Right after the release of Bombay Velvet (2015), Anurag apologised to his fans -- on social media -- for the poor show of the movie. Soon, Ram Gopal Varma bashed the film on Twitter. Here's the heated exchange between them banter is as follows:

SONAKSHI SINHA -- MAHESH BHATT

Image Source: Manav Manglani / alchetron
Right after the AIB Roast controversy in February 2015, loads of FIRs were lodged against the celebrities who attended the show. Mahesh Bhatt was furious when he got to know that his daughter Alia was named in one of the FIRs while Sonakshi Sinha, who had also attended the roast, was not. This is how their verbal dual panned out:

SONAM KAPOOR -- SHOBHAA DE

Image Source: Manav Manglani
In her blog, Shobhaa De referred to Sonam Kapoor's I Hate Luv Storys (2010) as 'I Hate Dumb Storys'. The comment triggered a huge Twitter war between the two. Take a look:
Shobhaa: What an absolute waste casting Imran Khan and Sonam Kapoor in this utterly dull, total dud of a movie which is more a wonky tribute to Karan Johar's earlier films, songs and screen pairings. After a point, all those 'in' jokes and references start bugging the viewer, particularly a replay of his popular songs as background scores and an embarrassingly gauche recreation of iconic scenes, like the Kuch Kuch Hota Hai dialogue between Shah Rukh Khan and Kajol. Come on guys, are you that desperate for original ideas that you have to pack so many reels of a contemporary film with such obvious take-offs? This isn't clever tongue-in-cheek stuff. It's plain unimaginative.

KARAN JOHAR -- RAM GOPAL VARMA

Image Source: Manav Manglani / jansatta
Karan Johar and Ram Gopal Varma have
never
been friends. Their Twitter war, during the release of KJo's My Name Is Khan (2010), reflected their 'love' for each other.
The two also had a mini-war before the release of Karan's Student Of The Year (2012). Here's what followed:
EMRAAN HASHMI -- MAHESH BHATT

Image Source: Manav Manglani / bolegaindia
Right before the release of Raja Natwarlal (2014), Mahesh Bhatt took to Twitter to rant against Emraan Hashmi. The filmmaker was miffed with Emraan for cancelling the shoot of Mr X to promote Raja Natwarlal. This is what transpired between them:
Mahesh: Gratitude is the lifeblood of any meaningful relationship. I am grateful to Emraan for giving his best to us. But is he grateful to us? Charity begins at home. Emraan Hashmi can't 'steal' from Peter & gift it to Paul. He can't cancel MR X's shooting & do PR for Raja Natwarlal!
Emraan: Bhatt saab, agli baar pl pick the phone and abuse me. Twitter ke wajah se tamasha ban gaya hai. Having a tendency to constantly rant and solve personal issues on Twitter -- Twitter Happy. Have contacted Oxford dictionary to add 'Twitter Happy' after our family feud on Twitter.
TWINKLE KHANNA -- CHETAN BHAGAT

Image Source: patrika/ etlindia
Twinkle's Twitter war with Chetan Bhagat started after her fan referred to the bestselling author in a tweet. Here's what happened between the two in April, last year.
Thumbnail Image Source: Manav Manglani/ pvlr