'Can I Take Vamika On Date?' Little Kid's Message For Virat Kohli During IPL Match Faces Backlash; Angry Netizens Say 'Famous Hone Ke Liye Kuch Bhi'
A photo of a little boy holding a placard requesting Virat Kohli's permission to date Vamika has raised eyebrows on social media!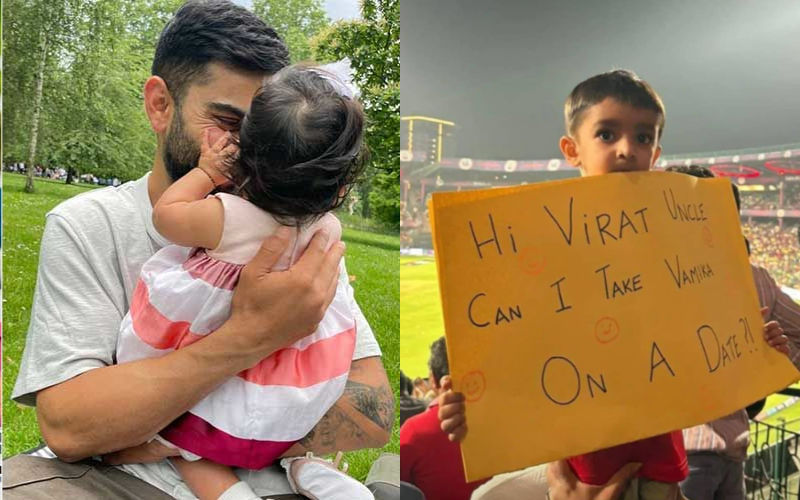 Virat Kohli and Anushka Sharma's little daughter Vamika has been the center of attraction since her birth. Although the couple takes measures to ensure that their daughter's pictures do not get leaked on social media, there have been instances when Vamika's cute photos have broken the internet. During a recent RCB vs CSK match in Bengaluru, a little kid was seen holding a placard requesting Kohli's permission to date Vamika. This act of the little boy is receiving severe on social media with netizens slamming the child's parents for encouraging such cringe-worthy behaviour.
In the viral picture, a little boy can be seen holding a placard asking Virat's permission to take his little daughter on a date. The placard read – "Hi Virat uncle. Can I take Vamika on a date?" This post has gone viral on social media with fans trolling the parents of this little boy. Reacting to it, one user wrote, "Here is something wrong with parenting, idk why people are finding it cute." Another commented, "I shudder to imagine how creepy and insensitive the kid's parents are. The kid looks innocent - often it is the parent leading kids the wrong way. All for a moment of camera time?." One of the netizens said, "famous hone ke liye kuch bhi." ALSO READ: Virat Kohli-Anushka Sharma Spend Time With Daughter Vamika On The Beach; Cricketer Shares A Glimpse Of His 2-Year-Old
People really need to leave Vamika alone. This child also doesn't know what he is holding. The things people do for clout without even thinking! https://t.co/HTOKhxdYNz

— PS ⚡️ (@Neelaasapphire) April 18, 2023
Virat and Anushka welcomed their first child, daughter Vamika in 2021. Last year, they released a statement urging paparazzi to respect the privacy of their daughter by not clicking her photos. Virushka said, "While we will always ensure that you get all the content you need featuring us, we would request you to kindly not take or carry any content that has our child. We know that you will understand where we are coming from and we thank you for the same."