From the past few days, the internet is burning with rage over the brutal killing of a father-son duo named Jayaraj (60-year-old) and Bennix (31-year old). The horrific incident took place in Tamil Nadu. It all happened after the duo was arrested for keeping their mobile shop open for some time beyond the lockdown rules. They, however, died within the next ten hours. It is being alleged that the police officers who arrested them, are also responsible behind their torturous deaths. As a consequence of the same, social media is flooded with anger and petitions, demanding justice for Jayaraj and Bennix.
The list also includes many Bollywood celebrities, who are taking to their social media accounts and condemning the police brutality under the hashtag #JusticeForJayarajAndBennix. Kareena Kapoor Khan was the latest star to raise her voice against the tragedy. Taking to her story, she wrote that such brutality is unacceptable and urged everyone to speak until they get justice and no such incident is repeated in the near future. "Such brutality is unacceptable, whatever be the circumstance. As a society, we must continue to speak until justice prevails and work towards this is not happening again. #JusticeForJayarajAndBennix," read Kareena's post.
Other than her, Priyanka Chopra, Taapsee Pannu, Riteish Deshmukh, Genelia D'Souza and Shikhar Dhawan, too, expressed rage over such a barbaric act.
Check out Kareena's post: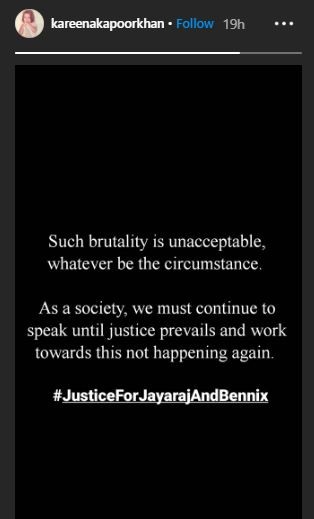 Priyank, on the other hand, had shared,
"Reeling from what I am hearing. Absolutely stunned, sad and angry. No human being deserves such brutality whatever be the crime. The guilty must not be allowed to go unpunished. We need facts. I can't even begin to imagine what the family must be going through. Sending strength and prayers. We need to use our collective voices to seek #JusticeForJayarajandBennicks"
image source: instagram/kareenakapoorkhan