19 Years Of Devdas: Sanjay Leela Bhansali's Masterpiece, Never Before Never Again
As Shah Rukh Khan- Aishwarya Rai Bachchan- Madhuri Dixit starrer Devdas complete 19 years of its release, we revisit this masterpiece by Sanjay Leela Bhansali and why no other film comes close to what it is.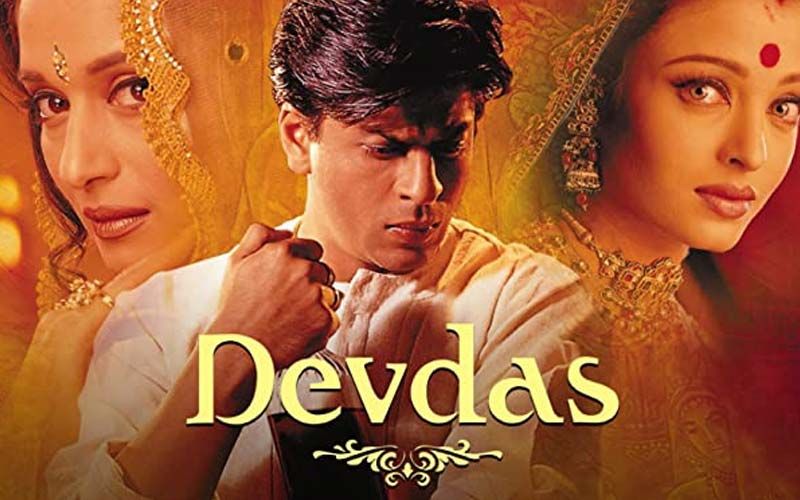 Something very unusual and unprecedented had happened at the end of this 3-hour long 2002 homage to the spirit of romantic love. The audience in the front stalls stood up and clapped. They had never done that before at the end of a film. Never before, never again. Sanjay Leela Bhansali's astute and exquisite adaptation of Saratchandra Chatterjee's classic romantic tragedy had left us with a feeling of deep elation and satiation. It had confirmed the director's strong faith in the power of the visual medium to create poetry out of melodrama, and our faith in Bhansali as one of the five most gifted filmmakers mainstream filmmakers Hindi cinema has ever produced.
Straightaway it must be said that after Hum Dil de Chuke Sanam, Bhansali created yet another achingly enchanting romantic tragedy that bathes, fed, nourished and anointed our senses with exotic life-giving visuals and emotions which we shall carry with us for as long as we live. Devdas is one of the most outstanding products of the much-maligned mainstream Hindi cinema. It is aristocratically rich in visual detail---and hats off to Nitin Desai for his sets and Anu-Sandeep, Neeta Lulla and Reza Sharifi for their gasp-inducing costumes. The characters didn't just move in the most breathtakingly ornate sets ever constructed for a Hindi film wearing clothes that seemed to have been spun from the most exquisite threads obtainable. Bhansali's characters spoke and sang to us. The amazing opulence never smothers the immensity and scope of Saratchandra's profound emotional tragedy. Hence the film requires at least two viewings to understand the visual and emotional layers that the narration secretes.
In telling the doomed story of Devdas's love for the self-willed Parvati, Bhansali went far beyond places where Bimal Roy had taken the original text by Saratchandra. The sequences that Bhansali invented to corroborate Devdas's tragic romantic karma are the film's highlights. Whether it's the whole elaborate ritual of bringing Devdas' two women Paro and Chandramukhi together for a mesmerizing dance at a Durga Puja celebration, or –in a hair-raising negation of life—the sozzled Devdas performing his own shraadh (last rites), Bhansali's original ideas complemented and beautified the film's grand literary antecedents.
One of Bhansali's bewitching brainwaves that neither Saratchandra nor Bimal Roy could've ever thought of, was Paro's wedding where Devdas arrived in time to give away the bride into a loveless arranged marriage. That whole sequence of the marriage and bidaai accompanied by Kavita Krishnamurthy's pain-lashed singing was so vibrantly melancholic, it made us think of W.B.Yeats' poetry. Great Art isn't about creating poetic moments alone. These moments have to be made tenable and inhabited so that the man in the remotest corner of the theatre responds to it instinctively and unconditionally. That's the magic Bhansali created in Devdas. His film didn't just satisfy the purists and cognoscenti, but also the man who did not know the film's literary antecedents.
In achieving that rare blend of sophistication and accessibility, Devdas joined the ranks of the greatest commercial Hindi films of all time. Most importantly, the film brought a "commercial" grandiosity to the tale without sacrificing the original's tragic resonances. The sheer opulence of Bhansali's storytelling is still unmatched by anything in any Indian film including Bhansali's Hum Dil De Chuke Sanam. The people who inhabited the director's fascinatingly decadent world were so persuasively placed in the plot that we couldn't help being swept away in the velocity of their dramatic lives. The famous finale from Saratchandra's novel where the diseased and dying Devdas breathes his last in front of his beloved's Sasural was retained but re-structured and re-invented. Embellishing Paro's long run from the inside of her in-laws' mansion to the outer courtyard with top shots that capture the imposing pillars and sprawling courtyard, the moment of Devdas' death is transmuted into a fluently and flamboyantly rendered High Art of the kind never seen before.
Taking the feudal splendour and leisurely mood of early 20th century Kolkata into a timeless setting, Bhansali built an edifice of enchanting resplendence. The early romantic sequences between the London-returned Devdas and his childhood sweetheart Paro were designed with operatic grace and opulence. We were sucked into the old-world, ornate courtship games that included an entire enchanting musical passage devoted to Devdas trying to slip a Kangan (an ornate bangle) onto the coy Paro's wrist. Credit must go to the casting which is in one word, peerless. Aishwarya Rai and Madhuri Dixit imparted a certain timelessness to their weather-worn roles of the Beloved and the Tawaif. In what's possibly the best written, enacted and choreographed (the choreographers include the legendary Kathak exponent Birju Maharaj) courtesan's role since Meena Kumari in Pakeezah, Madhuri gleamed with a graceful aura.
But it's Aishwarya Rai who attained legendary proportions in this film. Whether it's the tragic or romantic moments or the spellbinding dances, Aishwarya brought in the supple sprightliness of a deer prancing unconsciously in the deep forests. Her eyes are crystal–blue pools that change colours according to her character's moods. As for the crucial question of whether Shah Rukh Khan was apt as the complex confused masochistic Devdas. The answer is an emphatic yes. Expressing the confusions and torment of unfulfilled love, Shah Rukh played Devdas as a self-deluded adventurer stumbling into the abysses of an impetuous existence and lacking the courage to face the consequences.
Sure, 'Shah Rukh The Superstar' did peep out of the character once in a while. But then that's what great showmanship is all about. Shah Rukh absorbed the pains and conflicts of Devdas into his own livewire persona, deflecting his trademark nervous energy into a portrayal of doom and abject tragedy. His performance in two key sequences—when he holds a mock self trial sentencing himself to "drink till death, and when he hears about his estranged father's death—are the best Khan has ever done. Among the supporting cast, as Paro's mother, Kiron Kher in a brilliantly invented out-of-the-book character was a rabblerousing mass of spirited motivations. Her confrontation sequence with Devdas's mother (Smita Jayakar) brings the house down. Jackie Shroff as Devdas' happy-go-lucky friend Chunnilal seemed to have modelled his performance on Rajesh Khanna in Amar Prem. The performance only goes as far as the imitative impulse takes it.
In every technical department, the film stood out. But a special word for, Ismail Durbar's zingy raga-lined songs, Monty's sparingly forceful background score, Aatish Kapadia's dialogues and Binod Pradhan S cinematography. These went a long way in bringing the ambrosial era of the aura alive. Devdas was destined to create history. Saratchandra's novel will probably never be re-made again. Sanjay Leela Bhansali has exhausted every creative aspect of the tale. So is Shah Rukh Khan as memorable as Dilip Kumar in Bimal Roy's Devdas? No, he never aspired to be. But the answer to the question of whether Bhansali's Devdas matched up to Bimal Roy's Devdas is in the affirmative. Not only did Bhansali equal Roy's vision and texture of tragedy, but he also surpassed them in many episodes.



Image source: Amazon