9XM Startruck With Priyanka Chopra-Farhan Akhtar: Dining Table Talks, PeeCee's Great Metabolism, Fight Over Mutton Kebabs And More
9XM Startruck is back with the powerhouse actors, Priyanka Chopra and Farhan Akhtar. The duo spoke about all things food and hwo they live to eat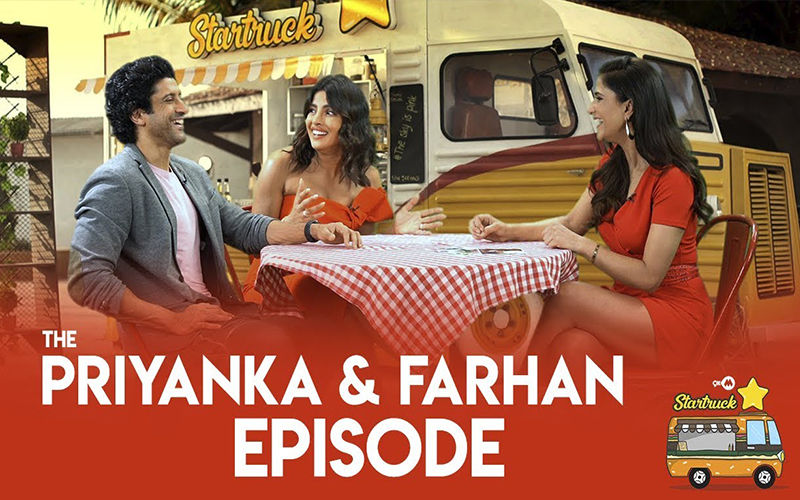 9XM Startruck is back with the powerhouse performers, Farhan Akhtar and the international star Priyanka Chopra. The duo has been on a breezy ride of promoting their next film The Sky Is Pink throughout the country. From Mumbai to Ahmedabad to Jaipur to Delhi and then back to Mumbai, the actor duo have been at it making sure their precious film reaches the right kind of audience and motivates them to watch it too. Between all of this, we thought of helping Priyanka and Farhan take a much-needed food break. The actors graced the 9XM Stratruck hosted by Masterchef Shipra Khanna.
This time Chef Shipra made sure to cater to both their taste palette. On one hand, she made a healthy salad but gave it an interesting twist, the Spinach and Watermelon Salad and the other dish she prepared was the yummilicious Cheesy Uttapam. No points for guessing that both Chopra and Akhtar dived in straight away and couldn't keep their hands off.
While visiting our 9XM Startruck, both actors revealed how Priyanka is a bigger foodie and thanks to her great metabolism she can eat anything and everything. Farhan, on the other hand, spoke about his comfort food, Kebabs. Not only for him but Mutton kebabs especially is comfort food for the entire Akhtar family.
Priyanka Chopra spilt some beans about the kind of food that was served during her big fat Indian wedding. PeeCee revealed that how the food was an important part fo her wedding as her family and Nick's family belonged from all over the world and Priyanka wanted to give them the best culinary experience ever.
Well, on the look of it, the actor duo surely know a lot about food and are big-time foodies!
Image Source:- Team 9xm