Are you guys thinking the same thing that we are? The actor has certainly put on some more kilos for Dangal and is looking bulkier than ever.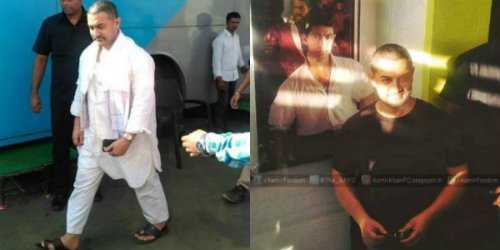 This, despite doctors saying that he is putting his health at risk by doing so (Doctors say Salman, Aamir have put their health under a cloud, October 31).
Naturally, his getting-bigger-by-every-passing-day frame has got us a tad worried. After all, Aamir recently suffered a muscle spasm in his thighs and back, which further led to a serious shoulder injury (Aamir Khan injured, November 15). He was advised strict bed rest and even had to fly to the US for further medical treatment (Injured Aamir Khan rushes home, November 17).
Clearly, Aamir is pushing the envelope a bit too far.
Readers, what do you think - is Aamir putting himself up for another health scare? Share your thoughts in the 'Comments' section below. You can also tell us on
facebook.com/SpotboyE
and
twitter.com/SpotboyEtheshow
with #AamirHealthScare.
Image Source: twitter/ @The_AKFC