After Bhool Bhulaiyaa 2 Shoot Gets Cancelled, Kartik Aaryan Enjoys Playing Jenga With Family-WATCH
After the shoot of Bhool Bhulaiyaa 2 happening in Lucknow was cancelled amid the COVID-19 outbreak, Kartik Aaryan took to his social media to share a video as he enjoys his time playing Jenga with his family. Check it out!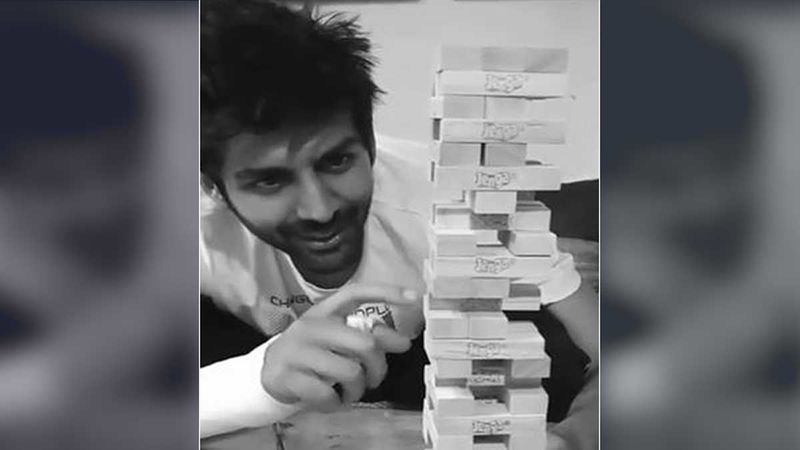 Amidst the COVID-19 outbreak in the country, many shooting schedules were cancelled due to the safety of cast and crew. Just days before, after giving fans a sneak peek from the sets of Bhool Bhulaiyaa 2 in Lucknow of cast and crew wearing masks, Kartik Aaryan was spotted heading back home with Kiara Advani and Tabu. Now, as Kartik is home with his family, the actor took to his social media to share a video enjoying his time playing the game Jenga.
Since the shooting schedule of Bhoool Bhulaiyaa 2 has been canceled, Kartik Aaryan is home, busy spending some quality time with his mom, dad, and sister. Today, the actor took to his Instagram stories to share a video of the fun that he is doing at home in the company of his mom, dad, and sister. While the world is busy fighting Coronavirus, Kartik is enjoying playing Jenga at home. Although the actor has an injured arm, Kartik is quite the sport as he is spotted playing the game.
In the slow-mo video, shared by a fan page account, Kartik Aaryan is seen sitting comfortably in his house by a table where the blocks of Jenga is carefully placed. The video features Kartik trying to pick a block and take it out. While the Bhool Bhulaiyaa 2 actor looks super happy and cheerful, it looks like Kartik is making the best of his free time spending it with his parents at home.
Meanwhile, in the stories that Kartik Aaryan shared on his IG, his mother, and father look super excited with Jenga. In the video, Kartik's beautiful mom is seen trying to pick a block while the rest of the family members scare the hell out of her. With all the fun and games going on in Kartik Aaryan's home, it proves that this family sticks together in good and bad times. Also Read:
Ranbir Kapoor's Mother Neetu Kapoor Has THIS Reaction On Seeing Alia Bhatt's Childhood Pictures
Image source: Instagram/ @aalishasartik