After Ranveer Singh, Katrina Kaif Makes Kartik Aaryan Apologise For Being Late, 'Aap Bhi Town Main Rehte Hain Kya?'
During the Sooryavanshi trailer launch event, Akshay Kumar got Ranveer Singh to do sit-ups for being late. Now, Katrina Kaif followed Akshay Kumar's footsteps and asked Kartik Aaryan to say 'sorry' for not being on time at IIFA Press Meet. Kartik's reaction is hilarious AF!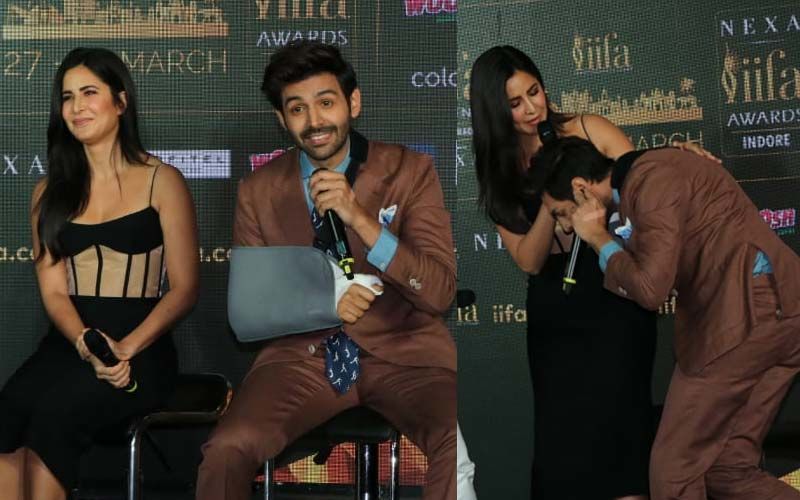 Katrina Kaif and Kartik Aaryan recently made an appearance at the press meet of IIFA. Katrina looked mesmerising in her black bodycon dress while Kartik looked dapper in his maroon suit. However, Kartik had a sling on his arm. That is because the star reportedly underwent a small surgery earlier in the day. We had received pictures of him exiting the hospital. Well, keeping that aside, at the event, Katrina and Kartik had a blast. The lady even got Kartik to apologise to the media for being late and the Pati Patni Aur Woh actor had a hilarious response.
We have got our hands on a video from the event where Katrina asks Kartik to say sorry to all for being late. Kartik then gives a Ranveer Singh reference and touches Katrina's feet to express that he is sorry. He then goes on to say that he has a bit of anesthesia inside him and has forgotten where he lives. As he recalls he stays in Juhu and the event was in BKC, he stated that he got stuck in traffic and now, Katrina can cut him some slack. All in fun! LOL
Just a few days ago, we saw a similar incident during the trailer launch event of Sooryavanshi.
Akshay Kumar and Ajay Devgn got Ranveer Singh to do sit-ups
and apologise for being 40 minutes late at the event. They even joked about it in front of the press and Ranveer in his defense had stated that he stays in town and hence, he got late.
Looks like being fashionably late at events won't be a norm for the stars anymore, thanks to Akshay and Katrina.
Image Source: Viral Bhayani