Ahead Of Supreme Court's Verdict, Sushant Singh Rajput's Sister Shweta Makes Yet Another Appeal For CBI Probe 'We Deserve To Know The Truth' - VIDEO
Before the Supreme Court's verdict, late Sushant Singh Rajput's sister Shweta shares a video message requesting for CBI enquiry; check it out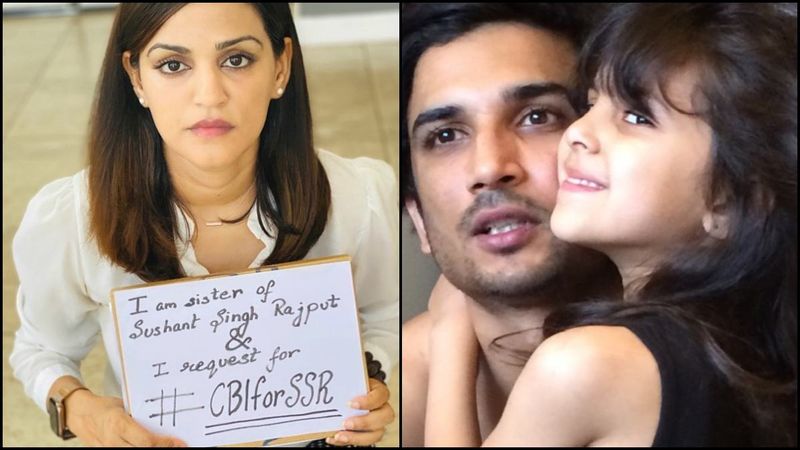 The demand for justice for late actor Sushant Singh Rajput is not just limited to Twitter trends, it has now become a global movement. Ahead of the Supreme Court's final verdict, the Kedarnath actor's family and fans from across the globe are urging for a CBI enquiry, as they want to know what exactly happened with Sushant. His sister Shweta Singh Kirti, too, has been extremely active on this matter and often tags India's Prime Minister and Home Minister, seeking justice. This time, Shweta Singh Kirti shared a video of her requesting for CBI and saying how they won't be able to live peacefully if the truth isn't out.
In the video, Shweta could be heard saying, "Hello everyone, I am Sushant Singh Rajput's sister Shweta Singh Kirti and I request everyone to stand together and demand CBI inquiry for Sushant. We deserve to know the truth. We deserve justice for Sushant. Otherwise, we will never find closure. We won't be able to live a peaceful life. I request you from the bottom of my heart to stand together and demand a CBI inquiry because we have the right to know the truth. Thank you". Shweta Singh Kirti shared her appeal on Instagram and Twitter this morning. Her caption read, "‪We stand together as a nation for CBI Enquiry! Demanding an unbiased investigation is our right and we expect nothing but the truth to come out. #CBIForSSR #Warriors4SSR #justiceforSushanthSinghRajput @PMOIndia @narendramodi @AmitShah."
It was on Friday the Supreme Court heard arguments from both the sides. Reportedly, the verdict will be out today and ahead of the same, millions of fans are optimistic that the honourable body will approve of the CBI enquiry.
Take a look:
Sushant Singh Rajput's family lawyer Vikas Singh, during his media interaction, said that he's confident about the CBI probe. "Extensive arguments were addressed. As far as the complainant's (KK Singh) case is concerned, the politicization of this issue was strongly and vehemently opposed," said Vikas.
image source: instagram/shwetasinghkirti