Akshay Kumar, Aamir Khan Go Grey: Superstars Flaunt Their Natural Hair During I For India Concert; Sexy Much
Admit it or not, guys with grey hair look irresistibly hot. Speaking of which, the recent Bollywood celebs who are not shying away from flaunting their Grey hair are Akshay Kumar and Aamir Khan. For the recent I For India concert, the two bankable actors were seen flaunting their salt and pepper look and, oh boy, they looked hot. Looks like the Coronavirus lockdown is really bringing out the natural best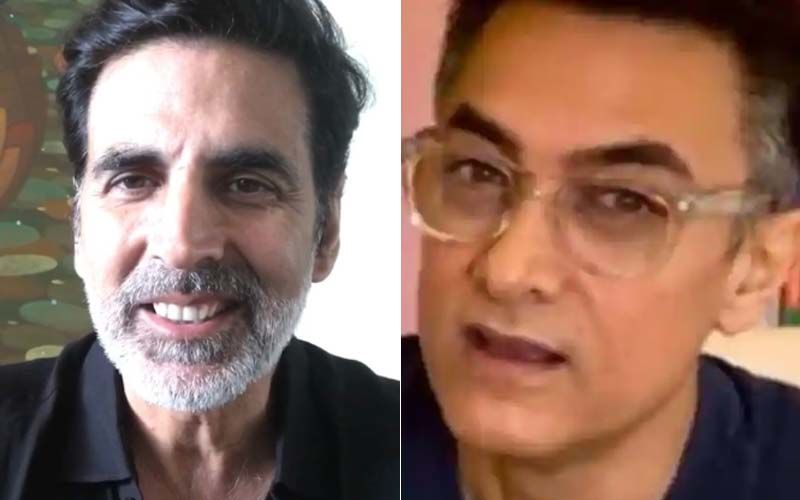 Admit it or not, guys with grey hair look irresistibly hot. Have you guys not seen, Dean Morgan, George Clooney, Bradley Cooper, Brad Pitt, Idris Elba and more in their salt and pepper look? They not only look handsome, but are a little intimidating too and that's sexy. Sooner or later, most people go grey. Instead of running from the inevitable, why not embrace your fading pigments like these celebs are currently doing, right? Speaking of which, the recent Bollywood celebs who have gone grey and are not shying are Akshay Kumar and Aamir Khan.
During the virtual concert, I For India, Akshay Kumar and Aamir Khan who have crossed half-century were seen flaunting their silver look and oh boy, they looked really hot. Looks like the Coronavirus lockdown is really bringing out the natural best. In fact, Hrithik Roshan in his recently released film WAR flaunted his salt and pepper look which made every girl's heartbeat racing. For the fundraiser, Kumar recited a poem which was penned by lyricist Manoj Muntashir, titled Tumse Ho Nahi Payega. Whereas Aamir and his director-wife Kiran Rao sang classics such as Aa Chalke Tujhe Main Leke Chalun and Jeena Isika Naam Hai for the concert.
I For India was a concert to raise money for the India COVID Response Fund (ICRF) which is managed by Give India where Bollywood celebs helped raised funds by participating in a virtual concert. Last night, a dazzling array of celebrities including Alia Bhatt, Amitabh Bachchan, Kareena Kapoor Khan, Saif Ali Khan, Priyanka Chopra, Kartik Aaryan, Virat Kohli, Ayushmann Khurrana, Madhuri Dixit, Shah Rukh Khan, Katrina Kaif to name a few gave some really entertaining performances.
Image source: Instagram/ akshaykumar/ Facebook/ I For India