Akshay Kumar's Sooryavanshi, Ranveer Singh's '83, Salman Khan's Radhe; Movie Theatres In India Will Revive Fortunes With List Of Biggies
With Akshay Kumar's Sooryavanshi, Ranveer Singh's '83, Salman Khan's Radhe, Aamir Khan's Laal Singh Chaddha waiting to hit the theatres, this movie by the biggies might turn fortunes of the cine owners.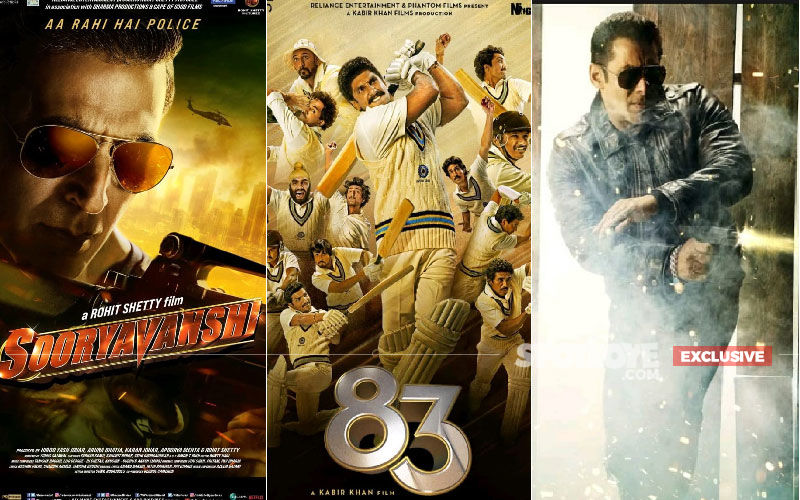 While the debate on OTT platform versus movie theatres rages on in the Indian entertainment industry, with movie exhibitors threatening to "boycott" and "ban" those filmmakers who are now taking their films directly to the digital platform, there are some big-budgeted films that won't budge from their big-screen positioning. Here are the pending Bollywood releases that won't, repeat WON'T, go digital.
Sooryavanshi: Directed by the redoubtable Rohit Shetty whose Golmaal series ks the most successful Bollywood franchise of all times, this cops-and-robbers action drama brings together one of Bollywood's most successful directors with Akshay Kumar for the first time. The two have shot the most death-defying jaw-dropping stunt scenes which, according to the film's director, will go to waste on the home-viewing medium. For the film's climactic hijinks the director has roped in Ajay Devgn (Singham) and Ranveer Singh (Simmba) to join Akshay. Sources from the film's core crew verify that Sooryavanshi, "will wait it out". The film's producer Reliance Entertainment's CEO Shibasish Sarkar confirms, "We are expecting theatres to be functional in the next 3 to 6 months, say, by September. We will hold our release till normalcy comes back for a theatrical experience of these films."
Gangubai Kathiawadi: Directed by the epic visionary Sanjay Leela Bhansali whose Devdas and Bajirao Mastani have re-written some rules of commercial Hindi cinema, Gangubai Kathiawadi casts the very talented Alia Bhatt as a real-life sex worker who grew into a formidable much-feared figure in the red-light area of Mumbai. Though 2020 has not been a prosperous year for Bollywood films featuring female heroes in a central role, the combination of Bhansali and Bhatt is expected to create box office magic. This would be the first film to resume shooting once the lockdown ends. And no, under no circumstances will it go on the OTT platform. "I make films for the big screen. I'll let the world know when I make a film for the digital platform," my close friend Bhansali told me.
'83: Recreating the events during India's grand victory during the 1983 Cricket World Cup, this Kabir Khan-directed sports epic stars Ranveer Singh as the iconic Indian batsman Kapil Dev and Ranveer's real-life wife, Deepika Padukone as Kapil's wife Roma. In addition, there is an impressive slew of actors playing real-life cricketers. But the main focus of interest is Ranveer Singh's unbelievable physical transformation as Kapil Dev. Says director Kabir Khan, "Cinema and cricket are religion in India. When the two come together there is bound to be a humongous amount of interest in the product." '83 which was to release in April 2020 will wait for normalcy to be restored so that audiences can watch the biggest fusion of cricket and cinema since Ashutosh Gowariker's Lagaan.
Coolie No 1: One of India's most prolific and consistently successful filmmaker David Dhawan teams up with his star-son Varun Dhawan for a remake of David Dhawan's 1995 hit Coolie No 1 that featured Govinda and Karisma Kapoor in the lead. The remake or the recreation as my friend David Dhawan calls it, is very different from the original- "as different as Govinda and my son Varun Dhawan are as actors." David admits there are pressures to release the film on the digital platform. "But for 30 years my audience has been with me. They've clapped cheered and danced in the movie theatres for my films. I can't let them down," says Dhawan. So no, no OTT for Varun's 'Coolie' act with Saif Ali Khan's daughter Sarah playing the role that Saif's sister-in-law Karisma Kapoor originally did.
Radhe: India's Most Wanted Bhai: Speaking of the OTT platform, while most of the other A-listers have succumbed to the temptation (the zeros in their cheques) to work in a web series. Salman just won't relent. He won't even consider going digital, and certainly not with his pending feature film. Radhe: India's Most Wanted Bhai, an unofficial sequel to the 2008 hit Wanted, was to be Salman's Eid 2020 release. It may now be the Christmas release or the New Year release, or whenever. But there's no question of releasing the film in the digital domain. Says director Prabhudheva, "Salman Khan is Salman Khan. He is forever a larger-than-life experience. He is one of those stars who can tempt back the audiences into theatres."

Image Source:IMDB