Akshay Kumar Tweets, "Tip Tip Barsa Synonymous With Me"; Netizens Say They Only Remember Raveena Tandon And Her Sexy Moves
A few days back, Akshay Kumar had tweeted saying the song, Tip Tip Barsa Paani, from Mohra was synonymous with him. The tweet went on to thank Venus Worldwide Entertainment's Ratan Jain, while making no mention of Raveena Tandon at all. Now, netizens are on Akshay's case asking him to give due credit to Raveena.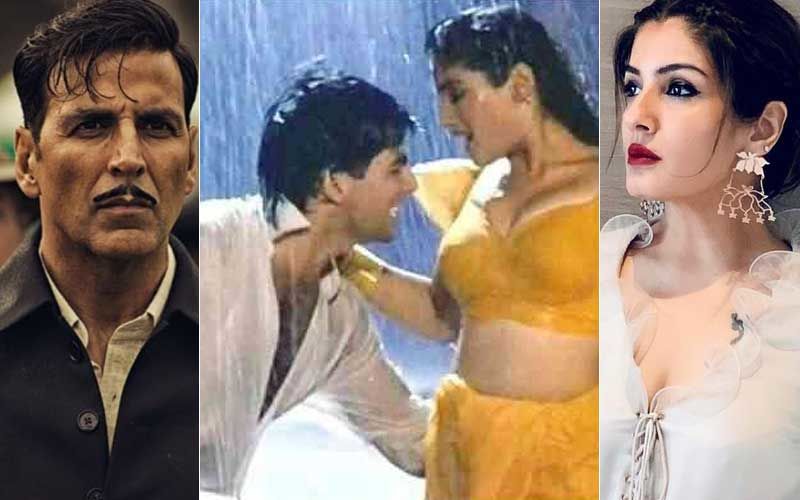 Akshay Kumar is set to recreate his 90s chartbuster song, Tip Tip Barsa Paani, co-starring Raveena Tandon from Mohra, in Rohit Shetty's Sooryavanshi. A few days back, the Kesari actor had taken to social media and had said that he would have been upset if some other actor would have recreated the song. This morning, we brought you Raveena's reaction on Akshay Kumar remaking their song with Katrina Kaif.
Taking to Twitter, Akshay Kumar had written, "I would've definitely been disappointed if any other actor would've recreated Tip Tip Barsa Paani,a song which has been synonymous with me & my career & I can't thank Ratan Jain ji enough. At times like these you realize, we may have come a long way but we also go back a long way"
I would've definitely been disappointed if any other actor would've recreated Tip Tip Barsa Paani,a song which has been synonymous with me & my career & I can't thank Ratan Jain ji enough. At times like these you realize,we may have come a long way but we also go back a long way pic.twitter.com/UtH5iDS0i9

— Akshay Kumar (@akshaykumar) June 20, 2019
Soon after his tweet, Kumar started getting trolled for no mention of Raveena in his tweet. Netizens were quick to tell him that it was Raveena Tandon, who was the "real star of the song." Social media users were quick to tell him that all they remember in the song was "Raveena and her sexy moves."
A user wrote, "oh, you were the male lead in that song? thanks for letting me know that.. all I can remember about #TipTipBarsaPaani is Raveena, Yellow Saree and the rain.. which movie it was bdw??" While another said, "I had to go back and watch #TipTipBarsaPaani again to remember that Akshay Kumar was in it but I still couldn't notice him in it though..." A user told the actor, "Sir with due respect, no one remembers that you were also there in that song"
I had to go back and watch #TipTipBarsaPaani again to remember that Akshay Kumar was in it but I still couldn't notice him in it though...

— Straight Talk (@Direct_Shooter) June 23, 2019
A user also told Akshay to give due credit to Raveena for the song. The comment read, "Akki we love you but for once don't forget to give the due credit to Raveena. The song was a hit not just because of you. Also I was not a huge fan of Raveena but Katrina can never recreate what she did."
Akki we love you but for once don't forget to give the due credit to Raveena. The song was a hit not just because of you. Also I was not a huge fan of Raveena but Katrina can never recreate what she did.

— Shivoham (@30going13) June 23, 2019
That song is synonymous only with @TandonRaveena and you didn't even mention her. You were not even the highlight of that song. Get that clear

— ਪੰਜਾਬ ਨਾਗਰਿਕ (@akdwaaz) June 23, 2019
Another comment read, "That song is synonymous only with @TandonRaveena and you didn't even mention her. You were not even the highlight of that song. Get that clear."


Images Source: v2load.com, instagram/akshaykumar/officialraveenatandon