Amitabh Bachchan Posts A Thought-Provoking Poem; Fans Interpret the 'Teer' In The Poem As CAA NRC
After facing backlash for his cryptic tweets, megastar Amitabh Bachchan posted a poem written by his legendary father Shri Harisvansh Rai Bachchan, his Twitter followers interpret the 'teer' mentioned in it as CAA and NRC and suggest that without saying anything Big B has said a lot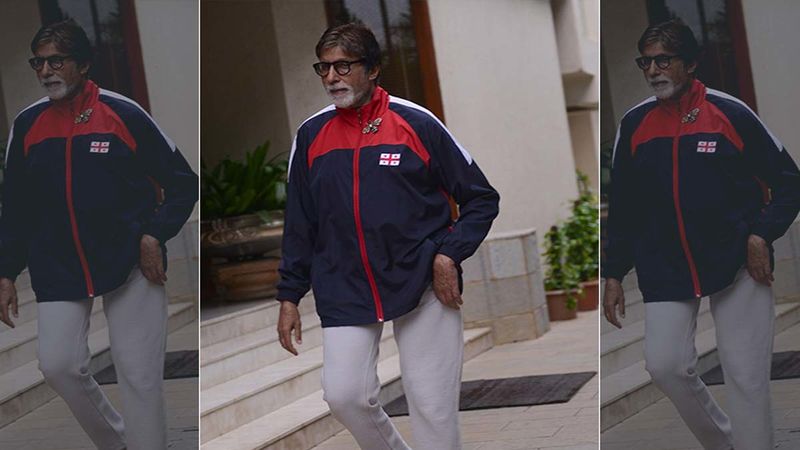 With protests against the government being held by the citizens in various parts of the country, joining the bandwagon were our Bollywood celebs too. Many celebs joining these ongoing protests, gave an immense amount of courage to the ones already voicing their opinion and speaking their heart out, making sure it reaches the concerned people in-charge. With many names being attached to this, now Megastar
Amitabh Bachchan
latest Twitter post seems to be hinting towards the same. Well, at least his followers seem to think that.
This latest poem that is posted by Big B is penned by megastar's father Shri Harivansh Rai Bachchan. The post has an old picture of the actor posing with his father. This poem mentions of an arrow which has caused discomfort and it says the arrow should be removed first. The poem reads, "जीवन है एक चुभा हुआ तीर , छटपटाता मन , तड़फड़ाता शरीर, सच्चाई है - सिद्ध करने की ज़रूरत है ? पीर पीर पीर । तीर को दो पहले निकाल , किसने किया शर का संधान ? क्यूँ किया शर का संधान ? किस क़िस्म का है बाण ? ये हैं बाद के सवाल । तीर को दो पहले निकाल ". While there have been many questions pertaining to this arrow that causes wounds mentally and physically, the immediate step before decoding its motive is to get rid of it. Many of his followers are lauding him for talking about the elephant in the room, without being too direct. ALSO READ:
Post Silence On JNU, Amitabh Bachchan, Sachin Tendulkar's 'Main Hindustani' Video Goes Viral, Twitterati Demands New Version
Following Amitabh Bachchan's Tweet post, read his follower's comment too, that shall leave you thinking.

T 3605 - Babuji poem :
"जीवन है एक चुभा हुआ तीर ,
छटपटाता मन , तड़फड़ाता शरीर
सच्चाई है - सिद्ध करने की ज़रूरत है ?
पीर पीर पीर ।
तीर को दो पहले निकाल ,
किसने किया शर का संधान ?
क्यूँ किया शर का संधान ?
किस क़िस्म का है बाण ?
ये हैं बाद के सवाल ।
तीर को दो पहले निकाल " pic.twitter.com/2VcojWCFr9

— Amitabh Bachchan (@SrBachchan) January 9, 2020
डीयर अमिताभ बच्चन,

सर, उम्र में आप मुझ से बड़े है। कुछ लोग आपको सदी का महानायक कहते हैं। सुपर स्टार सेलिब्रिटी है आप।

लेकिन जब इतिहास लिखा जायेगा तो उसमें लिखा जायेगा कि जब देश जल रहा था तब आप बिल्कुल चूप और शांत बैठे हुए थे। आपने मौन रहकर जुल्मीओं को साथ दिया था।

— Anil Rationalist (@AnilSinojia) January 10, 2020
Sir, kuch bol do please. NRC, CAA bohot issues chal rahe hain and aap kuch bol hi nahi rahe../ haaain

— junaid (@junaid_Radio) January 9, 2020
Tir nikalna sab ke bas ki baat nahin na hoti.

— DILIP MIRCHANDANI (@DilipMirchanda3) January 10, 2020
यह कविता हर किसी के अलावा देश के लिए भी सटीक बैठती है।

— Gaurav pandey (@Gauravp81551626) January 10, 2020
Mtlb pehle bjp ko kursi se hata do nrc or caa bad me dekhe jayenge

— Muhammad Anas Usmani (@MuhammadAnasUs2) January 10, 2020
Sir Teer ka naam KATARHPANTHI hai,jo Modi and Amit shah k naam se Bharat k seene me chubha hua hai. Inse sara desh TRAHIMAAN hai. CAA,NRC,JNU students pe zulam inki pehchan hai. Daro mat,thori himat karo
Brhao haath aur nikalne me madad karo 🙏🇮🇳

— Gurdit Bajwa (@BajwaGurdit) January 10, 2020
Image Source: Instagram/amitabhbachchan