He is Jhakaas and totally wins hearts with his Instagram posts. Now you already know who are we talking about, the evergreen star Anil Kapoor, who just refuses to grow old and his vibrant energy is thoroughly infectious. Currently quarantined with his family in Mumbai, his latest post just updated us what he does, when he is not working out. Well ever since the quarantine period began, the actor is working out like a freak, and proof of it is there available on his Instagram account.
The actor who posts a lot of his workout pictures, couple of hours ago for a change posted pictures of his other activities he indulges in during the lockdown. The actor played a game of carrom with his queen Sunita Kapoor. Though he won the queen of this board game, we also got a glimpse of the actor's real life queen on his Instagram post after a long gap. Going by his caption, we feel he also wins the game of carrom when it's played in the Kapoor family.
He shared two pictures one where he is about to pocket the queen on the board and other of his wife, carefully observing him as he plays. He credited Sunita for the first pic and daughter Rhea for the second one.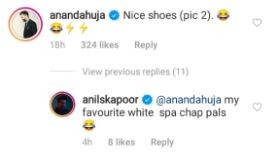 Image Source: Instagram/ anilskapoor