Anupam Kher has strongly reacted to Aamir Khan's views on religious intolerance, which he expressed at the Ramnath Goenka Awards last night.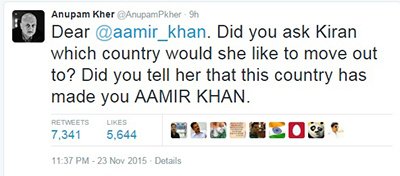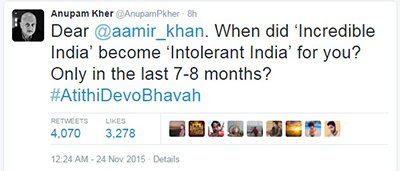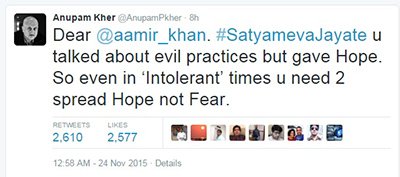 Earlier this month, Kher had led 'March for India' rally against artistes who returned awards citing intolerance in the country,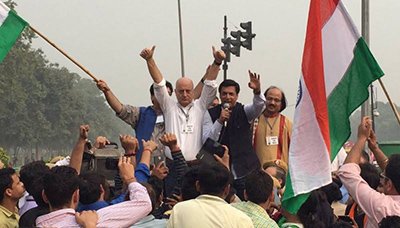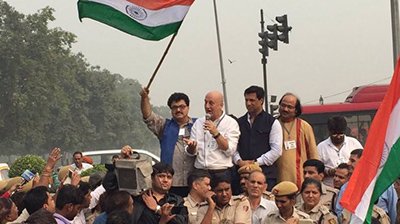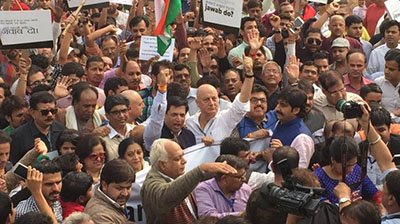 Image Source: facebook/anupamkherofficial
For those who've come in late, Aamir had said that his wife Kiran asks him if they should leave India since she fears for their
child (My wife asks if we should move out of India: Aamir Khan on religious intolerance, Nov 23).
Speaking exclusively (at 1 AM, IST) to SpotboyE from Toronto where he's shooting with Gerard Butler for the upcoming Hollywood movie The Headhunter's Calling, he said, "We all disagree to agree and agree to disagree, don't we? I have just expressed my viewpoint on whatever Aamir said at the Ramnath awards and I don't want to elaborate."
A quick question before he goes to shoot a scene in a bearded look with Butler: Can his recent tweets on Twitter mar his relation with Aamir from here? Kher shot back, "Agar bigdega toh is relation mein koi bhugtan (remuneration) tha hi nahin. Kyun bigdega? Agar tum apne dost ya bhai se alag sochte ho, toh kya woh tumse yeh kehte hain ki woh tumhare kuch bhi nahin hain?"
To read Aamir's 'intolerance' statement that irked Anupam, click on: My Wife Asks If We Should Move Out Of India: Aamir Khan On Religious Intolerance
Thumbnail Image Source: popopics
&
freakyfrolics