Anushka Sharma, Ayushmann Khurrana, Jay Bhanushali Applaud Virat Kohli's Gesture Towards Steve Smith
As Virat Kohli heard his fans booing and shouting "cheater" at Steve Smith, during India Vs Australia match, he requested them to stop teasing the former Australian captain and start clapping instead. Watching his gesture, Anushka Sharma, Ayushmann Khurrana amongst others praised him on social media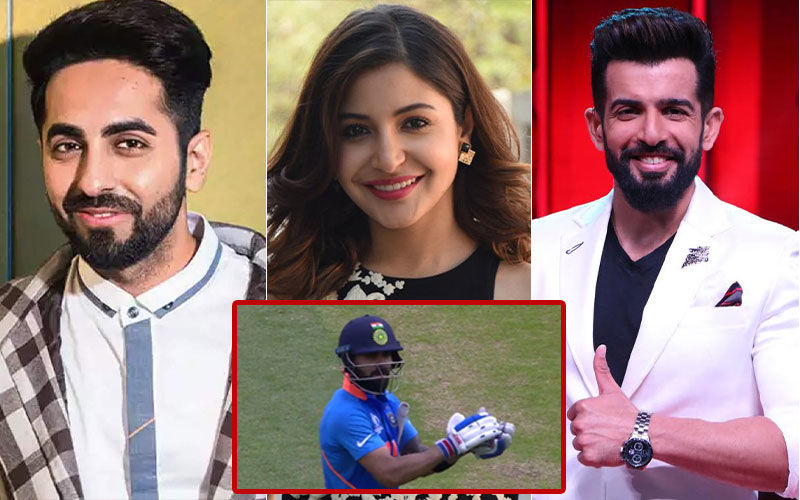 India defeated Australia by 36 runs to win their second match at the 2019 ICC World cup at the Kennington Oval in London on June 9. Virat Kohli is ruling the Internet. And the reason for him to make the headlines is not just their victory against Australia, but also his sweet gesture towards the former Australian captain, Steve Smith. It all happened when, Indians at the Oval stadium starting booing and shouting 'cheater'. Steve banned for one Test and fined for being involved in ball tempering episode last year. Like a true sportsman, Virat requested his fans to stop booing and start clapping for Smith.

Watch his sportsmanship; not only his fans, captain's wife and actress Anushka Sharma, Ayushmann Khurrana and Jay Bhanushali too have taken to social media to applaud his gesture. The Pari actress shared the snapshot of a news headline and captioned it, "Aggressive player, benevolent man – so easy to love." While Ayushmann Khurrana shared one of his recent quotes on the matter and said, "A true icon. Well done captain! #INDvAUS #WorldCup2019"


Jay Bhanushali wrote, "What a great gesture by @imVkohli everyone deserves second chance in life..happy that an Indian could not see somebody getting bullied and raised his voice and supported another cricketer respect". While Rahul Bose tweeted, "The @imVkohli gesture towards @stevesmith49 will be remembered for yrs. It is these stories that get passed from generation to generation because we know we watched something genuine, something essentially good. I know. I was there. Sitting right above the people he gestured to.



Watch the video below:


Talking about the incidents, Virat told media, "Look, I think what's happened has happened like long (ago) - the guy is back, he's trying to play well for his side. Even in the IPL I saw him, it's not good to see someone down like that, to be honest. We've had issues in the past. We've had a few arguments on the field. But you don't want to see a guy feeling that heat every time he goes out to play. What's happened has happened. Everyone has known that. He's come back. He's worked hard. He's playing well for his side now."

"So just because there's so many Indian fans here, I just didn't want them to set a bad example, to be honest, because he didn't do anything to be booed in my opinion. He's just playing cricket. He was just standing there, and I felt bad because if I was in a position where something had happened with me and I had apologised, I accepted it and I came back and still I would get booed, I wouldn't like it, either. So I just felt for him, and I told him, I'm sorry on behalf of the crowd because I've seen that happen in a few earlier games, as well, and in my opinion that's not acceptable," he told reporters post win.


Image Source : Facebook, Wikipedia, WikiBio, ICCI