The rumoured oh-so-blooming love story between Bollywood actress Athiya Shetty and Indian cricketer KL Rahul has kept the grapevines buzzing for a very long time. The duo hasn't acknowledged their relationship publicly, but, well, all the never-ending social media PDA serves as enough proof. Talking about their recent one, the cricketer has taken to his Insta story and shared a freshly baked and slightly burnt cake's pictures, also tagging Athiya Shetty. The cricketer called the upper half as expectations, while the burnt lower half as the reality. OOPS!

The first picture, which is KL Rahul's expectation, is of gluten-free/sugar-free banana bread. Well, it goes without saying that it was a healthy option. However, as we move to his next picture, the reality, it was that of delicious-looking chocolate cake that looks freshly baked. The cricketer had tagged Athiya Shetty in both the pictures. Well, before you assume otherwise, both the pictures belonged to the same cake, albeit it was turned upside down. Turns out that the actress burnt the bottom of the banana bread, hence the expectations VS reality.
Athiya Shetty, too, took to her Insta and shared a picture of her love, err cake, for KL Rahul and wrote how she slightly burnt it. Aww! Let's appreciate the efforts taken by the actress to impress her beau. Such love, much wow.
Check out the pictures below: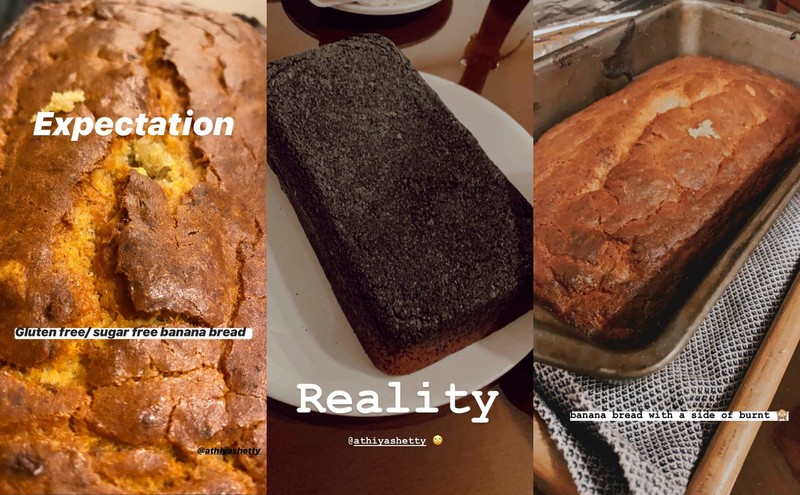 In other news, papa Suniel Shetty approves of and supports Athiya and KL Rahul's relationship, at least that's what he had said in a recent interview. The actor was quoted as saying, "I have always looked at it that way. Whoever Athiya is seeing, whoever Ahan is seeing, as long as they respect their respective partners. More so Ahan, he respects his partner. What would one ask for? Nothing. And there's nothing in the world she (Athiya) doesn't discuss with us or discuss with me and that is why we have a relationship that is absolutely gorgeous."
image source: rahulkl