When was the last time Shah Rukh Khan didn't amuse you with his self-deprecating humour? Well, we've got yet another instance.
Shah Rukh and Kajol have been shooting for Rohit Shetty's Dilwale in Hyderabad. While Sania Mirza dropped in on the sets of the film day before yesterday (Shah Rukh and his Dilwale team play the perfect host to Sania Mirza, October 14), looks like something more exciting happened yesterday.
Shah Rukh and Kajol shot for a dance sequence last night, post which SRK cheekily tweeted how they are the 'worst best dancers' in the world.
Tweet will be loaded here in front end.
Interestingly, Amitabh Bachchan had his own take on the subject. The superstar told SRK how he and Kajol are far from the worst dancers in Bollywood. Big B even joked how he bags the title.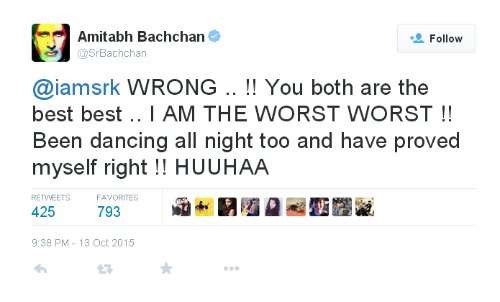 We can already imagine Big B and SRK fans disagreeing with this one. After all, haven't we all seen their dancing skills in Shava Shava from Kabhi Khushi Kabhie Gham?
Image Source: blogspot