Just when one thought that their clarification on the recent downgrade buzz in their stocks was pushing them back upwards since Tuesday morning, the production house has suffered a big beating yet again.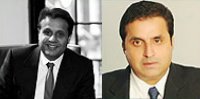 Image Source: erosintl
The Kishore-Sunil Lulla company has seen a major dip of 6.80 per cent ( -25.30) on the BSE today.
Opening at 372, it closed at 346.80
Shares of Eros International crashed last week after the US-based analysts of Wells Fargo raised questions about American-listed Eros's continued increase in revenues from the United Arab Emirates (UAE). However, the film company posted a smart recovery after the firm reassured its shareholders about the company's "strong" fundamentals.
A source close to the development says, "There are whispers that Eros is facing some problem in its money bags, though it would be definitely unfair to indulge in too much speculation about the drubbing they have been inflicted with."
Lullas' next project is the highly expensive Bajirao Mastani, which is still not complete.
Add this to the fact that they have still not budged from their stand of clashing their Ranveer Singh-Deepika Padukone starrer with Shah Rukh Khan's Dilwale on December 18.
At the time of going online, NYSE too wasn't being kind to Eros. A sharp fall of 6.71 per cent had been registered (12.16 PM).
Thumbnail Image Source: cityweekly and filmcity