Bell Bottom: THIS Is How Lara Dutta's Daughter Saira Reacted To Her Former Indian PM Indira Gandhi's Look In The Akshay Kumar Starrer -EXCLUSIVE
After getting the stamp of approval from her father, Lara Dutta reveals how her daughter Saira reacted to her transformation into former Indian PM Indira Gandhi in Akshay Kumar starrer Bell Bottom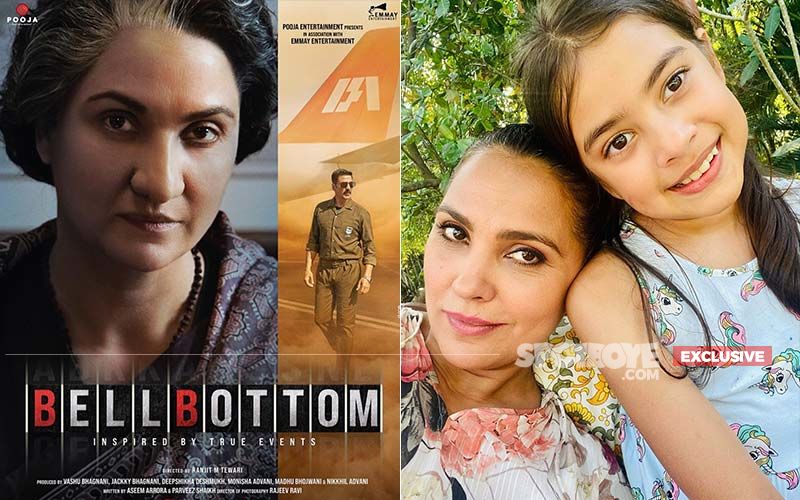 Lara Dutta stumped each and everyone in this country with her unrecognisable transformation into former Indian PM Indira Gandhi in the trailer of Akshay Kumar, Lara, Vaani Kapoor and Huma Qureshi-starrer Bell Bottom, which released last week. The actress has been getting praise from all corners for the unbelievable change that she has gone through, including the people from the Hindi film fraternity.
In an earlier conversation with SpotboyE.com, Lara had revealed that the best compliment she received was from her father as he had worked as Indira Gandhi's personal pilot and him finding her convincing as Gandhi was a victory. Although she received the stamp of approval from the previous generation, the scene wasn't the same with the future generation. Ask Lara about how her daughter Saira reacted to seeing her in that get up for the first time and she quips, "For her, mumma is like ghar ki murgi daal barabar."
Lara goes on to add that when Saira witnessed the process of getting that look ready, she was a bit concerned for her mother. "Saira is used to seeing her mumma get ready for shoots and all but when Vikram's team came for the first time to make the clay mould for the look, the whole silicon thing was on my face and she got so worried and kept asking if I was able to breathe or not. I had to tell her that it was okay and all a part of the process. But when she finally saw me in the complete get up, she was left bemused and asked me, 'Who are you?'," she laughs.
So, was that like a stamp of approval from her? "I don't know if it was appreciation or not as she is completely blunt and honest with no filter. All she said to me was, 'You look weird mumma'," she chuckles.
With Saira growing up, ask Lara if her inclination is more towards films like her mother or towards tennis like her father, Indian tennis legend Mahesh Bhupathi, and Lara responds that there is no clarity yet. "Right now, her inclination is just towards playing. We have not put any burden of our dreams or expectations on her. She will go wherever she wants and where her destiny takes her," she concludes.
Image source: Instagram/larabhupathi