Bhaag Milkha Bhaag To Mary Kom: BEST Films On Sportspersons Who Represented India In Olympics
After months of waiting, the 2020 Summer Olympics in Tokyo are underway from today. On that note, we bring you a list of films based on sportspersons who represented India in the Olympics. Read on!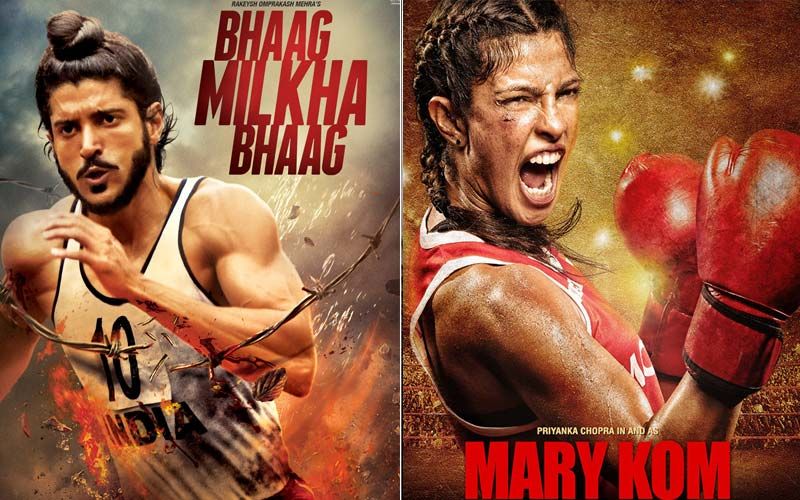 When Bollywood and sports come together, one can expect a ride that's emotional and inspiring. Over the years, many directors have made movies based on sports. From Chak De India!, Sultan, Lagaan, Azhar, Soorma, and the list keeps going on and on, Bollywood has given us several sports movies. Currently, as many are aware, Tokyo Olympics is creating a huge buzz. Salman Khan and Akshay Kumar, who have done a sports film, joined fans and expressed their support for the Indian sportspersons that are taking part in the Tokyo Olympics. As we look forward to who wins and creates history, here's a look at some of the best Bollywood films based on sportspersons that represented India at the event.
Bhaag Milkha Bhaag: Bhaag Milkha Bhaag is one film that you should just not miss. It is the inspiring true story of the 'Flying Sikh' of India, Milkha Singh, who came within a whisker of winning an Olympic medal. Bollywood actor Farhan Akhtar did full justice in the lead role as the legendary athlete. Farhan delivered a phenomenal performance. The story revolves around Singh's journey of becoming a world sprinter and an Olympian despite the financial obstacles. Milkha Singh passed away due to COVID-related complications on June 18, 2021.
Mary Kom: Mary Kom is a boxing legend and there's no denying that! Who can forget Priyanka Chopra's performance in the film based on the boxer? Based on the life of boxing champion Mary Kom, also known as the Iron Lady or Magnificent Mary, who hails from a small town in Manipur, PeeCee delivered an incredible performance. Directed by Omung Kumar, the biopic traced the Indian boxer's return to the sport after becoming a mother.
Saina: Parineeti Chopra plays Saina Nehwal who won a bronze in the women's singles tournament at the 2012 Olympic Games in London. As many know, Saina's win was a historic moment. Parineeti delivered an amazing performance, however, the movie received a mixed response. Saina Nehwal earlier said that it was surreal to see her own life on screen.
Gold: Akshay Kumar starrer Gold received great reviews from the audience. The actor played the role of Tapan Das. His role was inspired by Kishan Lal, popularly known as 'Dada', who captained the Indian hockey team in 1948, which won its first gold at the Olympics as an independent country, defeating Great Britain in the final 4-0.
Image Source:IMDb