Bhavai Director Hardik Gajjar On The Controversial Dialogue In The Pratik Gandhi-Starrer: 'It Was Just A Common And Innocent Discussion Between Two People'-EXCLUSIVE VIDEO
Ahead of Bhavai's release on October 22, the film's leading actors Pratik Gandhi, Aindrita Ray and director Hardik Gajjar talk about the film, including getting two regional actors together, their memories of Ramayana and the controversial dialogue in the promo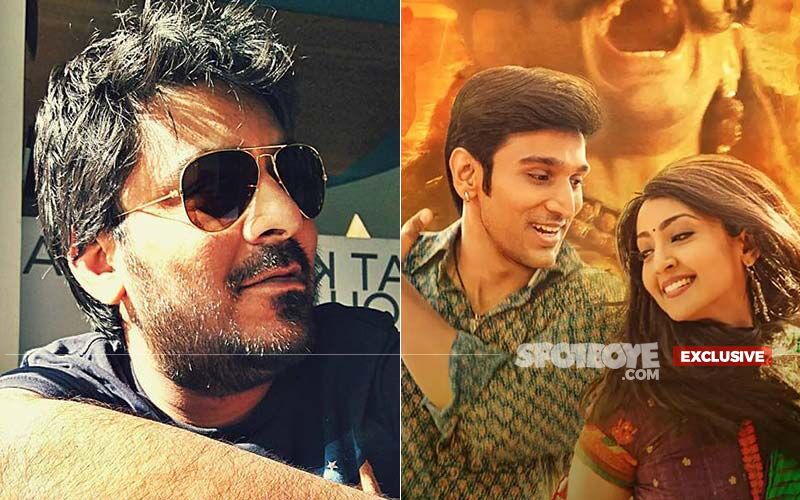 After mesmerising everyone with his histrionics last year with Hansal Mehta's Scam 1992, Pratik Gandhi is all set to make his theatrical debut as a leading man with Hardik Gajjar's Bhavai, opposite Kannada actress Aindrita Ray. The film also marks Aindrita's Hindi film debut. Bhavai was earlier supposed to release on October 1, theatrically, but with the announcement of theatres in Maharashtra opening from October 22, the film's release has been pushed by the makers to the same date.
However, the film hasn't had a smooth sailing as it got into the midst of controversy for its previous title, Raavan Leela, and also for a controversial dialogue that questions good and evil in context of Ram and Raavan in the film. In an exclusive conversation with SpotboyE.com, the team of Bhavai, Pratik, Aindrita and Hardik, talk about the title change, the controversial dialogue that had to be omitted from the film, amongst other things. Read excerpts from the interview:
Pratik, you got your breakout role of Scam 1992 while working on Bhavai, so that already makes the film special for you. So, what importance does Bhavai hold in your filmography?
Pratik: It holds a very special place in my heart, emotionally and creatively. It was the first film to be offered to me as a lead protagonist, way before I reached out to so many people on their mobile screens through Scam 1992. It felt so fulfilling as an actor to be reached out on the basis of my earlier work in regional cinema. Hardik had seen some of my regional films and a common friend introduced us to each other. The most special part about Bhavai is that I get to perform on stage in the film, and that's where I come from. So, for me, I had no reason to say no.
Bhavai is getting a theatrical release. So, Hardik is that a sigh of relief for you or a topic of worry?
Hardik: It's a relief only as I always wanted the film to be released in theatres.
Aindrita, this is your second Hindi film you have shot for and your first big Bollywood release. How has the switch from Kannada industry to here been for you?
Aindrita: This is my first Hindi release. I did that other film but it didn't release. As for the switch, it has been great. I have done a lot of Kannada films, followed by some Bengali films and I won't trade any other film for my first Hindi release. I get to play two characters here, Sita on stage and a completely different character of a naughty and chulbuli girl off stage in the film. So, that gave me a lot of scope to perform.
I had to do intense training for two weeks before the film to change my style of walking and talking. And interestingly, Hemant Kher, who played Pratik's brother in Scam 1992, trained me. So, it's a small world and I felt very proud when I saw these two together in the show, as when we did the film, Scam wasn't yet shot.
Pratik, being a Gujarati, the film must have been a very familiar ground for you with a lot of relatabilities since it's set in Gujarat. Plus, you have a theatre background and here you play a theatre actor in the film, so the comfort zone must be high for you?
Pratik: There was a lot of comfort level and excitement as I was getting to perform on stage that too in front of a live audience. The theatre scenes you will see in the film, have a real audience, who were actually the people from the local village there. So, we were getting a real reaction and response and I enjoyed it a lot. Plus, to get to eat Gujarati food, it felt like home to me.
Aindrita, you are a Bengali, who has worked in Kannada cinema, and now here you play a Gujarati in a Hindi film. So, how has all this exposure to different cultures shaped up your personality?
Aindrita: It has but I don't know how as I am a complete mixed breed right now. I have a very strong South accent because I have worked so much in Kannada cinema, then being a Bengali I have a strong Bengali accent too. Here I had to leave both of those behind and get in a little Gujarati accent. So, it all has proved a great experience and journey for me. I don't know what avenues would this film open for me, but I hope it opens something in Gujarat.
Hardik, when you took on Pratik and Aindrita in the film, they had mostly done regional films only—Gujarati and Kannada respectively. So, they came from two completely different schools of acting. How was it for you to take them and mould them in your vision?
Hardik: It was super exciting for me as I was already familiar with the two of them by the time we went on floors. I had taken a look test of these two together during the audition as I wanted to see if there is a chemistry between them. A Gujarati boy was meeting a Bengali girl, so the cultural difference should have come out and it was coming through the camera. Secondly, they needed to have a screen presence as they had to portray two roles, one on stage and other off stage, within the film. I wanted to see Ravan in him and Sita in her. These were some small nuances because of which they were cast.
Now, the story of Ramayana has been a part of all our childhoods, be it reading it or listening to it from our elders or watching it as a show on TV. What are your memories associated with Ramayana?
Pratik: I had seen the Ramayana on DD during my school time, and those memories always stay fresh in mind. For me, even today those same people are Ram, Sita and Ravan and whenever I close my eyes, I can picture them only.
Aindrita: I didn't follow the show as such. But for me, Ramayana reminds me of my Dadaji as he used to tell me their stories a lot.
Hardik, you have made multiple shows on Ramayana before, so your attachment to it must be different…
Hardik: I have made four adaptations of Ramayana till now. I believe that if you are doing something professionally, you need to be well-versed with it. Especially when it comes to your scriptures, you need to understand their essence, so I have read them and taken inspiration from them. So, Ramayana is imbibed in me.
Four shows is a big number and that too on a subject that is close to all Indians and something that you can't tweak much. How challenging does it get for you to bring a new point of reference to it every time?
Hardik: It is always challenging. And when it comes to Ramayana, it is our mythology and we can never change it, and we have to respect its essence. We can change their appearance but not them.
Hardik, you are already reuniting with Pratik in Atithi Bhooto Bhava, even before Bhavai could release. What is so special about him?
Aindrita: Yeah, what is so special about Pratik and not me? (Laughs)
Hardik: (Laughs) Bahut fansa diya. Jokes aside, we met during the shoot only but you develop a creative tuning and mental satisfaction that you know you won't go in the wrong direction. Even while working on the second film, he had that trust in me too that I will work according to my style. And I also know how he would take on anything, so the tuning has set well.
Hardik when it comes to religious aspects, you have to be careful in showing them. Like you also had to change your film's title before the release due to uproar. So, after making so many projects on religion, have you become a bit thick skinned on these uproars or do they still concern you?
Hardik: I am a very emotional and sensitive person, So, when it comes to God, I am the first follower there. They are my God too so when we received the feedback on the film's trailer, I realised that it wasn't the ravan that we were showing, that the audience took away. We are talking about the ravan (the evil) that is all around us today. And we felt that we haven't done anything wrong to it and have kept the respect of it in mind. But the perception had changed of the audience, so we changed the title and it didn't affect us as such.
As for developing a thick skin, it isn't like that for me as I am a very sensitive person, personally and professionally too. When I entered the industry, my first show was Jai Shri Krishna as a VFX supervisor. So, I have worked on stories of Lord Krishna, Lord Ram and Lord Hanuman. So, I know this all in and out. It is a thin line subject but I insist again that we haven't gone wrong anywhere in the film or hurt anyone's sentiment.
The last controversial dialogue in the film's trailer is something really curious…
If you don't know Ramayana, what will you question in it? You will ask only what you don't know, So, in that context, Pratik's character knows nothing about the character he is playing on stage in the film, so it's just an innocent question from him. There is a reason behind it and it was just a common and innocent discussion between two people. It's just an innocent and curious act.
So, what does your future lineup looks like?
Aindrita: I am just about to sign something in Hindi. Very soon I will be out with the news. In Kannada, I already have three films up for release and one new one that I am about to start.
Pratik: I have Atithi Bhooto Bhava with Hardik, then I have just finished Dedh Bheega Zameen with Khushali Kumar. I also have a series for Disney+ Hotstar with Tigmanshu Dhulia, Six Suspects, that is also about to be finished. And there are some announcements to be made soon.
Hardik any plans on the release of Atithi Bhooto Bhava and any other scripts you are working on?
Hardik: It will be announced soon. As for others, I am working on a lot of scripts, now just waiting for Pratik's availability (Laughs).
Image source: Instagram/the_hardik_gajjar/pratikgandhiofficial