Amitabh Bachchan is an established superstar, who has contributed several decades of his life in entertaining us but, by heart, he is quite a millennial and the actor's social media posts serve as proof. However, there are still a certain slangs that Big B has never heard of. Well, one of which is baller, a term used to call someone excellent, badass or amazing. In case you think you've heard this story before, you are right. It wasn't very long ago that
Bhumi Pednekar called the veteran a 'Baller' in response to one of his posts
. Back then, Big B was a little confused and asked the actress to define it for him. However, it looks like Bhumi didn't explain the term to Big B.
It all happened after Amitabh Bachchan shared a collage of him from 44 years ago on one side and a recent picture of him on the other side. The first picture was from his classic film Kabhie Kabhie. In his caption, the actor revealed that it was taken in Srinagar, Kashmir, when he was writing a verse of the song 'Kabhi Kabhi mere dil mein khayal aata hai'. The second picture, taken 44 years apart, is from his upcoming film, Gulabo Sitabo. He called it a 'kya the aur kya bana diya' situation in his caption. Big B wrote, "Srinagar, Kashmir .. 'KABHI KABHIE' .. writing the verse for the song 'kabhi kabhi mere dil mein khayaal aata hai ..' AND .. Lucknow, month of May .. 44 years later ( 1976 to 2020 ) Gulabo Sitabo .. and song playing .. 'ban ke madaari ka bandar.. 'क्या थे , और क्या बना दिया अब !!!"
The highlight of his post, however, was Bhumi Pednekar's comment. She once again called him a baller by writing, "44 years later and still giving us such memorable characters... I'm telling you you're the most baller person ever." A confused Big B, who still doesn't know what it means, replied writing, "arre... Bhumi.. what is 'baller'??? Kab se puch rahe hai, joi bata hi nahi raha," followed by joined hand emoticons. LOL! It's about time Bhumi clears the air, as the actor has asked it for the second time now.
Check out the post below:
Here's the comment: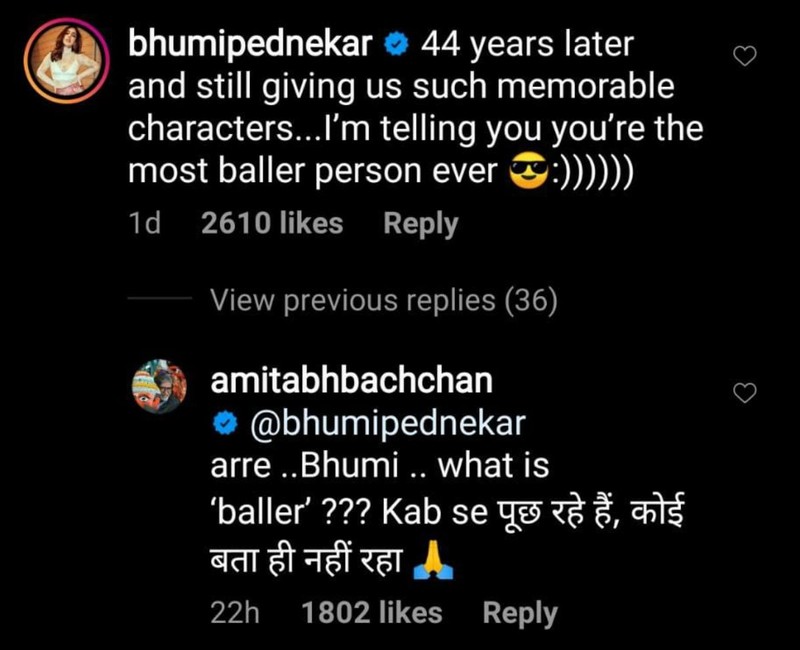 On the work front, Amitabh Bachchan and Ayushmann Khurrana's Gulabo Sitabo is all set for a worldwide digital release at June 12 on Amazon Prime. We wait!
image source: instagram/amitabhbachchan, bhumipednekar