Of late, there has been much buzz about star daughters who can rock Bollywood in the near future. Athiya Shetty, daughter of Suniel and Mana Shetty, is on the cusp of making her debut.
News has circulated that Karan Johar could well sign up, Sara, daughter of Saif Ali Khan and Amrita Singh, if and when the well-mannered girl decides to face the camera. Jhanvi and Khushi, daughters of Sridevi and Boney, are among the other strong potential heroines of tomorrow. Their photos have already flooded the internet.
And at a fashion show in New Delhi, Navya Naveli Nanda, daughter of Shweta Bachchan Nanda, attracted tremendous attention among fashionistas and the media. She was spotted in the company of her mother Shweta, who was to display the designs of the Bachchan's pet designer Abu Jani and Sandeep Khosla.
According to the grapevine, Shweta was told that Navya Naveli's looks and personality add up to perfect star material, to which the mother shot back non-committally, "Yeah, right!"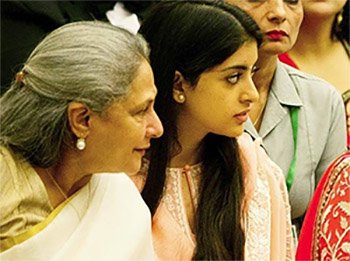 Grandma Jaya Bachchan dotes on Navya Naveli. According to insiders, grandpa Amitabh Bachchan is not amused by soothsayers predicting a B-town career for Navya. "He is not likely to give his go-ahead," our source surmised. To twist an old adage, only time can determine tomorrow's tale.