Coronavirus Quarantine: Here's How Salman, Parineeti, Ayushmann, Malaika, Kartik Are Exploring Their Passion To Kill Time
During the quarantine period, our B-Town celebs have taken up their hobbies to kill time. From Salman Khan, Parineeti Chopra, Ayushmann Khurrana, Malaika Arora to Kartik Aaryan, here's a quick look at what each of them is up to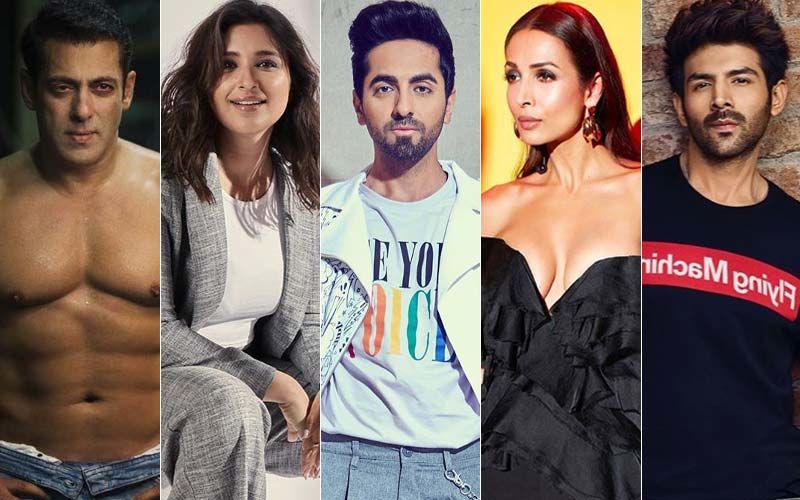 Due to the Coronavirus outbreak, even our B-Townies are in self-quarantine mode and yesterday, after PM Modi announced 21-day lockdown in the country, everyone has become all the more cautious.
So, as our celebs are also locked up in their houses, most of them have taken to their hobbies to kill time. We bring you what they are up to in the self-isolation period:
Salman Khan
Salman Khan's love for painting is not hidden. Whenever he has free time, he gets back to his first love. Now, he is utilizing his time at home by taking up his hobby very diligently. He shared a video on Instagram where he is seen painting a portrait of a man and woman in black and is also heard singing Kaho Na Pyaar Hai song. Here's the video:
Parineeti Chopra
Parineeti Chopra who is also known for her singing skills posted a video of herself singing Tu Hi Re from the film Bombay. The actress took up the Quarantakshri Challenge and tagged fellow singers Ayushmann Khurrana, Alia Bhatt and Shraddha Kapoor and said,"'T' se gao!"
Ayushmann Khurrana
Ayushmann Khurrana is flaunting his poetic side on social media. The actor loves to write poetry and now, he posted a video saying, "We are all self-isolating currently and for me, I can pass days writing and reading poetry & books. I have come across some lovely gems written by some of the most incredible, new, young poets & writers of our generation…" Thereafter, Ayushmann goes on to share, "I will be regularly sharing them to the world and engage with people on the writings that have inspired me. Hopefully, in these times, some people will find a lot of hope and solace in these writings. I hope we are all taking care of ourselves and doing our best to flatten the curve. My prayers with everyone…" In the video, Ayushmann reads out poetry by a girl named Pallavi Trivedi whose poetry, as Ayushmann says, questions the age old definition of masculinity.
Malaika Arora
Malaika Arora in her Instagram post mentioned how she is utilising the self-isolation time with her family. And mind you, this fashionista is surely keeping it healthy by cooking some delicious food. In the video, the fitness freak that she is, Malaika is seen preparing 'Malabari veg stew for the soul'. For all those who don't know, Malaika had once revealed that if she wouldn't have been in Bollywood, she would have her own restaurant as she loves cooking.
Kartik Aryan who became famous through his monologues in his films for the longest time, has now used it for a great cause in this crucial period. Kartik has shared a new video where he can be seen aggressively spreading awareness around COVID-19. Kartik Aaryan's 2 minutes 24 seconds-long monologue about the importance of social distancing in fighting the Coronavirus is a superhit on social media.



Image Source:- instagram/beingsalmankhan/ parineetichopra/ayushmannk/malaikaaroraofficial/kartikaaryan