Diljit Dosanjh Sends Out His Day's Schedule After Kangana Ranaut Shares Her Activity And Asks #Diljit_Kitthe_aa On Twitter
Kangana Ranaut versus Diljit Dosanjh continues after a few days. The Manikarnika actress tweeted #Diljit_Kitthe_aa, the singer replied and shared his day's schedule for all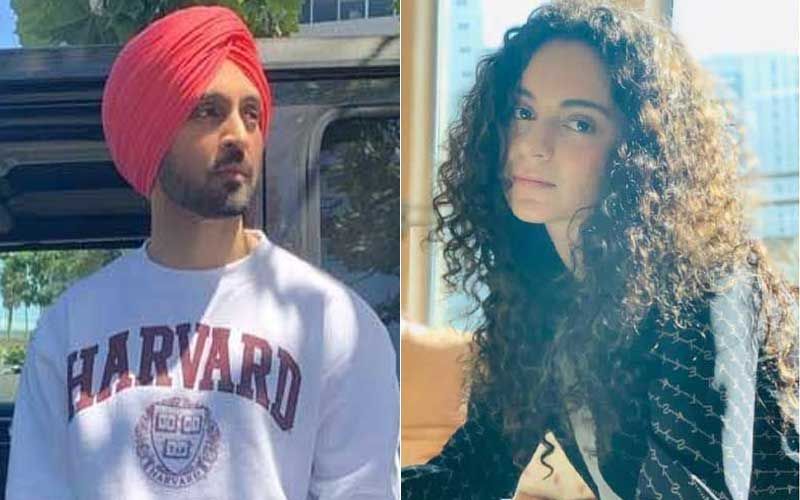 Bollywood actors Kangana Ranaut and Diljit Dosanjh are at it again, after their recent mega spat on Twitter. Kangana Ranaut versus Diljit Dosanjh continues even after a few days, amidst the ongoing farmer's protests in Punjab. Earlier today, Ranaut questioned Diljit and Priyanka Chopra Jonas whether they know what the farm bill is. Now, the Manikarnika actress shared her schedule of the day and took a swipe at Diljit. The Punjabi singer reacted and replied. In the meantime, #Diljit_Kitthe_aa trends on Twitter.
On Twitter, Kangana Ranaut reacted to a news reported by Times Now which featured a picture from the farmer's protest. The report stated that the protest has been hijacked. Later, Kangana said that whoever asked her to apologise for what she has been saying in the past few days, must apologise to her as she was right. The actress then made a tweet stating that she is the mother of all fathers and what she said was true. At the end of the tweet, Kangana wrote, "#Diljit_Kitthe_aa." Moving on, Ranaut shared pictures of her and tweeted her schedule of the day. While the actress asked her fans how she looks in yellow, she also wrote "#Diljit_Kitthe_aa ?" And, Kangana said, "Everyone is looking for him here on Twitter," asking why is Diljit off social media today.
In return, replying to the Manikarnika actress, Diljit Dosanjh reacted with an answer. He tweeted in Punjabi and wrote, "Subha Uth Ke GYM Laya..Fer Sara Din Kam Kita .. Hun Mai Saun Lagga Haan..AH Lao Fadh Lao MERA SCHEDULE #MeraSchedule #AaJa #Aaja" In his tweet, Diljit shared what he did today and said that he got up in the morning, then worked the whole day. He added that he is going off to bed now, and asked Kangana to now read his schedule. Both the actors took swipes at each other.
Again what I said was true, hypothetically speaking if this matter was in court today I would have been officially vindicated, next time chillar party before abusing, harassing, mocking or targeting me remember you are talking to the MOTHER 👑 of all fathers...#Diljit_Kitthe_aa pic.twitter.com/cBcIOSkYNF

— Kangana Ranaut (@KanganaTeam) December 11, 2020
Meanwhile, the Twitterati started trending #Diljit_Kitthe_aa on Twitter, asking the singer where is he and where is he hiding. As many farmer's and old women we're alleged spotted holding placards (undergoes pictures) demanding the release of a terrorist, one user tweeted, "#Diljit_Kitthe_aa The traitors are demanding the release of the person arrested for terrorist activities.@diljitdosanjh where are you? Where is Punjabi Mother & Grandmother?" Social media users questioned where is Diljit Dosanjh. Many questioned Diljit and asked where is he now when the farmer's protest has taken a different turn. The social media users also criticized Diljit's reply to Kangana for not reacting to the main issue. Also Read:
Kangana Ranaut QUESTIONS Diljit Dosanjh-Priyanka Chopra About The Farm Bill; Accuses Them Of Using The Farmers To Stay In Anti-Nationalists' Good Books
Image source: Instagram/ ; SpotboyE Archives