Entertainment News Round-Up: 'Shame On Salman Khan' Trends On Twitter, Katrina Kaif- Vicky Kaushal Reach Their New House; Taylor Swift's Album Party Turns Into COVID-19 Superspreader And More
Here's a quick round-up of what happened in the Bollywood, TV industry and Hollywood yesterday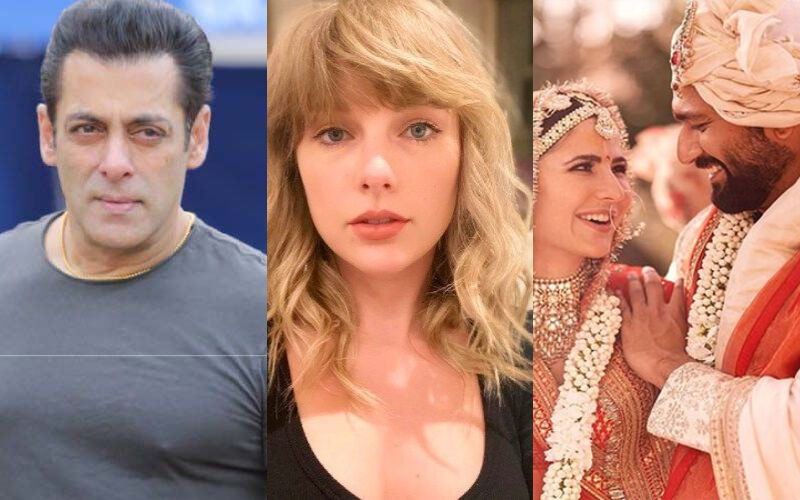 Twitterati Trend 'Shame On Salman Khan'
Salman Khan's opinion on Abhijeet Bichukale's kiss controversy in the latest Weekend Ka Vaar episode did not go down well with some netizens, who called the actor 'misogynist' and 'biased' host. 'Miffed' netizens trend #ShameonSalmanKhan, calling his statement about Abhijeet's action just being a joke.
Katrina Kaif, Vicky Kaushal Reach Their New House In Juhu
Newly married couple Katrina Kaif and Vicky Kaushal, on Sunday, were spotted arriving at their new house for puja. Vicky's father Sham Kaushal and his mother were also seen sitting inside a car. Katrina and Vicky will be moving into their new lavish abode which is next to Virat Kohli and Anushka Sharma's apartment.
Ayan Mukerji Never Wanted Ranbir -Alia To Step Out As A Couple For Four Years
Speaking at the poster launch event of 'Brahmastra' in Hyderabad, Ayan Mukerji revealed that he never wanted anyone to see Ranbir Kapoor and Alia Bhatt as a couple before his film hit the screens. He said, "I didn't want the whole world to see them for these 4 years. I didn't want anyone to see them till my film had not come out. So, Lots of things haven't happened in their lives because every time they went out together, I would be sitting at the back saying 'you all are ruining my film."
Malaika Arora Grooves To 'Hawa Mein Udati Jaye'
Malaika recently left the internet all impressed with her dancing skills as she grooved to the foot-tapping number 'Hawa Mein Udati Jaye' with Maniesh Paul. She shared a video of it on her Instagram account and wrote, "And this is how we do it!!! @malaikaaroraofficial #mp #ibd #show #reellife #real #fun #reality."
Taylor Swift's Album Party Turns Superspreader Of COVID 19
Pop sensation Taylor Swift's album party in Sydney, Australia, appears to have been a superspreader of deadly Covid-19, with authorities issuing an urgent warning after the party was connected to nearly 100 Covid cases. As per the reports, more than 100 people who attended a Swift-themed party last week have tested positive for the virus.