Filmfare Awards 2020: Karan Johar And Gang Touch Down Guwahati; Ranveer-Vicky-Kartik Dance On Folk Music - WATCH
Today, Karan Johar took to his social media to share an interesting video featuring Ranveer Singh, Ayushmann Khurana, Tahira Kashyap, Varun Dhawan, Vicky Kaushal, and Kartik Aaryan on a flight to Guwahati for the Filmfare Awards 2020. In the quirky video, like always, Karan tries his best at entertaining fans with his 'Toodles'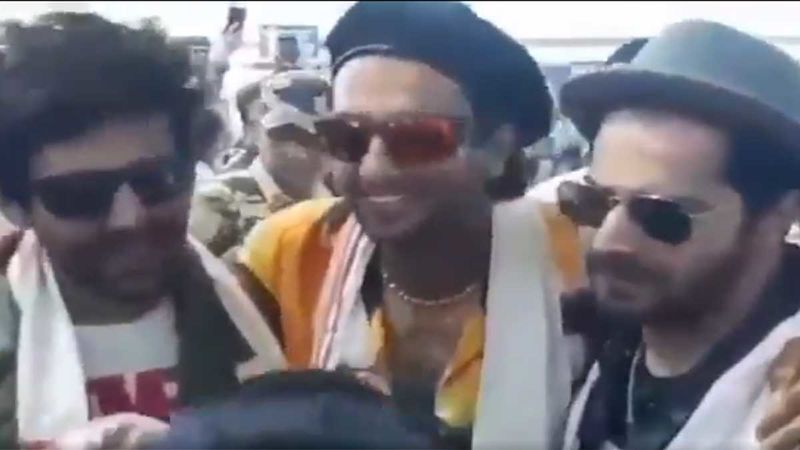 It's time for the extravagant awards night of the year - Filmfare Awards 2020. This year, the Filmfare Awards will be held at Guwahati and the buzz around it is equally thrilling. As the Filmfare is happening in the NorthEast, today, Karan Johar took to his social media to share an interesting video featuring Ranveer Singh, Ayushmann Khurana, Tahira Kashyap, Varun Dhawan, Vicky Kaushal, and Kartik Aaryan on a flight as the stars head to the location of the event.
On Instagram, Karan Johar shared the quirky video and like always, the filmmaker tried his best at entertaining fans with his 'Toodles'. Sharing the video, KJo captioned it, "It's time to #toodles again! @tahirakashyap @ayushmannk @varundvn @ranveersingh @vickykaushal09 @kartikaaryan #filmfareawards." The video features Ranveer Singh, Ayushmann Khurana, Tahira Kashyap, Vicky Kaushal, Varun Dhawan and Kartik Aaryan enjoying their flight with many other Bollywood biggies.
As the video goes on, Karan moves the camera to Tahira Kashyap, later moving it to Ayushmann Khurrana questioning the Dream Girl actor about what he is wearing. In the video, the Bala actor replies to KJo saying, "off-white," leaving Karan comparing Ayushmaan being colorful with the fruits and nuts in his hand. Later, the filmmaker-producer's camera moves to Ranveer Singh bringing his sass, to Varun cool as ever, to Vicky Kaushal all lazy, right up to Karti Aaryan promoting Love Aaj Kal even on a flight headed to Guwahati for the Filmfare.
Meanwhile, KJo gave fans a sneak-peek of celebrities and their in-flight masti, in a video from Guwahati airport, we see Ranveer, Kartik Varun groove to Assam's folk music. Check out the video:
Needless to say, with Karan Johar, Ranveer Singh, Ayushmann Khurana, Tahira Kashyap, Varun Dhawan, Vicky Kaushal, and Kartik Aaryan already arriving in Guwahati, we are already feeling the Filmfare fever. Also Read:
Nushrat Bharucha On The Dress That Internet Labelled 'INDECENT', 'I Was Careful As To NOT, You Know'
Image source: Twitter/ @ModiiRs