After voicing her support for suspended BJP spokesperson Nupur Sharma, Kangana Ranaut slammed a spoof video featuring Qatar Airways CEO Akbar Al Baker. The Queen actress seemed to goof up after she took the viral spoof video for real and criticized the Qatar Airways CEO for 'bullying' a Twitter user named Vashudev. Kangana later found out that Akbar actually never made those nasty comments. In a now-deleted lengthy note, she called the airways CEO 'shameless man'.
Taking to her Instagram story, the Tanu Weds Manu actress shared a screenshot of the spoof video which showed Qatar Airways CEO making fun of Vashudev's call for a boycott of the airline. Sharing the clip, Kangana wrote, "This idiot of a man has no shame bullying a poor man, mocking his insignificance and place in the world...Vasudev may be poor and insignificant for a rich man like you but he has the right to express his grief, pain, and disappointment in whatever context it may be. Remember there is a world beyond this world where we all are equal." ALSO READ:
Kangana Ranaut Condemns Death Threats Against Suspended BJP Spokesperson Nupur Sharma: 'Hindu Gods Are Insulted Everyday'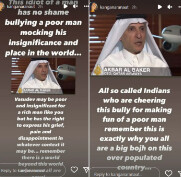 In another follow-up story, the actress said all so-called Indians cheering this bully for making fun of a poor man, remember this is exactly "why you all are a big 'bojh' (burden) on this overpopulated country."

Kangana Ranaut's post was linked with remarks made about Prophet Mohammed and Islam by former BJP spokesperson Nupur Sharma and Naveen Jindal. They have been suspended from the party following their controversial statements on Prophet Mohammed during a TV debate. Qatar was among the countries that strongly condemned their remarks.
Nupur's comments have also sparked a trend on Twitter, calling for a boycott of Indian products in the Arab world.