Salman Khan has fans all over the globe. But the owners of a restaurant in Bandra are different from the others. Their uniqueness lies in what they do in the name of Salman Khan.
Four friends, headed by Rahul Kanal, back in summer, had opened a restaurant called Bhaijaanz, which is themed on Salman. His dialogue, his accessories, his statue, his portraits and his favourite dishes comprise the personality of the restaurant.
And now, we hear that the restaurant's decor has been altered to celebrate Salman's comeback as the eternal lover Prem in Prem Ratan Dhan Paayo, which opens in Diwali this year.
The last time Salman played Prem, the quintessential way, was back in 1999 for Sooraj Barjatya in Hum Saath Saath Hain. He played a much-watered-down Prem in Ready a few years ago, which Salman himself took a dig at.
"We create a special place for every Salman film. We did something similar for Bajrangi Bhaijaan as well. Prem Ratan Dhan Paayo is special for us because Salman is synonymous with Prem and he's back as Prem. So, we had to celebrate it. We've dedicated a 90 sq feet wall for his poster and done it all up without disturbing the other decor which also reeks of Salman," beams Rahul.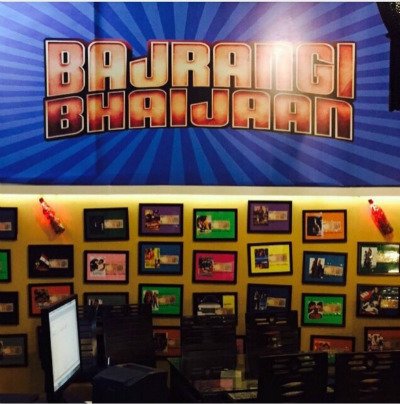 Image Source: Rahul Kanal
When Bajrangi Bhaijaan released, the restaurant had offered increasing amounts of discount on food each time someone visited with a ticket of the movie. "We had a lot of fans dropping in. They had to display their tickets and we'd give them 10 per cent off on the bill the first time around. If they watched the film again, the discount would increase to 20 per cent. We'll do something similar this time too because Prem Ratan Dhan Payo opens during a festive period," says Rahul.
Image Source: Manav Manglani