Hungama 2 Actress Pranitha Subhash On Dancing With Shilpa Shetty Kundra And Meezaan: 'It Was Like A Competition Between Us About Who Will Get More Claps From Ganesh Sir'- EXCLUSIVE VIDEO
Pranitha Subhash, who is making her Hindi film debut with Hungama 2 alongside Meezaan, Shilpa Shetty Kundra and Paresh Rawal, talks about dancing with Shilpa and Meezaan, excitement of making her Hindi film debut and more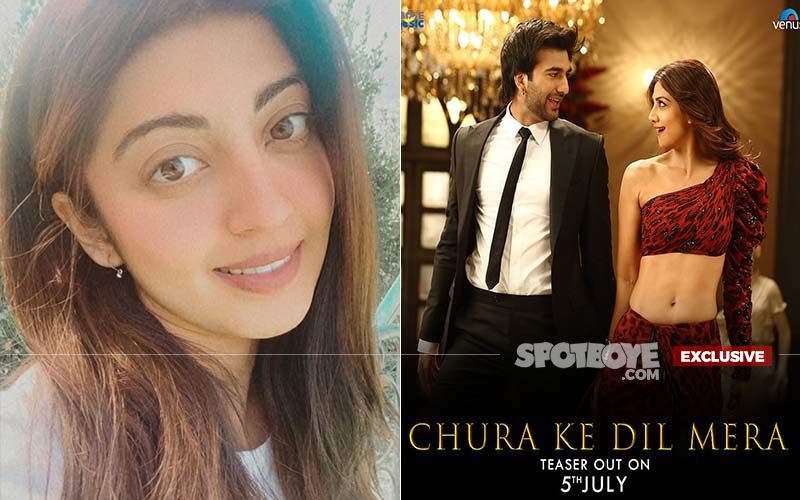 South actress Pranitha Subhash is all set to enter the Hindi film industry with Priyadarshan's Hungama 2 that also features Shilpa Shetty Kundra, Meezaan and Paresh Rawal. The film is releasing on July 23 on Disney+ Hotstar and promises Priyadarshan's trademark comedy of chaos. Twenty days after that, Pranitha has her second Hindi film releasing too, Bhuj: The Pride Of India, where she plays Ajay Devgn's wife.
In an exclusive conversation with Spotboye.com, Pranitha talks about Hungama 2, dancing with Shilpa and Meezaan, excitement of making her Hindi film debut and more. Read excerpts from the interview:
Pranitha, your Hindi film debut has got pushed a lot of times due to Covid. Has the feeling sunk in that it is finally happening?
The last time we spoke, we were just speculating about the release and now its here. Definitely, I would have loved for a theatrical release and the entire crew would have loved that too. I know Ratan sir is from the era of theatres but now we have to go with the flow and the times. People are watching content on OTT, so why not.
Hungama 2 marks your first Hindi film trailer and it starts with you in the first frame. How did it feel to see that?
Obviously, it felt good and when you watch the film, you'll know why it happened so.
Is it like a sigh of relief for you that both your films finally have a release date?
It kind of is, but it has also made these next two months very hectic for me to promote everything around me. But it will be nice and I am excited to see how it goes.
What can you tell us about your character in Hungama 2?
My character is a very typical girl-next-door but as the story pans out you will figure out how every character takes the story forward.
How was the experience of stepping into the comedy genre with the maestro, Priyadarshan himself?
Priyan sir is someone with whom you don't have to put in the effort of doing comedy. I didn't have to try and be funny, I just had to be myself and he made sure that he makes it funny.
The film has so many comedy legends like Paresh, Rajpal Yadav and Johnny Lever. Who was the most fun person in real life on set?
The most fun person on set has to be Paresh ji. While you are completely unaware, he is just sitting there and doling out one liners, and they are super funny. I don't even know how he does that.
Was there any memorable incident from set that has stuck with you for like forever?
Everything, especially shooting in Manali and celebrating my birthday with the team on set was memorable. It's been a journey and I have known the entire team since October 2019, so it's like almost two years with the same team.
Hungama 2 marks your entry in Hindi films. So, how did your co-stars helped you immerse yourself in the Hindi film style?
Meezaan knows more about the whole Bollywood way. So, he was the one who told me that I had to be out there, get myself a PR, get spotted everywhere and start signing more film. He is quite proactive that way. I figured that Bollywood is very different from the South. You have got to be at the gym, the Pilates class, be on a diet and do so many more things.
Priyan sir and Paresh sir are very old school. They told me to just chill and everything will be fine. But for Meezaan, he'd say he has to go for a haircut during the shoot and then the next day it would be everywhere. So, then I realised okay that's how it goes.
A few days ago, Chura Ke DIl Mera's recreation was released and it featured Meezaan and Shilpa. Did you feel a bit of regret for not being a part of that iconic song's recreation?
Yes, of course. Because the song is like a highlight of the film. I think it's really cool for Shilpa actually, because I don't think there is any star out there who did a song when they were 20, that became a smash hit and then 25 years later they are dancing on its recreated version themselves.
You see all these Govinda's or the '90s songs being recreated for the young generation of actors, but Shilpa is the only one who have just changed her co-star and is dancing on her own song's recreation.
But you get to dance with Shilpa for the promotional song. How was that experience?
It was fun because Shilpa and Meezaan are both so talented dancers. It was also like a little competition between us three about who will get more claps from Ganesh sir. I was doing very well but when I saw them on set, I was like I have got to up my game.
Meezaan comes from a lineage of actors who have proven themselves in comedy. His grandfather is Jagdeep and his father is Jaaved Jaaferi. So, does that comic timing reflect in him too?
Absolutely, it is visible in the trailer. He has that hyperness. He is like a mixture of Ranbir Kapoor, Ranveer Singh and Jaaved Jaaferi sir.
It was a brave decision on your part to choose both your first two films in Hindi that had an ensemble cast. Was there any apprehension regarding that decision?
No, because I think the film chooses you more than you choosing the film in your initial days. Especially since I don't come from a film background, you have to choose from what you are offered. Among the ones that I was offered, I liked these two.
Currently, there's a big exchange happening between the South and Hindi cinema, with South stars like you, Rashmika Mandanna and Samantha Akkineni coming to Hindi projects and Hindi film actresses like Alia Bhatt and Deepika Padukone going South. Do you feel that this exchange expands the exposure of all the industries involved?
Yes, and it's also blurring the lines because every film now is called a pan-India film and not just a Hindi or a South film anymore. Eventually it's all just Indian cinema.
About a month and a half ago you got married. Congratulations on that. I read somewhere that you didn't tell anyone about it because you weren't even sure if you would be able to get married on that date or not…
It was very tough to make a guest list due to Covid.
So, was it like an instantaneous decision that who knows when will Covid go, let's get married?
I guess… I don't know.
So, how has been the bliss of married life?
Well, I have been busy working and I am just been giving interviews for the past few days and then after 20 days Bhuj will release, so I will be busy in that.
Image source: Instagram/pranitha.insta/
meezaanj, Youtube/DisneyPlusHotstarVIP