Hungama 2's Pranitha Subhash Breaks Silence On Getting TROLLED For Sitting At Her Husband's Feet For Ritual: 'I've Always Been A Traditional Girl'
Pranitha Subhash opens up about the criticism she received for sharing photos of her sitting at her husband Nithin Raju's feet during a ritual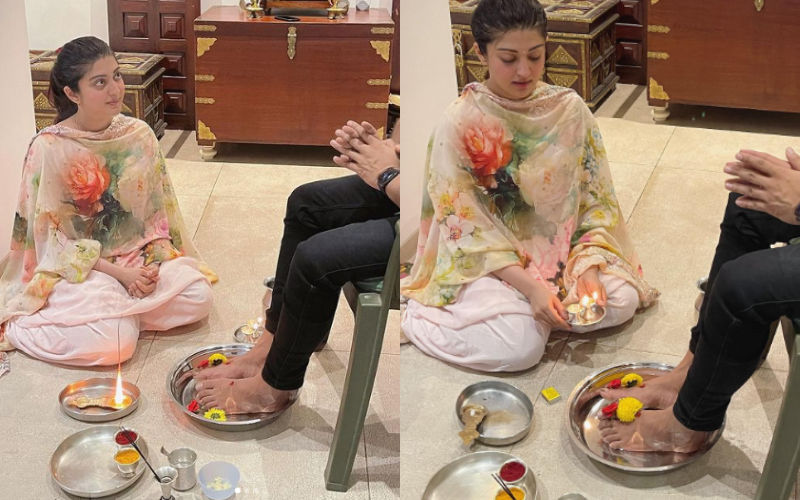 'Hungama 2' actress Pranitha Subhash recently sparked a debate on social media after she posted photos of her where she was sitting at her husband Nithin Raju's feet during a ritual. Her post divided the internet, many users criticized the actress as they pointed out that it's a high time women should evolve. In fact, many netizens asked the men praising Pranitha if they will wash women's feet and do the same. Now, in a recent interview, Pranitha Subhash has reacted to strong criticism over her post.
Speaking to Etimes TV, the actress stated that just because she is an actor and belongs to the field known for its glamour, does not mean that she cannot follow a ritual that she has grown up watching and completely believes in. "Well, everything in life has two sides. But in this case, 90 per cent of the people had a good word to say. The rest, I ignore. All my cousins, neighbours and friends have also done it. I did the puja last year too when I was newly married, but hadn't shared the picture then," Pranitha was quoted saying.
She went on to explain that this ritual was not new for her as she has been a traditional girl at heart and loves anything that has to do with values, rituals, and family at its core. When asked Pranitha why it's only the wife praying for a husband's long life and not vice versa, she asserted, "That's hardly a point to debate about. We all pray for each other's health and well-being."

On the occasion of Bheemana Amavasya on July 28, Pranitha posted pictures of her performing the ritual while sitting at her husband's feet on her Instagram handle. in the pictures, she was seen sitting on the floor with pooja thal and washing her husband's feet as part of the ritual. It is being said that this festival is observed by Hindu women for the long life of their husbands and other male members of the family.
Image Source: Instagram