India's Surgical Strike 2: Salman, KJo, Hina Khan, Sonam, Sanjay Dutt Hail India's Air Force Attack On Jaish-e-Mohammed Terror Camp
Celebs like Salman Khan, Karan Johar, Sanjay Dutt, Hina Khan, Vicky Kaushal, Sonam Kapoor, Swara Bhasker, Emraan Hashmi, Gurmeet Choudhary have praised the Indian Air Force's surgical strike in Balkot, last night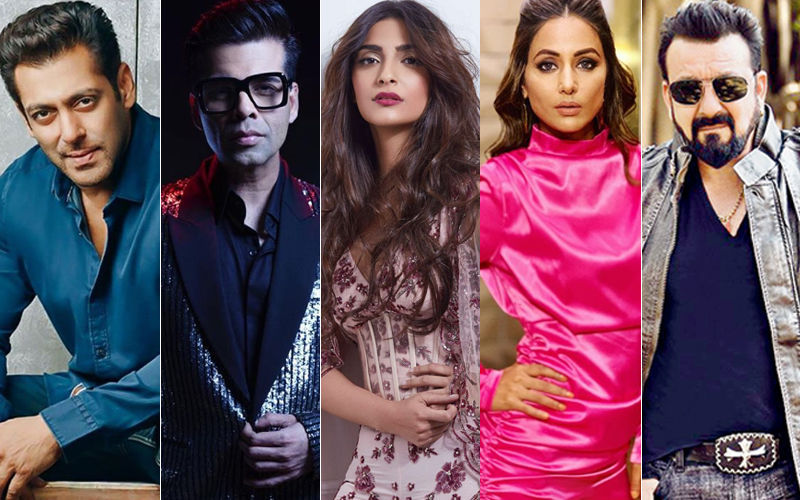 On February 14, a man from terrorist group Jaish-e-Mohammad rammed into a bus carrying CRPF personnel. The suicide bomb which killed at least 49 Army Jawans shook the entire nation. Last night at 3 30 am, the Indian Air Force shot back by crossing LoC, carrying out an air strike and destroying JeM's 3 major base camps, located at LoC in Balakot, Chakothi and Muzaffarabad. The surgical strike was carried out precisely between 3:58 am and 4:04 am.
While this morning
we brought to you the long list of Bollywood celebs who praised the act
, here are a few more who have got added in that list. Salman Khan tweeted, "Respect @IAF_MCC Indian Air Force... Jai ho !!!"
Karan Johar tweeted, "May the force always be with the #IndianAirforce and our supreme Intelligence....JAI HIND🇮🇳"

Sidharth Malhotra praised the Indian Air Force as he tweeted, "Very proud of the #IndianAirForce. We salute our brave pilots ! जयहिन्द ! जय भारत ! #Respect"

Sonam Kapoor used #IndianAirForce with Indian flag emoticon in her tweet.
Gurmeet Choudhary wrote, "Proud to be in a nation that fights back terrorism. Our #IndianAirForce gives it back!! Proud Nd secured. #Surgicalstrike2
Vicky Kaushal saluted the Indian Air Force and wrote, "Salute to the #IndianAirForce and our Intelligence Department. #IndianStrikesBack . Jai Hind"
Rajkummar Rao also saluted the Indian Armed Forces in his tweet that reads as, "Saluting our #IndianAirForce for carrying out this strike against terror elements that pose a threat to our country and humanity. Jai hind!🇮🇳 #IndiaStrikesBack"

Sanjay Dutt told his fans to pray for their safety, "Salute to the #IndianAirForce for their indomitable spirit in keeping our country safe! Let us all pray for their safety. Jai Hind"
Salute to the #IndianAirForce for their indomitable spirit in keeping our country safe! Let us all pray for their safety. Jai Hind 🇮🇳

— Sanjay Dutt (@duttsanjay) February 26, 2019
Hina Khan (Komolika of Kasautii Zindagii Kay 2) said, "Proud Proud Proud.. I salute to @IAF_MCC JaiHind 🇮🇳 #IndiaStrikesBack #BharatMatakiJai #ProudIndian"


Emraan Hashmi said, "Fight fire with fire 🔥 !! Respect @IAF_MCC. Much needed #SurgicalStrikes2"
Rohan Mehra wrote, "BREAKING NEWS ... इमरान खान ने भी पाक सेना को दी खुली छूट कहा है कि जहां से जगह मिले भाग लेना। शेर आगया I Big salute to the Indian Air Force #Surgicalstrike2 #ProudIndian #IndiaStrikesBack"

Swara Bhasker was all praises as she wrote, "Salute to the our armed forces. Jai Hind."
Salute to the our armed forces.
Jai Hind. 🇮🇳🇮🇳🇮🇳🇮🇳🇮🇳🇮🇳🇮🇳🇮🇳

— Swara Bhasker (@ReallySwara) February 26, 2019
Image Source:-freepressjoural.in, Instagram/karanjohar